Prisoners resort to self-inflicted rape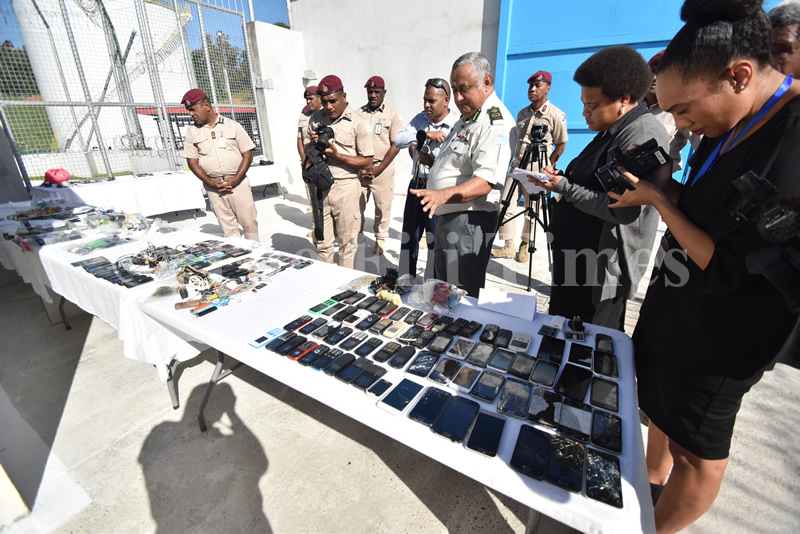 TWO prisoners have died as a result of inserting gadgets such as mobile phones in their body cavities, confirms the Fiji Corrections Service Commissioner Commander Francis Kean.
Speaking to journalists at the Suva Remand Centre yesterday, he said convicts and remand prisoners would go to extreme lengths and undertake huge risks in their attempts to smuggle these illegal
items in correction facilities across the country.
Meanwhile, contraband such as illicit drugs, mobile phones, cigarettes, earphones and sharp objects which correction officers confiscated were on display to the media.
"Sadly, all attempts to educate these prisoners on the consequences of their actions continue to fall on deaf ears to a minority incarcerated.
In our recent past, two prisoners had sadly passed away from cancer due to leaking batteries of mobile phones into their body system," Commander Kean said.
"These prisoners go to extreme lengths in hiding these contraband in their body cavity on entry into our correction centres and whilst incarcerated.
They should realise that this is self-inflicted rape and they should be ashamed of themselves, of doing this personal harm to their bodies."
Commander Kean also highlighted visitors to these prisoners also go to extreme lengths to try to smuggle in these contraband into the correction centres.
"Our general advice to all visitors is to be on the right side of the law and comply to Fiji Corrections Service visiting protocols; it's not worth it plus most importantly you are not helping in our rehabilitation efforts towards bringing positive changes in the character and behaviour of all prisoners.
"In 2017, we started investing in portable electronic body scanners to assist us in our daily duty of detecting the smuggling of illegal contraband at the main gates of our 15 correction centres."
The FCS is also now in the process of breeding labrador canine dogs to assist in detecting contraband.