From the Editor-in-Chief's desk: Your December 6 briefing
6 December, 2022, 8:13 am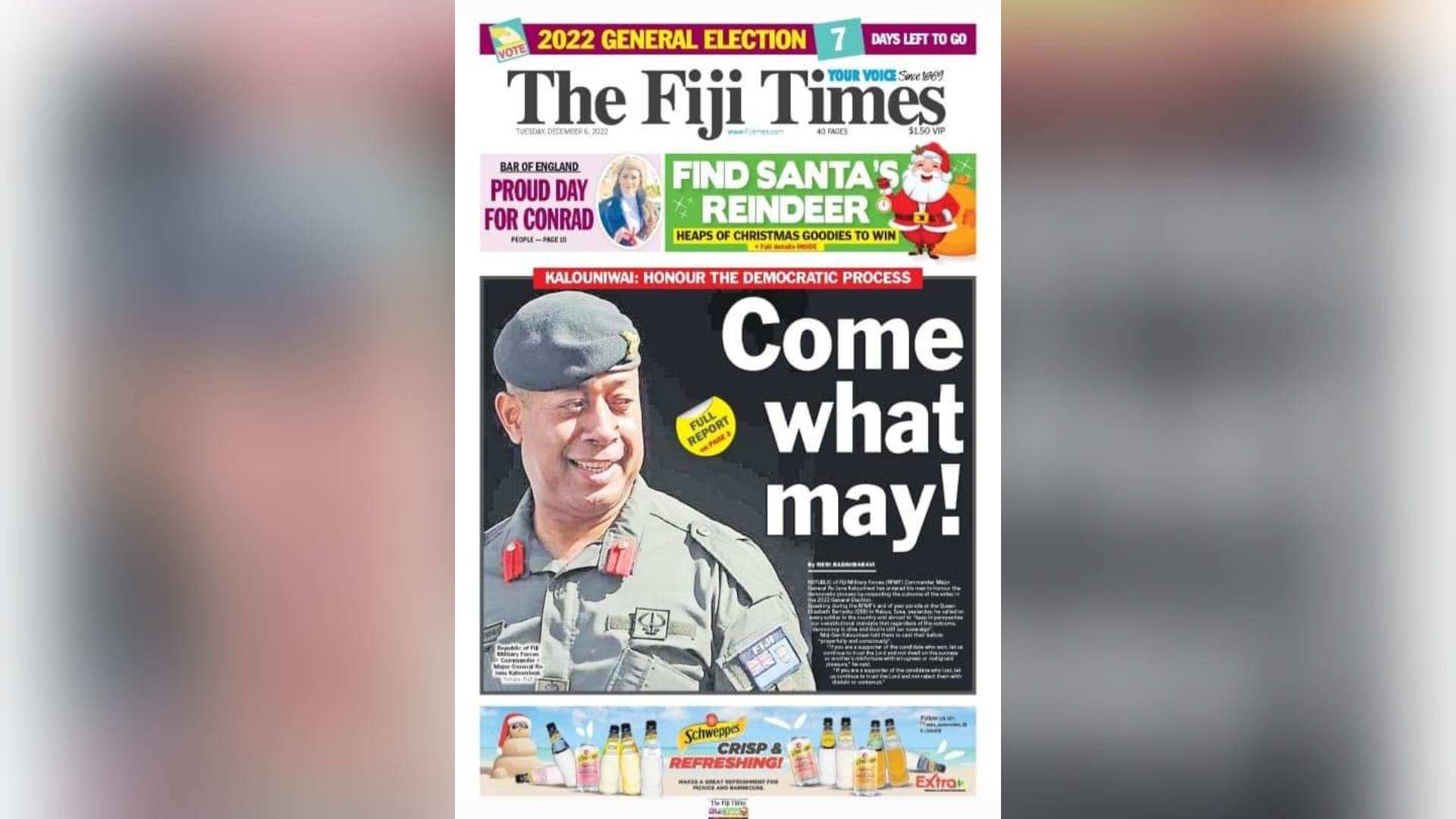 Bula
The big one on the front page of The Fiji Times for Tuesday, December 6 is about a powerful message delivered by the commander of the Republic of Fiji Military Forces Major General Ro Jone Kalouniwai.
Speaking during the RFMF End of Year Parade at Queen Elizabeth Barracks (QEB) in Nabua, Suva, he called on every soldier in the country and abroad to "keep in perspective our constitutional mandate that regardless of the outcome, democracy is alive and God is still our sovereign". Maj-Gen Kalouniwai told them to cast their ballots "prayerfully and consciously".
Log onto www.fijitimes.com for the latest news updates and videos from around the country. Keep up with election news via The Lens@177 on the Fiji Times Facebook page and on our Youtube channel.
HEADLINES
Here are some headlines inside:
PAGE 4
SOME villagers had to spend hundreds of dollars to travel for hours from Suva to be part of pre-polling at their respective villages on the island of Kadavu.
PAGE 5
REASSESSMENTS of leased land should be done every five years and any new developments on a leased property must financially benefit landowners as well.
ALL civil servants need to be put on tenure instead of being held to contract terms, says National Federation Party (NFP) candidate Agni Deo Singh.
THERE is a need to reform the education system and bring power back to the committees running schools, says People's Alliance candidate Parmesh Chand.
THE People's Alliance will bring back the Higher Salaries Commission to determine fair and just salaries for civil servants, says party candidate Parmesh Chand.
PAGE 7
THE High Court at Suva has discharged a Presidential Order confining to St Giles, a man who pleaded not guilty by reason of insanity to the murders of former Fiji Red Cross director General John Scott – and his partner Gregory Scrivener – in their Tamavua home in 2001.
PEOPLE'S Alliance deputy party Leader Daniel Lobendhan was taken in for questioning by the Fiji Independent Commission Against Corruption (FICAC) in relation to allegations of vote buying.
SPORTS
Page 39
DOHA – Olivier Giroud scored against Poland in their World Cup last-16 clash on Sunday to become France's all-time top scorer with 52 goals.
FIJI'S Ben Volavola helped Racing 92 beat Toulon 31-14 in the French Top 14 to spoil Wales fly-half Dan Biggar's presentation at Stade Mayol crowd on Sunday.
Page 35 – Goal Fiji
YOU may ask, how did someone from the classroom teaching end up coaching? Areshma Prasad's journey to the pinnacle of football has been unconventional but inspiring.
Page 32
PERTH, Australia – Australia bowled the West Indies out for 333 on Sunday to claim a thumping 164-run win in the first test at Perth Stadium and take a 1-0 lead in the two-match series.
WE CAN DELIVER YOUR NEWSPAPER EVERYDAY! RIGHT AT YOUR DOORSTEP!
There's something about feeling the newspaper in your hands, fresh and almost crispy! Maybe that's not the right word! But have you thought about getting a copy daily at home, when you get up in the morning? To feel the newspaper in your hands… and a cuppa perhaps! Your very own copy!
Call our Circulation Department for subscription rates. Call us on phone: 3304111 and talk to Setaita, Jervis, Ropate or Shamal.
They may just have a rate that suits your budget! Think about it! They could organise the delivery of your newspaper fresh off the press every day, right to your doorstep.
No hassles, no worries!
Prefer to read the newspaper online? Then subscribe to the e-edition! There are simple instructions to follow to get to the daily edition!