FijiFirst:Program continues
11 November, 2018, 2:16 pm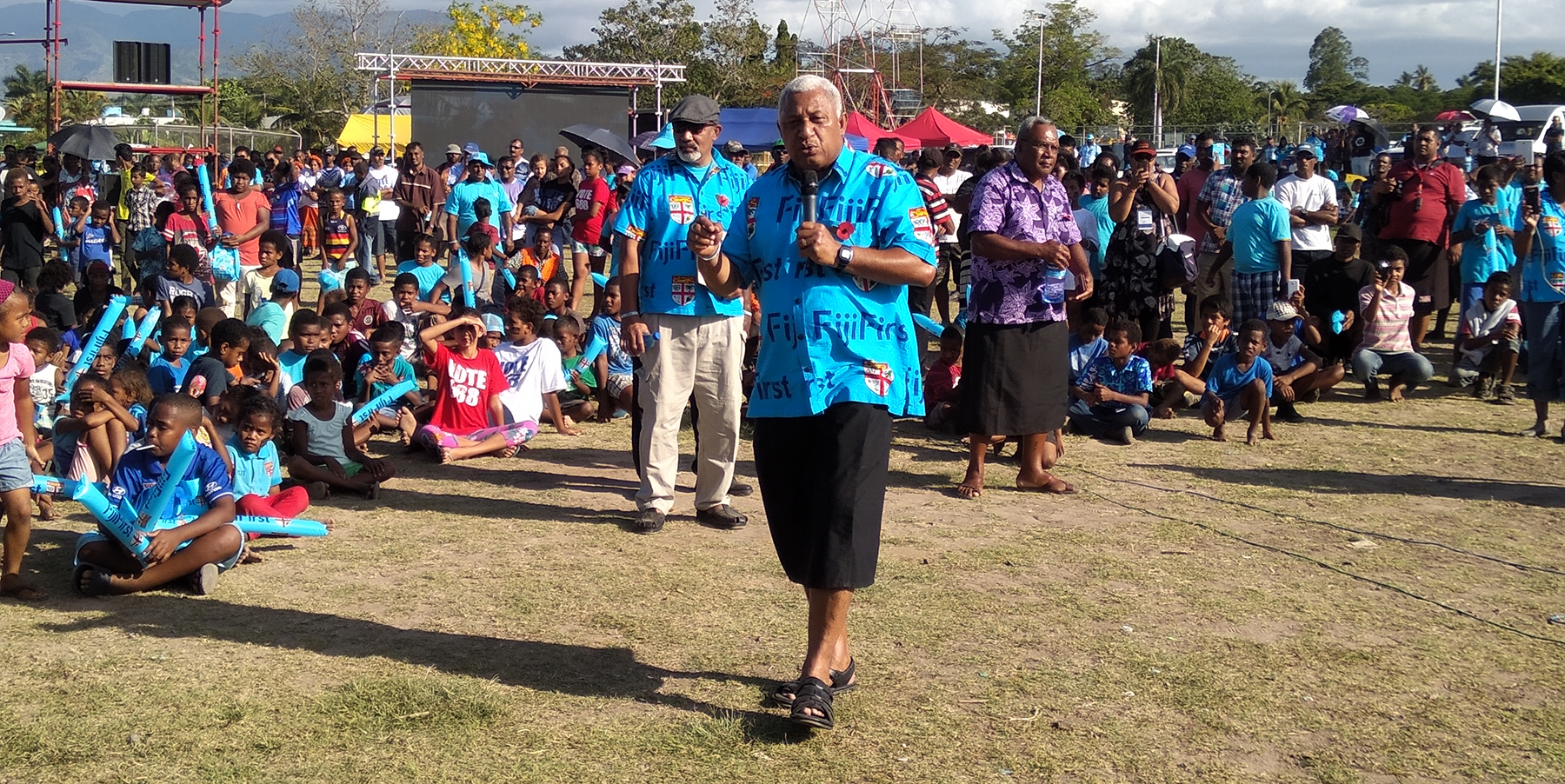 THE FijiFirst party aims to continue with its initiatives and programs established over the past years. This was highlighted in the party's 2018 manifesto, launched in Ba on Friday night.
Existing programs like free school fees, subsidy on electricity and water, free milk for school children and free medicine will continue under a FijiFirst government.
A number of new initiatives have been highlighted in the manifesto, including a FijiFirst Government putting a permanent solution to flooding in Nadi.
The party says it has started work in collaboration with the Japanese Government, European Investment Bank and Asian Development Bank to pursue blended finance for 13 kilometres of river widening, constructing retarding basins, ring dikes, tributaries shortcut and rebuilding two existing bridges and construction of a new bridge.
Under a FijiFirst government, new roads would also be developed and existing ones improved. More road expansions, including four-lane projects, are also planned, the manifesto revealed.
Another new initiative announced has been the allocation of 10 per cent of Government shares in the Fiji Sugar Corporation (FSC) through a trust mechanism. Individual farmers allocation of shares would depend on the tonnage of cane produced.
The sugarcane replanting grant would also be restructured with an additional $900 being provided for preparation of hilly land.
FijiFirst would also enact a new law early next year to establish an Independent Lands Tribunal, which would handle complaints against the iTaukei Land Trust Board (TLTB) and the Lands Department.
Other initiatives include: m Fiji will bid to host major regional and international sporting events, including the 2023 Pacific Games and 2026 Commonwealth Games.
m FijiFirst will set up cold storage facilities in Sigatoka and Ba to assist farmers so that they are not beholden to middle-men and can fetch higher value for their produce.
m Support initiatives for crop replanting, supplying agro inputs, extension services and training for young farmers, relevant crop-oriented research, provision of high-yielding and climate resilient seeds and crop varieties, and better land-use planning.
m Increase police force numbers from 4100 to 7300 within five years.
m The FijiFirst government will facilitate the increase in mobile phone and internet connectivity over the next 14 months in the following rural areas: Nayau, Matuku, Totoya, Namuka, Namuamua, Cikobia Island, Tawake, Saqani, Ono, Tuvuca, Kabara, Namuka, Kia Island.
m The National Employment Centre will continue to provide the "one stop shop" service to assist employment seekers to find jobs.
m The Young Entrepreneurship Scheme (YES) will be expanded to those without any tertiary qualifications
m Increase the intake of at least 200 primary and 50 secondary school teachers annually for the next four years.
m Embark on a major project to plant four million new trees over the next four years which will reduce erosion and siltation and at the same time, offset some of our carbon output.
m Develop a digital archival system to store and preserve sacred indigenous records (Vola-ni-Kawa-Bula) to safeguard the tribal knowledge and protocols of the iTaukei.
m A new 40 megalitre treatment plant will be constructed in Viria, Rewa to meet the demand in the greater Suva and Nausori area.