Stolz gets a chance of a lifetime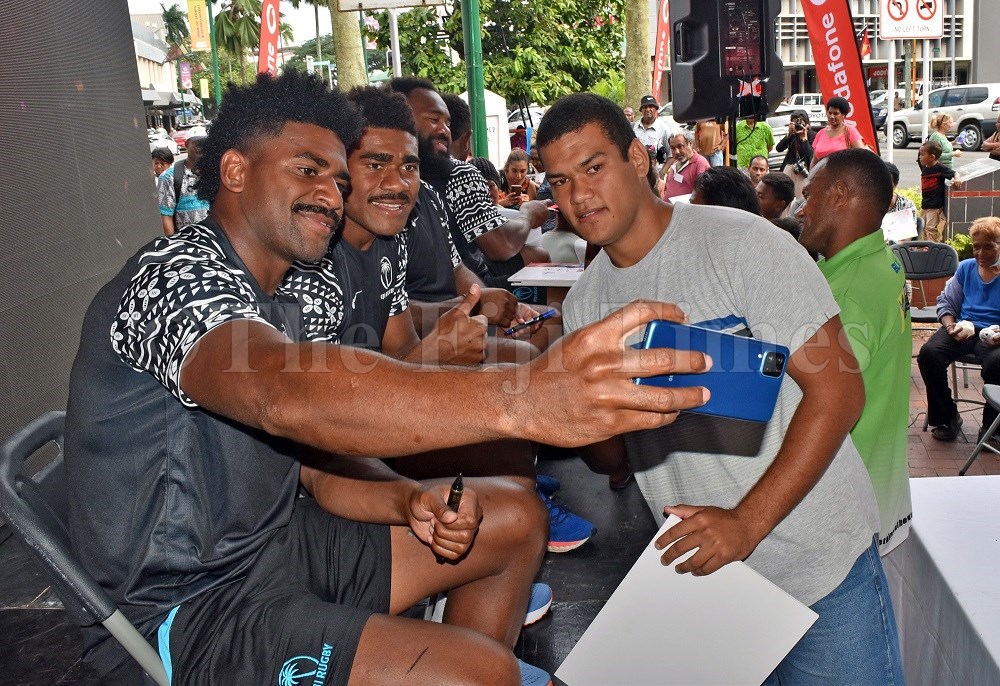 Meeting your favourite rugby players and talking to them is something many Fijian youngsters dream of but for teenager Jesse Stolz, sharing a selfie with Flying Fijians players Vinaya Habosi and Kalaveti Ravouvou is something he will cherish for a long time.
It was a busy Vodafone Triangle in Suva during Vodafone Fiji's 28th birthday campaign launch yesterday with fans buzzing to meet their rugby heroes before their match against Tonga this afternoon and Stolz patiently waited in line for his turn to shake hands with his idols.
"I was really, really excited to meet them," said Stolz.
"I just watched them on television and when I heard they would be here, I rushed to town just to get a glimpse of them. Watching them play against big teams in Super Rugby is something everyone will look forward to next season and I am blessed to meet them in person today (yesterday)."
Stolz backs Fiji to win the match this afternoon and said the win could be achieved through teamwork.
"I believe Fiji will win the match tomorrow (today) if they work together. They should work together as a team and refrain from individual plays."
The teenager urges rugby fans to turn out in numbers at the HFC Bank Stadium in Suva to cheer the players on in the opening round of the 2022 Pacific Nations Cup.
"Please come out in numbers to support the boys. They are playing at home and our support will be important to them in their match against Tonga."