Rugby's global debt to Kingsley Jones – the man who kept Lomu in the game
17 September, 2020, 5:21 am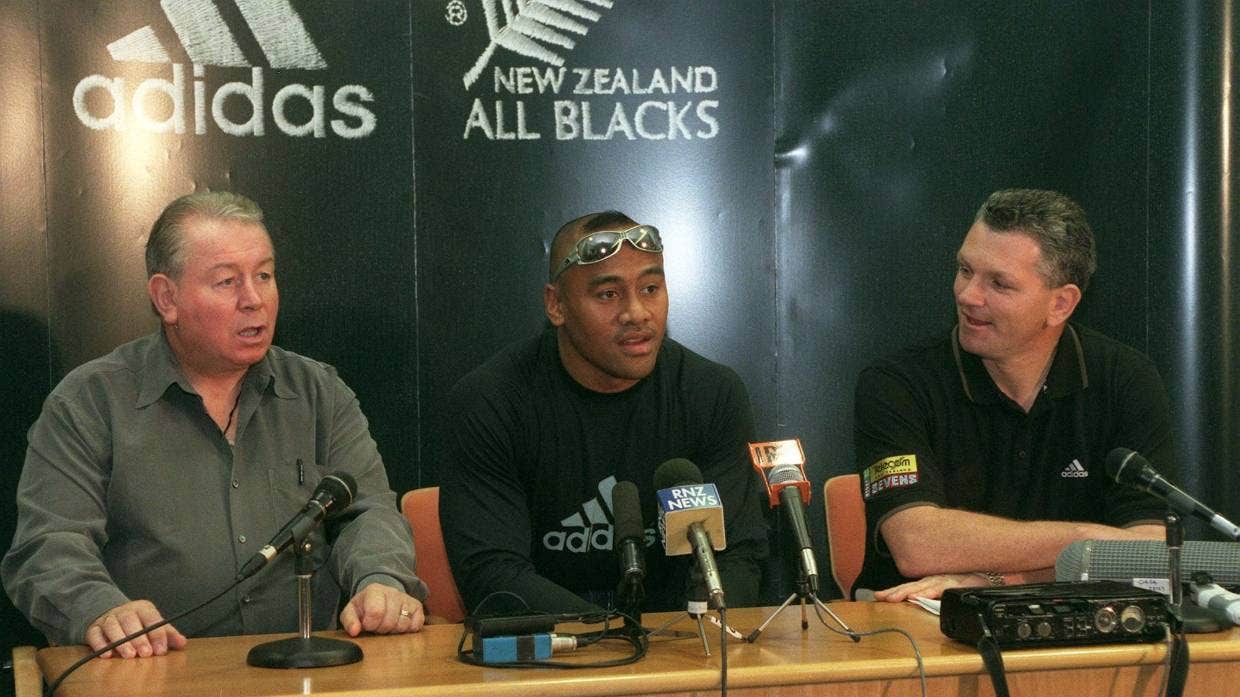 OPINION: The legend of Jonah Lomu would never have materialised without Phil Kingsley Jones.
New Zealand Rugby and the All Blacks have a lot to thank the larger-than-life Welshman who passed away this week at the age of 72. So does the rugby world in general.
Kingsley Jones saw Lomu's potential and his faith in the young Kiwi-Tongan giant to be an All Blacks star never wavered.
Kingsley Jones was an official with his beloved Counties-Manukau union when he first saw Lomu in action for Wesley College.
There was no surprise for Kingsley Jones when Lomu was selected for the All Blacks in 1994 though he was left to pick up the pieces after the teenager's disastrous debut series at home against France.
On the outer with All Blacks coach Laurie Mains and with Australian rugby league scouts circling, Lomu looked destined for the NRL and a $300,000 deal with the Canterbury Bulldogs.
It was massive money at the time and tempting enough for Lomu to agree in principle though he wanted Kingsley Jones to draw up a contract to formally manage him.
That was the start of Kingsley Jones' simple but effective approach as the man in charge of someone whose destiny seemingly only he had belief in.
He agreed to be Lomu's manager, but only on the condition that he got Lomu's next All Blacks jersey.
In other words, "forget the Bulldogs Jonah, your future is still with rugby and the All Blacks".
Lomu agreed and dedicated himself to the cause, convincing Mains he was good enough to be in the 1995 World Cup mix.
The rest, as they say, is history.
Kinglsey Jones got his jersey as Lomu produced the greatest individual World Cup campaign by any player during that tournament in South Africa.
It was perfect timing with rugby turning professional in the wake of the World Cup and Lomu the biggest target with Rupert Murdoch, the media giant behind the broadcasting deal of Super Rugby and the Tri-Nations, insisting Lomu had to be part of it.
Rugby got their man and Lomu got a decent pay cheque.
It had been a close-run thing because even the NFL came knocking on Lomu's door during that period with the Dallas Cowboys seriously interested in him.
And in Britain, the Leeds club, which had a dual rugby and rugby league operation going, were also putting massive money in front of Lomu.
Again, Kingsley Jones guided the then shy Lomu to stay with what he knew, adamant there were riches to come with his loyalty to rugby.
It was the sort of infectious enthusiasm that flowed from Kingsley-Jones and touched all those that he dealt with.
Wales is perhaps the only country that can rival New Zealand's passion for rugby and Kingsley-Jones found a comfortable fit on Kiwi shores.
He could talk – a sideline act as a comedian was testimony to that – and he was convincing.
Behind the big smile and bellowing laugh was a huge heart that always had a soft spot for Counties-Manukau.
The union has been something of a poor neighbour to heavyweights Auckland and Waikato. But it has held a flavour of its own, an off-the-cuff style of play that resonated with Kingsley Jones who could always think quickly on his feet.
He was, by all accounts, still doing his bit for the Steelers in his final weeks as he battled ill-health following a fall.
But he'd already done so much for rugby as a whole – the New Zealand and global game has a lot to thank him for.