People: 'God answered my prayer'
16 October, 2021, 12:05 pm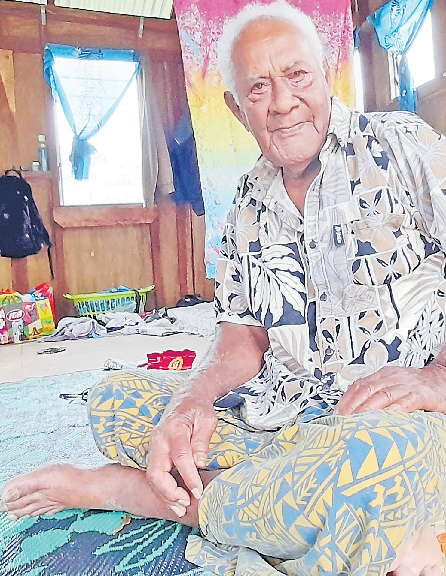 JOSESE Rea was once a big-time businessman along the Natewa and Tunuloa coast in the 1990s having owned four vehicles, a retail and wholesale business and a fishing business.
But these all started after a spiritual decision to fast for three months because his late wife who died last year couldn't conceive.
he 75-year-old who is also the traditional leader of yavusa Vunisaiki and lives in Waikatakata settlement shared how God richly blessed him after he completed his months of fasting.
"After I got married, my wife couldn't conceive and for many years we prayed, went to pastors to pray for her, went to traditional and herbal doctors but nothing worked," he said.
"Then one day I decided to directly deal with God and that's when my fasting started for three months.
"I asked God for two things, to bless us with a child and bless my life and make it prosperous because I thought of the story of King Solomon. If God could do it for him he surely could do this for me."
One night, during his period of fasting, Mr Rea got out of bed and woke his wife, asking her whether she wanted a child. "She didn't believe me and gave a confused look thinking I was mad asking her that question because we have tried to seek help from a lot of people but nothing worked," he said.
"I told her that while I was asleep, I had an encounter with God who told me that I would have a child and he would richly bless me in life but I needed to serve him whole heartedly and in spirit and in truth.
"After three months of fasting, my wife got pregnant and I met an American friend whom we started the business with and he gave me $250,000 to start the shop in Vusasivo village.
"Believe it or not in nine months, I owned four vehicles and owned the biggest business along this peninsula and I purchased fish from Udu Point from the Chute family."
Today, this senior citizen lives with his daughter who plants kava on Taveuni.
"I owned this business for a long time and I used to buy grog from farmers, fish from villagers and owners of village canteens directly purchased from our bulk," Mr Rea said.
"That's how vibrant my business was. But after you get distracted by the world and everything that doesn't please God, you get to pay the price and I lost my business and everything I built."
Although he lost his business and the rural based empire he built, he has not given up totally as he owns two fish ponds and supplies customers in the area. My only advice to the younger people, if you want to be successful in life, try it with God because he never fails us."