High Court grants bail to Labasa lawyer Amrit Sen and others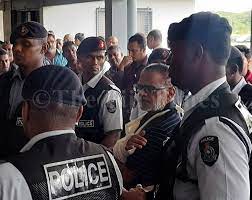 The High Court in Labasa has granted bail to Labasa lawyer Amrit Sen and two others – Shumedha Chand and Mustaqir Saif Khaiyum, with strict conditions.
The fourth accused Joji Bale was granted bail yesterday and is now on Taveuni.
In allowing bail, High Court judge Justice  Aruna Aluthge put down strict conditions that included a curfew of 6pm to 6am for Mr Sen, and 8pm to 4am for the rest.
He also ordered that they report to the Police Station every Saturday, to surrender all travelling documents, and provide a surety bond of $5000 for Mr Sen and $1000 each for the rest.
Mr Sen has been charged with one count of murder, two counts of attempted murder, one count of conspiracy, seven counts of acts intended to cause grievous harm, two counts of criminal intimidation, one count of assault causing actual bodily harm, and one count of damaging property.
Ms Chand has been charged with one count of act with intent to cause grievous bodily harm, while Mr Khaiyum and Mr Bale have been charged with conspiracy.
The case has been adjourned to August 2 (2022).