From the Editor-in-Chief's desk: Your June 19 briefing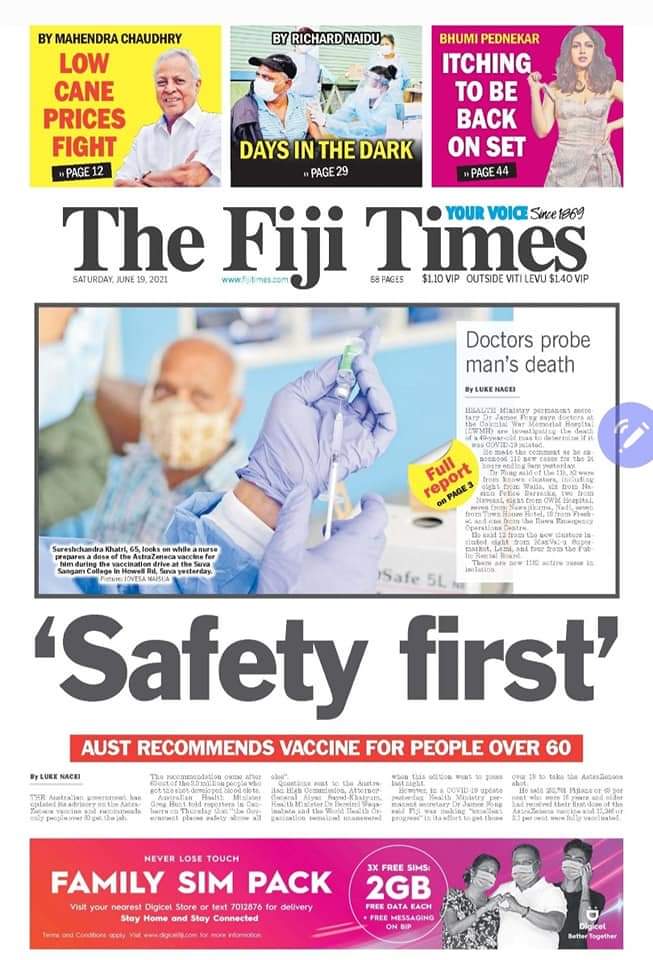 Bula
It's the end of another work week. Following the cool nights over the past few days, tonight appears to have that balmy feeling here in the Capital City. It's not cool as the previous nights, and not too hot either.
115 new cases
In the face of that, Health Ministry permanent secretary Dr James Fong announced this afternoon that we have recorded 115 new cases in the 24-hour period ending at 8am today. As he said yesterday, new cases will now be reported at 3pm each day moving forward, covering a 24-hour period ending at 8am on the day of each update.
This is a welcome change from the uncertainty of previous updates which happened at various times at night.
The majority of today's cases are related to existing clusters of transmission or to localities where significant transmission has occurred.
52 cases are from the following known clusters:
Waila- 8; Nasinu Police Barracks- 6; Navosai- 2; CWMH- 8; Nawajikuma, Nadi- 7; Townhouse hotel- 7; Freshet- 13; and Rewa EOC- 1.
He said 12 are from new clusters: Max Value Supermarket, Lami (8) and Public Rental Board (4).
Seven cases have also been detected during screening at the Valelevu, Nuffield, and Raiwaqa screening clinics. One case was identified during screening at Nadi hospital and investigations are underway to determine any links to known cases.
While 21 cases have been identified as primary contacts of previous cases and are under investigation by the contact tracing teams to determine if there is a cluster link, there is concern over 22 cases. They are under investigation to determine if they have links to other cases. They are currently considered cases of community transmission and come from: Naqio settlement, Rewa (2), Nadave (1), Nausori village (7), Naulu (4), Omkar Rd, Narere (1), Valenicina, Lami (1), Verata, Nausori (1), Milverton Road, Raiwaqa (1), Qauia, Lami (2), Naduru Rd, Nausori (1), and Fiji Pharmaceutical and Biomedical Services (1).
He also confirmed another death at CWM Hospital.
The 49-year-old man who had been admitted for almost a month was being treated for a severe non-COVID pre-existing condition. He tested positive for COVID-19 during his admission, and his doctors are investigating to determine if this is a COVID-19 death.
Here are some stats for you:
1182 active cases are now in isolation;
1578 cases to date during this outbreak that started in April, 2021;
1648 cases have been recorded in Fiji since the first case was reported in March, 2020;
452 recoveries and six deaths due to COVID-19;
Seven COVID-19 positive patients have died from pre-existing non-COVID-19 related illnesses;
One new death is currently under investigation.
Now here are some stories that made the headlines for The Fiji Times' edition for Saturday, June 19.
PAGE 1
CWM death under investigation 
This afternoon Dr Fong said doctors at the Colonial War Memorial Hospital (CWMH) are investigating the death of a 49-year-old man to determine if it was COVID-19 related. He made the comment as he announced 115 new cases for the 24 hours ending 8am today.
AstraZeneca vaccine
The Australian government has updated its advisory on the AstraZeneca vaccine and recommends only people over 60 get the jab.
PAGE 2
To be vaccinated or not
INDIVIDUAL rights and societal or communal obligations need to be considered when deciding on whether to be vaccinated or not, says United Nations Development Programme (UNDP) regional director Asia-Pacific Kanni Wignaraja.
Lodge complaint with FHRADC
EMPLOYEES coerced to get vaccinated or lose their jobs can lodge a complaint with the Fiji Human Rights and Anti-Discrimination Commission (FHRADC) or settle their cases in the High Court, says Fiji National University's senior law lecturer Ana Rokomokoti.
PAGE 3
Excellent progress
THE Health Ministry says Fiji is making "excellent progress" in its effort to inoculate citizens over 18 with the AstraZeneca vaccine.
West van operators
MINI-VAN operators in the Western Division are calling for an increase in fares so they can sustain their business.
LETTERS TO THE EDITOR
We have a bumper edition of letters to the editor splashed over seven pages, from Pages 8,9,19,20,21,22 and 23. Feel the pulse of the nation. Feel the energy and opinions about various issues that Fijians can relate to.
PEOPLE
In this popular section, you can read about: Bhawna Kundra is the University of the South Pacific gold medalist for the Graduate Certificate of Education (GCEd) program for 2021. The journey behind her success is a testament of her sheer hard work over the years.
FEATURE/OPINION
As usual, we have a strong lineup of writers for your reading pleasure this weekend.
The case for cane growers – By MAHENDRA CHAUDHRY
WHILE the nation's attention is focused on the daily escalating cases of Covid infection assailing us, the cane farmer has been fighting a quiet battle for survival against low cane prices and ever rising costs of cultivation, harvest and delivery.
Days in the dark – By RICHARD NAIDU
IT was only in March that Fiji was boasting about its world-beating status at eliminating the coronavirus. Three months on, we are a different kind of world-beater. Last week, we recorded the fastest growth rate of COVID-19 infections in the world.
The daily increases are now being measured in three-digit numbers, released in the dead of night (although now the Government says it will tell us in daylight). We know it and the Government knows it – the virus is not "under control". It is not confined to "clusters".
Our lives matter – By SAVENACA NARUBE
The political parties not in Government have raised their concerns with Government on its management of the crisis numerous times. But sadly, we have not been heard. Although we are pointing out the realities on the ground, our views are dismissed as political. Government has refused to work together to bring this suffering to an end. The cries of the people are getting louder by the day. Some people had to take to the streets to get a response from Government. When the number of cases in this second wave is spiraling to new records, Government is carrying on if nothing is happening. Worse still, it is now blaming the people for the deepening crisis.
The hard road ahead – By VILIAME GAVOKA
There is depressing news daily with the double-digit spike in COVID-19 positive cases and what is more disconcerting is the way the virus is spreading. Based on the Ministry of Health (MOH) daily releases, this week alone, we see increasing numbers in known clusters and increasing numbers under investigation of source of transmission.
Cybersecurity policy – By ILAITIA B.TUISAWAU
THE primary difficulty of cybersecurity isn't technology—it's policy. At the extreme end there's cyber war: destructive actions by governments during a war. Cyber war is conducted by capable and well-funded groups and involves military operations against both military and civilian targets. Along much the same lines are non-nation state actors who conduct terrorist operations. Although less capable and well-funded, they are often talked about in the same breath as true cyber war.
Look back in Time – By JOHN KAMEA
THE new leader of the National Federation Party, Mr S.M.Koya, favoured close consultation with the Alliance Party on pre-constitutional conference talks in Fiji. He revealed this to The Fiji Times of October 7 1969, during an exclusive interview at his home in Nanuya St, Lautoka.
Prof Robbie Robertson – By Prof WADAN NARSEY with contributions from Dr Ganesh Chand, Dr Jackie Leckie, Prof Vijay Naidu, Prof Dr Claire Slatter and Helen Sutherland
Last week, many in the international USP community mourned the passing away in Melbourne of a former USP academic in history and politics, Professor Robbie Robertson, whose life's work focused on many painful themes that are still for Fiji and indeed, for USP as well. While he was a citizen of NZ and Australia, he could legitimately also be called a "son of Fiji and the Pacific", judging by the quantity and quality of academic work he did on Fiji and the Pacific, all imbued with his deep passionate commitment to ordinary working people, regardless of race, class or creed.
The origin of COVID-19 – By SELWA NANDAN
ABOUT 18 months after its first discovery in the city of Wuhan in China the deadly coronavirus continues to unleash its fury without showing any signs of retreating as is evident from the growing surge in both new infections and fatalities. The global death toll has now surpassed 3.8 million. Meanwhile, the mystery surrounding the origin of COVID-19 remains elusive.
Osteoarthritis – By Dr VAIGALO EDDIE MCCAIG
Osteoarthritis is derived from the greek word osteo (bone) arthr (joint) itis (inflammation). Arthritis is a general term that means inflammation of the joints. There are many of types of arthritis. Osteoarthritis is the most common type. In Fiji it is sometimes referred to as "cold, thanda bimari or sasala".
Is hope fading for our nation – By AJAY BHAI AMRIT
Bula readers! Firstly thank you for the huge response received from a wide section of society for last week's article encouraging Government to listen and hopefully consider a total 21-day lockdown and also assisting the poor and needy with food, medicine and essentials during this time. If you missed it, here is the science behind the suggestion put forward.
Comedy in Translation – By ARVIND MANI
One of my side hustles in the US was as a Hindi interpreter for the Fijian community in the San Francisco Bay Area. It paid quite well and was quite interesting though translating from Fiji Hindi to English could be quite tricky. Translation tends to sound easier than it is. People often think that it's just a matter of replacing each source word with the corresponding translated word, and then you're done. It is much more complicated than that. There can be multiple ways of saying the same thing in another language. So the potential for making mistake is quite high.
ENTERTAINMENT
We have two pages of entertainment news to break the serious stuff.
MOTORING
There's more than motoring inside.
SPORTS
The big one on the back page is about: FIJIAN 7s coach Gareth Baber has labelled Fiji's brand of rugby as something different and exquisite which other nations find difficult to analyse.
There's more to read inside, but you'll have to get a copy to know what we are talking about!
HOME DELIVERY
Have you thought of subscribing for home delivery? No hassles at all. You can wake up to an early edition every morning, fresh off the press. Get The Fiji Times delivered to your home daily. No more missing an edition because it sold out at your nearest store! Check below for contact details for Setaita who can assist you. Give her a call!
e-EDITION
If you are one of those enthusiast readers who prefer to read The Fiji Times on your mobile phone, laptop or Personal Computer, have you thought about subscribing to the e-Edition platform? Be one of the many readers who don't allow lockdowns, quarantine and isolation to come into the picture. The Fiji Times is always at your finger-tips! It's easy to hook up via mPaisa! You can contact us for details on https://www.fijitimes.com/subscribe/ or you can call Setaita on 7754078, or on 3304111 during office hours, to assist you.
You could also just follow a few steps and read The Fiji Times a few minutes later, live and direct! Here are the simple steps to follow:
1: Log onto www.fijitimes.com 2: Select the SUBSCRIBE tab. 3: Register. 4: Select mPaisa payment option! You won't know how good it is until you try it! It's a different experience!