From the Editor-in-Chief's desk: Your August 4 briefing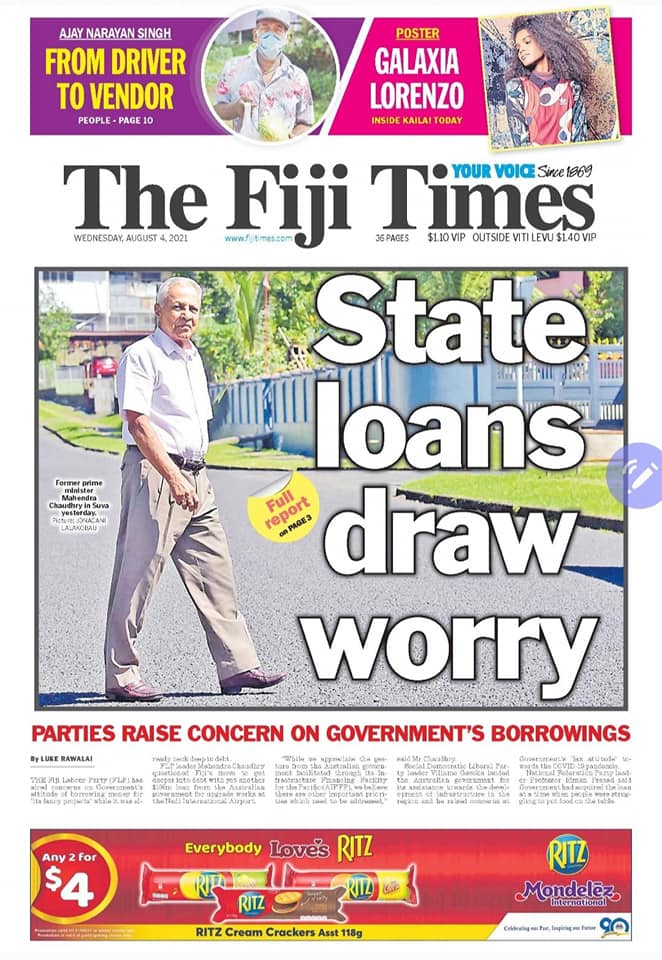 Bula vinaka everyone
The revelation that people suffering from non-communicable diseases (NCDs) have very high chances of dying from COVID-19 is serious. This is because NCDs reduce the body's ability to fight infection, says Dr Luke Nasedra.
The head of the Fiji Emergency Medical Team (FEMAT) said this was the reason they were placed on the "priority list" of the COVID-19 vaccination drive.
It was important, he said, for family members to support their loved ones with NCDs by ensuring everyone in the family gets vaccinated and avoids unnecessary movements which might result in them contracting the virus from somewhere else.
Patients suffering from NCDs have been urged to call the 165 helpline for phone consultations if they feel they might have got the virus.
If any Fijian still insists there is nothing to worry about, then something is definitely wrong somewhere.
It's because we are still seeing some people walking around without masks in public places. Some are just not wearing them correctly. They either have their masks covering their mouth only, or have them below their chin. People are still gathering for social events. A man asked a couple if he could have some of their drink yesterday morning at the Valelevu Health Centre! He ended up refilling the bottle with water after he had finished the drink. There was no concern for COVID-19 at all. There was no concern about sharing a bottle.
It is a sad reflection of how some of us are actually responding to health advice.
We realise there are many Fijians who are still upset at the turn of events and some of the decisions made since April.
But we are at the crossroads now.
We can either rue all our misfortunes, and feel frustrated and angry, or we can do something about flattening the curve.
Our numbers are spiralling out of control.
We are in a very bad state right now.
We will continue to look up to the powers that be to make tough decisions that are good for us and will bring down our numbers. We look up to them to reassure us.
In saying that, we can also play our part.
It is tough. It is frightening out there. The assumed rate of community transmission is scary.
We really don't know who has the virus and is walking around us.
So treat everyone as a potential carrier. Keep your physical distancing and remind people near you to stay away.
Watch what you touch when on public transport. Do not touch your face at all when you are out in public. Only do so after you have washed your hands with soap and water or a hand sanitiser.
And most importantly, wear a mask if you are out in public and will mingle or walk past people. Wear your mask properly please. Watch yourself at pharmacies and the local supermarkets. Be vigilant and proactive always. Do not attend super-spreader events if you can avoid them. Listen to medical advice.
Stay safe Fiji.
Meanwhile, here are some headlines that made The Fiji Times' edition for Wednesday, August 4.
Kaila!
Remember we have the Kaila! edition inside The Fiji Times. It's loaded with activities for the children. There are the popular riddles, puzzles, activities, lyrics, a poster and much more. Grab a copy for your child or for the young at heart.
LATE UPDATE
COVID cases and deaths
The permanent secretary for Health and Medical Services Dr James Fong announced 1220 new cases of COVID-19 for the 24 hour period that ended at 8am today. He said 464 cases were from the Western Division and 756 cases were from the Central Division.
PAGE 1
Political parties reaction
A number of political parties have voiced their concern over the recently announced Australian loan of $106 million to Fiji Airports Ltd for its capital works projects.
PAGE 3
FLP questions loan move
THE Fiji Labour Party has questioned Government's move to acquire the $106 million loan from the Australian government for upgrading works at the Nadi International Airport, considering the country was already up to its neck in debt.
Lax attitude
WHILE congratulating the Australian government's assistance of $106 million through the Australian Infrastructure Financing Facility for the Pacific (AIFFP), the Social Democratic Liberal Party (SODELPA) has picked on what it terms the Fijian Government's lax attitude towards the COVID-19 pandemic.
Loan timing
THE announcement of the $106 million loan for Fiji Airports comes at a time when the country is fighting a losing battle, to win the war against COVID-19 which is causing record infections and deaths never seen in our independent history, says National Federation Party leader Professor Biman Prasad.
LETTERS TO THE EDITOR
There are some interesting letters on Pages 8 and 9.
Find out what people are thinking about. Get a feel of the pulse of the nation.
PEOPLE
In this ever-popular section of the newspaper, read about: Ajay Narayan Singh
AJAY Narayan Singh has been driving a taxi for the past 26 years, but had to leave his job to sell vegetables. After a quarter century behind the wheel, the Narere resident never thought he would have to leave a job he loved to go and trade vegetables.
SPORTS
Jo Rabele
The big one on the back page is about rugby league and how national coach Jo Rabele is using the 7s victory in Tokyo, Japan to inspire our campaign at the Rugby League World Cup.
There's a lot more to read inside, but you'll have to get a copy to know what we are talking about.
Happy reading.