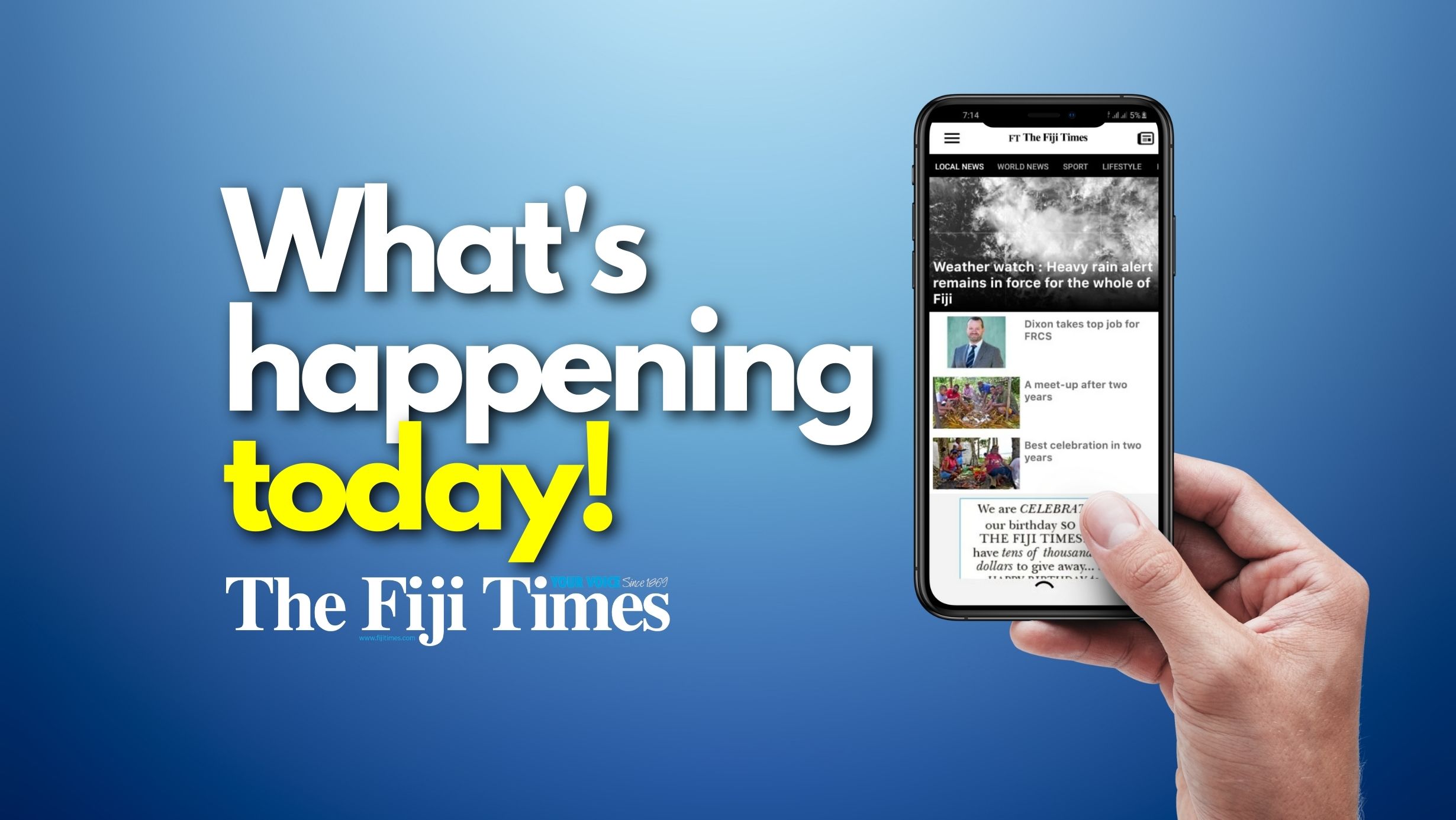 Bula vinaka everyone
Here is another edition of some basic information you may need to know for today.
First, here is your weather forecast for today:
Weather
A trough of low pressure remains slow moving over the group and is expected to affect the country for the next few days.
Another trough of low pressure lies just to the east of the country.
Meanwhile, a high pressure system is anticipated to lie to the far south of Fiji and direct a fresh to strong southeast winds over the southern parts of the group from Friday.
Forecast to midnight tomorrow for the Fiji group: Occasional showers over greater Suva/Nausori – Tailevu, eastern Ra, Naitasiri and Serua-Namosi, Lau and Lomaiviti group, Vanua Levu and Taveuni.
Elsewhere, partly cloudy with afternoon and evening showers.
Isolated thunderstorms and heavy falls likely.
Moderate easterly winds. Winds becoming east to southeast and fresh at times tomorrow.
Moderate seas. Seas becoming moderate to rough tomorrow.
Outlook for Friday : Showers increasing to rain over the greater
Suva/Nausori – Tailevu, eastern Ra, Naitasiri and Serua-Namosi.
Occasional showers over Cakaudrove, Southern Bua and eastern Macuata, Taveuni, Lau and Lomaiviti group.
Partly cloudy with isolated afternoon and evening showers and thunderstorms elsewhere.
Fresh to strong southeast winds with average speed of 45km/hr over land areas of Yasawa group, Kadavu and nearby smaller islands and southern Lau group.
COVID-19 daily press briefing
The Permanent Secretary of Health and Medical Services will issue updated statements – this can be accessed via the Fijian Government FB page.
COVID-19 vaccination
Stay alert and monitor radio announcements and check the Government's Facebook page to get the updated schedule of the mobile vaccination teams in your communities.
Online event
Psycho-Social Counselling Certificate by Mkange Counselling Institute and Honest
Leverage LinkedIn to Build Your Business: 5 Day Challenge by Sue Gresham – The LinkedIn Lady
Customize Your Money Method by Money Makeunder
Julia Child's Skillet Chicken Supper by Cooking With Stars
Breakthrough Guitar Lessons Bonus Live Class by Tom Hess
General information
French Ciné-Club – "Ouistreham" (Between two worlds) 7pm at Alliance Française de Suva
World Day for Decent Work (WDDW) 2022 Celebrations. #WageJustice 6pm at National Union of Factory and Commercial Workers
Matainiyavu Women's Bakery Groundbreaking Ceremony 10am at Naila
Rarama Vocal Art Audition 2pm at Ausaid Lecture – USP
Nausori Kids Hapkido Martial Arts Program 3.30pm at Nausori Catholic Church
 Editor's movie picks:
Vikram Vedha – 11:00am, 1.50pm, 6:35pm at Life Cinema Lautoka; 11:00am, 1:20pm, 5:15pm, 8:40pm at Life Cinema Nadi; 11:00am, 1:55pm, 8:50pm at Life Cinema Nakasi; 11:00am, 1:50pm, 5:10pm, 8:20pm at Life Cinema Labasa
Lyle, Lyle, Crocodile – 11.20am, 3.00pm, 7.30pm at Damodar City, Suva
COVID-19
Health Ministry advice:
People with severe COVID-19 are still dying at home, or are coming to a medical facility in the late stages of severe illness.
Severe COVID-19 is a medical emergency, and a delay in receiving appropriate medical treatment reduces your chance of recovering from the disease. You are at higher risk of developing severe COVID-19 if you are over the age of 50 or have a non-communicable disease or chronic disease like diabetes, hypertension, heart disease, kidney disease, or if you are obese or pregnant.
If you are at high risk of severe disease and have any symptoms of COVID-19 such as a cough, runny nose, fever, sore throat, body ache, headache, loss of taste/smell – please come to your nearest screening clinic to be checked and tested by our medical teams.
The severe symptoms of COVID-19, include the following: – Difficulty breathing; – Persistent pain or pressure in the chest; – Severe headache for a few days; – New confusion, inability to wake or stay awake; – Pale, gray, or blue-coloured skin, lips or nail beds.
Source: MOHMS 
On 26 November 2021, WHO designated the variant B.1.1.529 a variant of concern, named Omicron, on the advice of WHO's Technical Advisory Group on Virus Evolution (TAG-VE).  This decision was based on the evidence presented to the TAG-VE that Omicron has several mutations that may have an impact on how it behaves, for example, on how easily it spreads or the severity of illness it causes. Here is a summary of what is currently known.
Current knowledge about Omicron
Researchers in South Africa and around the world are conducting studies to better understand many aspects of Omicron and will continue to share the findings of these studies as they become available.
Transmissibility: It is not yet clear whether Omicron is more transmissible (e.g., more easily spread from person to person) compared to other variants, including Delta. The number of people testing positive has risen in areas of South Africa affected by this variant, but epidemiologic studies are underway to understand if it is because of Omicron or other factors.
Severity of disease: It is not yet clear whether infection with Omicron causes more severe disease compared to infections with other variants, including Delta.  Preliminary data suggests that there are increasing rates of hospitalization in South Africa, but this may be due to increasing overall numbers of people becoming infected, rather than a result of specific infection with Omicron.  There is currently no information to suggest that symptoms associated with Omicron are different from those from other variants.  Initial reported infections were among university students—younger individuals who tend to have more mild disease—but understanding the level of severity of the Omicron variant will take days to several weeks.  All variants of COVID-19, including the Delta variant that is dominant worldwide, can cause severe disease or death, in particular for the most vulnerable people, and thus prevention is always key.
Source: WHO