Vern Cotter names five debutants for PNC opener against Tonga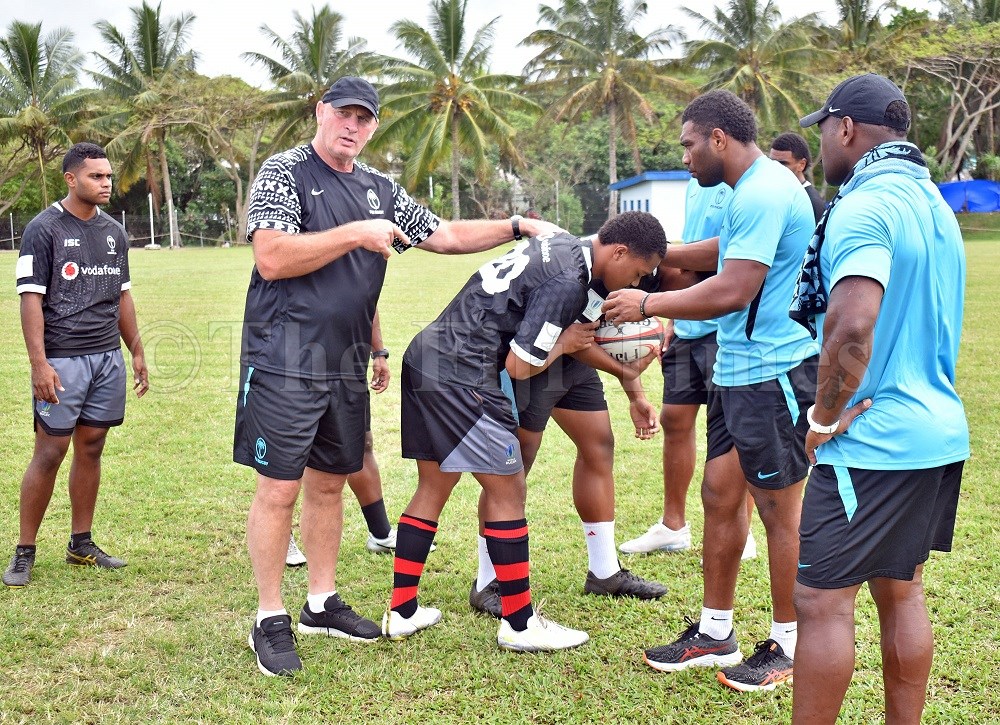 Vodafone Flying Fijians Head Coach Vern Cotter has named five debutants in the run-on team which faces a high-profile Tongan side in the World Rugby Pacific Nations Cup match on Saturday at HFC Bank Stadium in Suva.
Cotter has injected a mixture of young and experienced players who have been in camp for the past two weeks.
Cotter said "We need to give players opportunities and at the same time we need to give players coming late time to stimulate what we have done and get the feeling of the group.
The players who have been here longer had that added advantage."
Looking at the front row, Haereiti Hetet gets the opportunity to start at Loosehead Prop, young and explosive Fijian Drua number 2, Tevita Ikanivere is the hooker, boosted with the experience of Manasa Saulo at the Tighthead Prop.
Young Isoa Nasilasila will earn his first cap at locks paring with Tevita Ratuva who has had a good season with his French club Brive overseas. At flanks, Mesulame Kunavula will master the role together with Rusiate Nasove who also makes his debut after a fine season with Fijian Drua in the Super Rugby Pacific while Albert Tuisue will be at number 8.
Halfback Frank Lomani will guide the backline while Teti Tela gets an opportunity to start at fly-half. The duo is expected to drive the team across the paddock, give directions and make choices.
It will be a big day for Kalavati Ravouvou who will control the midfield together with Waisea Nayacalevu who will offer the experience as a captain.
Fans will witness speed, power and more physicality on the wings with Vinaya Habosi earning his first cap on the left while exciting Jiuta Wainiqolo will be on the right side.
Setareki Tuicuvu will guide the Vodafone Flying Fijians from the fullback's position.
Cotter has added more experience on the bench and is expecting the momentum to pick up once the substitutions are made.
Sam Matavesi, Eroni Mawi and Luke Tagi will add more firepower upfront while Apisalome Ratuniyarawa and Kitione Kamikamica will add boosted energy in the second row.
Peni Matawalu is expected to bring his usual game flair at halfback while former All Blacks star Seta Tamanivalu could get an opportunity to debut off the bench in front of the home crowd.
Manasa Mataele is likely to be vital either on the wings or at fullback.
Cotter said "These players will bring experience when bodies are a little bit tired and will be able to do extra work ons at the final stage of the game."
He is expecting a strong performance from the Tongan side who will hope to create an upset by defeating the Vodafone Flying Fijians at home.
He added " Traditionally like all other games against Tonga, this match will also be very physical for the initial 20 to 30 minutes therefore we need to be ready for that confrontation, the aggressive nature of their rugby plus we need to be smart and create opportunities, be accurate, calm and composed.
"We play at home and we want to play as a team and for each other and put in a good performance," said Cotter.
Vodafone Flying Fijians squad V Tonga
Haereiti Hetet
Tevita Ikanivere
Manasa Saulo
Isoa Nasilasila*
Tevita Ratuva
Mesualme Kunavula
Rusiate Nasove*
Albert Tuisue
Frank Lomani
Teti Tela
Vinaya Habosi*
Kalaveti Ravouvou*
Waisea Nayacalevu {c}
Jiuta Wainiqolo
Setareki Tuicuvu
Reserves
Sam Matavesi
Eroni Mawi
Luke Tagi
Apisalome Ratuniyarawa
Kitione Kamikamica
Peni Matawalu
Setareki Tamanivalu*
Manasa Mataele
Key: * signifies the name of the debutants
{c} Captain