The story behind Raiwaqa's elephant house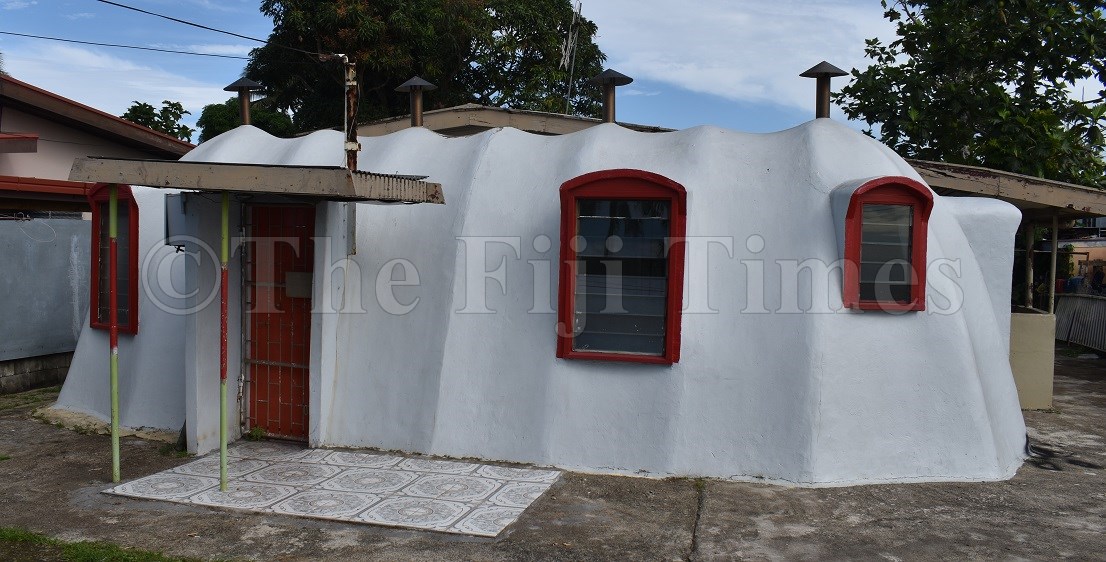 One of the most attractive homes in the residential area of Raiwaqa, a few kilometres outside Suva, happens to be the most quaint and weird-looking too.
Its cavernous structure looks like a number of things — toadstools, caterpillars, igloos and even the hobbit burrow at Bag End where Frodo Baggins lived in the movie The Hobbit and The Lord of the Rings.
Despite its small size, people in Raiwaqa call it the 'elephant house'.
In the early days of Raiwaqa, during the 1950s to be exact, there were a number of elephant houses in the area. This was before Raiwaqa Estate housing was development.
The elephant houses were likely the first set of residential homes built in the capital in response to the growing demand for affordable housing. The man behind Raiwaqa's elephant houses was a Catholic priest who went by the name, Fr Dermot Hurley.
He belonged to the Catholic missionary society of St Columban which was founded in Ireland in 1917.
In the years leading up to independence, the population of Fiji, in particular the capital Suva, was slowly outnumbering the available accommodation in the urban centres.
In fact, the census of 1956 showed the population of Fiji to be 345,737 of whom 49 per cent where Fijians of Indian descent and 43 were indigenous Fijians.
Europeans, Part- Europeans, Rotumans, Chinese and 'Other Pacific Islanders' made up the remaining 8 per cent. Hence, the Legislative Council resolved to establish a committee to make recommendations for a housing scheme in Fiji and ultimately the Housing Authority was established in 1957.
The HA was given 200,000 pounds in free grant to begin its operations. According to the website columbans.ie Fr Dermot spent five years at a Melbourne parish before he was given a chance to work in Fiji in 1952.
In Suva, he noticed the housing challenges faced by many urban families and realised that the urban poor needed help.
They needed a house over their heads and feel happy in their hearts before they could fully embrace the principles of the Christian faith. Many were living in 'illegal, overcrowded and unhealthy stacks and tenement rooms'.
"In Ba town, I saw the very poor housing in which even wageearning parishioners were living," the Columban website quoted Fr Dermot as saying.
"I did not see much point in advising them about family life and family prayers when they didn't have a proper family house! So my interest in housing grew."
As luck would have it, Fr Dermot stumbled across a ctesiphon building and felt that the 'cheap hurricane-proof house' could provide a housing solution for the poor in urban Fiji.
Ctesiphon houses got their name from Ctesiphon, an ancient city of current day Iraq. It was a trade center founded between 171 and 132 BCE on the east bank of the Tigris River.
According to the online encyclopaedia www.worldhistory it was the capital of the Parthian Empire (247-224 BCE) before it was destroyed by Rome.
The city became an important center for trade along the ancient Silk Road that linked Asia and Europe.
Fr Dermot is believed to have begun building ctesiphon houses in Raiwaqa in the 1950s. However, his bishop was not impressed, saying the houses were like an 'upturned jam jar'.
Fr Dermot replied by saying: "Beauty is in the eye of the beholder," responded Dermot. The Columban website noted that Fr Dermot later realised that ctesiphon buildings, noticeable for their arches shape and dome or shell roofs, were not the answer to Fiji's housing problems.
"Savings made were only about 10 per cent of the total cost of a conventional house in an urban area when sewerage, plumbing, electricity, floors, partitions, ceilings were to be provided."
"Besides, people wanted a conventional house with a better resale value. But this 'failure' soon led to further involvement."
Fr Dermot came to the realisation that the building standards in force in Fiji then were an obstacle to affordable housing. His submissions to the Housing Authority (HA) showed that it was 'only building houses for higher income workers'.
He planned a successful 'self-help' building scheme for families in his parish in Suva. This pitched him into the detailed problems of permission, planning, purchasing materials and so forth.
In 1966, Fr Dermot was appointed to the Housing Authority board and became the chairman of the board from 1967 to 1975.
He persuaded the Fiji National Provident Fund to allow withdrawals for housing, a policy that is today popular and prominent.
Furthermore, he negotiated cutting down on the expensive infrastructure and even championed a scheme for building a basic house structure without ceilings, partitions, glass windows etc.
One of his legacies was being involved in the development of the Raiwaqa Estate housing where, as chairman of the HA, he welcomed Queen Elizabeth II when she visited it.
Later, in 1969, he convinced the Fiji Council of Churches to set up HART (Housing Assistance and Relief Trust) to build houses for the very poor. In 1972, Fr Dermot was seconded to work full time as executive secretary of HART for four years.
He and his co-worker, Sr Xavier, made a big impression on the people they helped. Today HART provides housing and other services for 800 poor or destitute families.
Fr Dermot found this work, especially the planning of new HART villages, very fulfilling as difficulties were overcome and the work of housing the poorest in the country bore fruit.
At his funeral Mass in 1999 he was fondly described as "more than a priest; to Fiji he was a leader, a pioneer, a teacher, a social worker, a missionary, a friend of the poor."
Fr Dermot served in Ba between 1953-1959 and 1964-1970, Samabula between 1960 -1964, HART between 1972, and 1975, Raiwaqa between 1977 and 1986 and Korolevu between 1986 and 1990.
In the book, The Turning Wheel, which takes a look at the work of Columban missionaries in Fiji over the past six decades, Fr Frank Hoare (2018) said Fr Dermot had a deep passion for housing and low-income earners.
Fr Hoare said Fr Dermot wrote to the Fiji Council of Churches and suggested that a committee be formed to prepare a constitution of a charitable trust to build houses for the very poor. "This became the HART (Housing Assistance and relief Trust).
The first meetings of HART were held in 1970 and it organised a very successful fundraising appeal," Fr Hoare added.
"Today HART provides housing and other services for more than 850 poor or destitute families. Fr Dermot was appointed a member of a housing committee in 1965 set up by the medical Department to consider low cost housing which the government would approve of."
In 1966, he was appointed to the Board of Housing Authority, where he was the chairman for almost a decade. The Sunday Times team visited the elephant house this week but could not get close to have a look at the structural details of the house and talk to its owners.
The gate was locked so the best the team could do was snap shots from the roadside.
It would have been nice to enter the white and red-painted elephant house and experience what it felt like inside one An internet search showed that a Jennifer Chan and Cynthia, who were Filipino Catholic missionaries to Fiji, lived in the house in 2002 for at least a year.
Chan described the house as a "unique architectural wonder… patterned after the low-cost housing in Iraq."
"I like our elephant house. It is off-white, with cavernous walls and igloo-like structure. It is beautiful and amusing to behold," Chan wrote.
"You would never guess this small house has two bedrooms, a small kitchen, toilet and bath in one, plus a comfortable sitting room! Just perfect for Cynthia and me."
"What's more, we have very friendly neighbours of different faiths within our compound – there's Mrs Singh, our Indian landlady who is a professed atheist, her daughter Kirti, a baptised Anglican and Sofia and her family who are devout Muslims".
The magazine Pacific Islands Monthly in October, 1960, said the Ctesiphon homes of Raiwaqa had a living area of 477 square feet and costed 430 pounds each.
History being the subject it is, a group's version of events may not be the same as that held by another group. When publishing one account, it is not our intention to cause division or to disrespect other oral traditions. Those with a different version can contact us so we can publish your account of history.