Tennis star visits Lautoka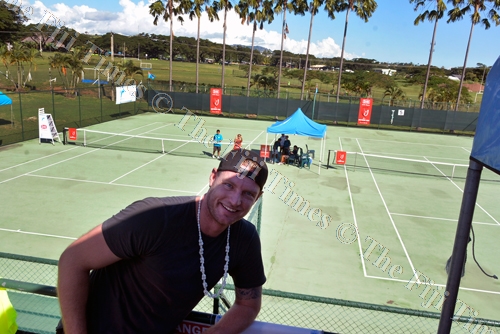 AUSTRALIAN Davis Cup representative Sam Groth who holds the record for the fastest serve in world tennis is no stranger to Fiji. Groth first visited the country as a 13 year-old and spent a week and a half at the Regional Tennis Centre in Lautoka.
He participated in the International Tennis Federation (ITF) sanctioned junior competitions held in the country enroute to becoming one of Australia's top professional players.
"I haven't been back here for the past 13 years so it is like a blast from the past for me coming back," Groth said.
The 30-year-old gave the thumbs up for the inaugural OTF Nations Cup Pacific saying it was a great initiative for the players to be representing their nation in a team event.
"I think playing for my country was one of the greatest honours I could have had," Groth said.
"I guess even though the Pacific Islands compete in the Davis Cup and Fed Cup as a joint team, there is nothing like representing your own country.
"It is a great initiative that they can all come here and have the chance to fully represent their own nation.
"Anytime you play for your country in such an individual sport such as this, the chance to play as a team is very rare.
"So in only a few times in your career you can represent your country in these team events otherwise you are playing by yourself all the times.
"It is good to see the ITF roll this out. They have piloted it here in Fiji and it will be good to see it roll out to the other Class C nations giving the players from those countries a chance to play in such a format."
Groth, who reached a career high ranking of 53 in August 2015, holds the record for the fastest serve in the world. He achieved this feat at the ATP Challenger in Busan in 2012 hitting the serve at a record 263 kilometres per hour.
Groth said he loved the Davis Cup.
"I would always put Davis Cup first on my schedule around the grand slams," he said.
"I had a chance to play some very big matches for Australia in the Davis Cup and made it twice to the semi-finals.
I grew up playing team sports.
"Australia has a rich history in the Davis Cup and to be able to follow that on with some of the players we had over the years it was a real honour to put on the green and gold to represent my country."