Suva business houses battle on in touch rugby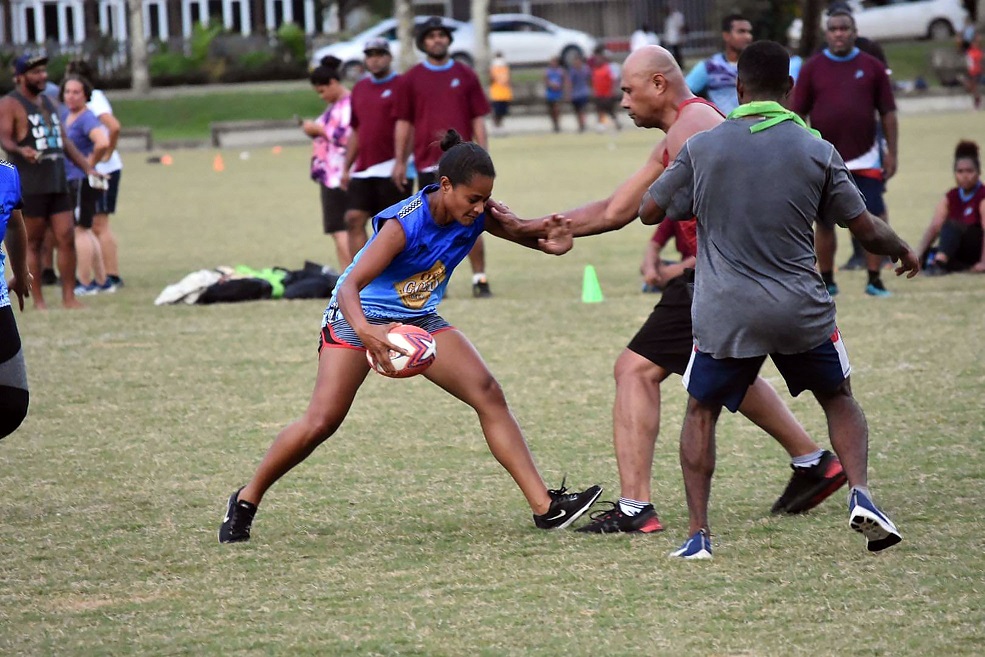 Fiji Touch Federation successfully hosted the first round of the Suva business house (BH) competition at Albert Park last Thursday. Despite showers in the Capital City the sport of touch rugby took centre stage at the iconic venue.
No bars held as teams strut their stuff to the great cheers of their supporters that brave the late evening showers.
ANZ under the guidance of veteran touch player Lorima Jitoko rallied his troops against the colourful Gold Rock side that was ably led by another evergreen and touch veteran in Charles Cleary.
The opening game drew wild cheers as both teams tussled each other out trying to look for the winning edge. At the end of a classic encounter, the bankers of ANZ prevailed over an energetic Gold Rock side by 7-3.
Team RBF made their presence felt in clean sweeping their three games yesterday.
Ably led by the dynamic duo in brothers Mesake Tikotani and Enele Malele, it will take a well balanced side to destabilise this juggernaut.
The champion combined IAP/APPI without the key man in national men's touch captain Pate Chan had to dig deep into their reserves to untangle the energetic Digicel side that had the services of one of the uprising stars of the game in Jerry Tubananitu by 2-1.
In another enterprising encounter, Team UN under the guidance of Rt Tevita Dawai guided his multinational troop through to edge a guile HFC side 2-1 that had the services of national touch rep Timoci Tuisawau and his lieutenants in Raymond Stoddart and Mere Tikotani.
The Navy seals from Togalevu continue to make a splash in the BH touch arena with a draw against the ever improving Total side 1-1 before closing the evening with a classic and edging out the enterprising BSP Life side with the services of the "Ninja" in Liga Gukisuva and Leon Jang by 2-1.
Fixtures for Monday  5.15pm-5.30pm: USP verses ANZ, The Fiji Times vs UN Team 5.30pm-5.45pm: RBF v Combine Accountants, Ra Marama Neighbours v Waivure 5.45pm–6pm USP v Gold Rock, Digicel v Fiji Ports 6pm-6.15pm: MDF v BSP Life, CWM Medics v Combine Accountants 6.15pm-6.30pm: Ra Marama Neighbours v Insurance Combine, Telecom Fiji v Fiji Ports 6.30pm-6.45pm: Digicel v FRA, MDF v Navy