Speaker: A-G did not mislead Parliament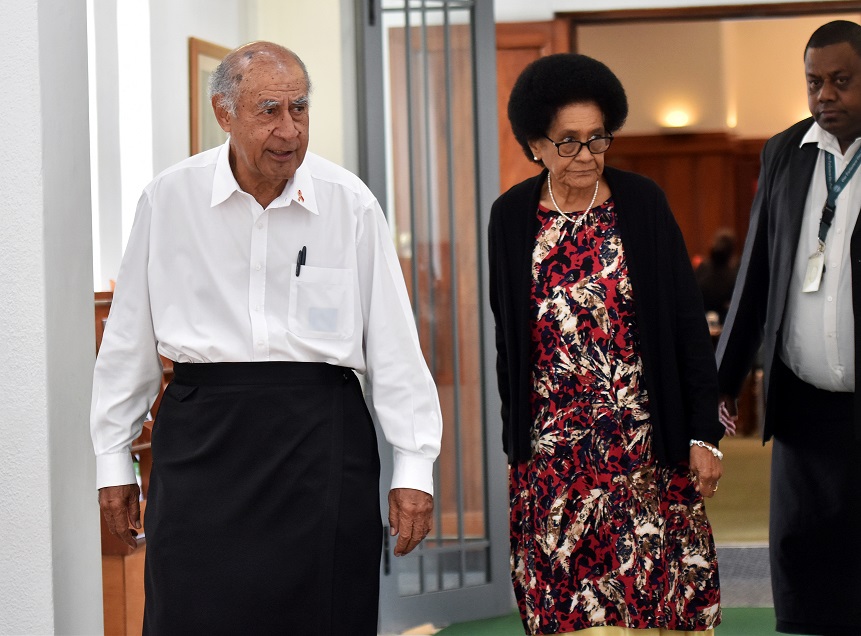 SPEAKER of Parliament Ratu Epeli Nailatikau has ruled that there be no further discussions on a matter of privilege raised by Opposition Leader Sitiveni Rabuka against Attorney-General Aiyaz Sayed-Khaiyum alleging that he misled and brought dishonour and disrepute to Parliament while responding to questions regarding the wavier of tender processes.
He said Mr Rabuka had alleged that the Attorney-General brought dishonour to Parliament on Monday, April 1, and Monday, May 13, while responding to a question and a supplementary question respectively, which were both asked by the Opposition Leader.
Ratu Epeli said Mr Rabuka, in his letter quoted from Page 7 of the daily Hansard of April 1, 2019 and alleged the Attorney General had commented as follows: "I cannot waive procurement regulations, the regulations allow me to waive certain processes."
Mr Rabuka had quoted from the uncorrected copy of the daily Hansard of May 13, and alleged that the A-G commented as follows: "Mr Speaker sir, the waivers are actually given an exceptional circumstance and regulations clearly set them out, all there is only one supplier, the general principle of it."
Mr Rabuka also alleged that these statements were blatant lies and that the A-G misled Parliament, and brought disrepute to Parliament and had urged that the privileges committee be convened immediately.
However, Ratu Epeli said it was pertinent to highlight that deliberately misleading Parliament was a serious matter and may be viewed as contempt of Parliament.
"There are three elements which must be established in order to show that a member deliberately misled Parliament. Firstly the statement must in fact have been misleading. Secondly, the member must have known at the time the statement was made — it was incorrect. Thirdly, in making the statement a member must have intended to mislead Parliament."
He said neither of the statements quoted by Mr Rabuka were false or misleading.
"There is no law in this or any known jurisdiction which allows a minister to waive subsidiary laws that is clearly what the Attorney-General is alluding to when he said on April 1, 2019 that he could not waive regulation. He then proceeded that the qualifier by clearly stating that he was empowered to waive certain processes."
The documents provided by Mr Rabuka, he said, had purported evidence that the statement made were false, were in fact a waiver of the tender process.
"That is clearly what the Attorney-General meant when he said he was allowed to waive certain process which he is empowered under the law to do. In relation to the statement made on May 13, 2019, I note that such statement was made immediately after the honourable A-G quoted the necessary provisions in relation to waiver of tender under the Procurement Regulations 2010.
"The exceptional circumstances, he is quite obviously referring to the circumstances he had listed, which did in fact contain the requirement for a single or sole supplier under regulation 48(1), this statement is clearly neither false nor misleading, and is in fact what the law provides."
Ratu Epeli ruled that there were no prima facie evidence that Mr Sayed-Khaiyum deliberately misled Parliament.