Sleeping with the waves
7 October, 2018, 12:36 pm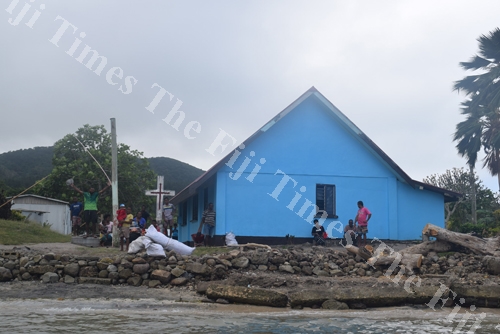 FROM a distance it looked like a jewel nestled in a majestic harbour, garlanded by the white sandy beaches and the mountainous terrain that make a perfect backdrop on a portrait.
But when we arrived at Narikoso Village on the island of Ono in Kadavu, evident was the threat sea-level rise has made to the more than 100 villagers.
A huge portion of the land had gone, in fact, in the past half-century, about 50 square metres of land had been washed away.
In 1973, a seawall was constructed, eight years later villagers constructed another seawall and then in 1982, another was erected this time moving closer to the village.
Most climate scientists agree the main cause of the current global warming trend is a human expansion of the "greenhouse effect" According to the US National Ocean and Atmospheric Administration, global sea level has been rising over the past century, and the rate has increased in recent decades.
"In 2014, global sea level was 2.6 inches above the 1993 average-the highest annual average in the satellite record (1993-present). Sea level continues to rise at a rate of about one-eighth of an inch per year.
"Higher sea levels mean that deadly and destructive storm surges push farther inland than they once did, which also means more frequent nuisance flooding. Disruptive and expensive, nuisance flooding is estimated to be from 300 per cent to 900 per cent more frequent within US coastal communities than it was just 50 years ago.
"The two major causes of global sea level rise are thermal expansion caused by warming of the ocean (since water expands as it warms) and increased melting of land-based ice, such as glaciers and ice sheets. The oceans are absorbing more than 90 per cent of the increased atmospheric heat associated with emissions from human activity."
I was billeted at the home of Kelepi Saukitoga. His house is one of seven houses that have been identified for relocation as it is often inundated by seawater during the king tide.
For four nights I could hear the waves crashing onto the walls of his house, this was what Tamana, as he is commonly known, is accustomed to since moving back to the village with his late parents in 1997.
"My house is like the beacon for the rest of the villagers because I am the one now closest to the sea. Even the seawall cannot stop the waves, even the mangrove planted by my late father could not stop it. This is what me and my children wake up to on a daily basis," he said.
Mr Saukitoga said he was blessed to have been selected as a Climate Change Trail Blazer to present at the Global Climate Action Summit in San Francisco last month.
"Someone asked me how do I know that sea-level is rising, I told him to come to my village and spend a night or a week in my house to know. I told them I see the waves every day and I know we are drowning.
"After my presentation, many overseas representatives said they want to visit my village to witness the impacts of sea-level rise. "I was also thankful I got the chance to present to my relatives who are US residents so they know what is happening at home," he said.
In 2012, while he was the District representative for Ono, when the Prime Minister visited Narikoso, Tamana informed Mr Bainimarama that climate change is real and the village is slowly drowning.
It was here through the Fijian Government's Ministry of Rural and Maritime Development, Disaster Management and Meteorological Services and in partnership with the Germany Agency for International Cooperation (GIZ) supported by the European Union a decision was made on the relocation of seven households in Narikoso Village in Ono, Kadavu.
However, before relocating villagers have to prepare themselves.
Mr Saukitoga said they have already planted fruit and native trees on the new site and also started their farms to help sustain them once the relocation is done.
Josivini Naitini the Secretary for the Narikoso Women's Group said they help look after their poultry farm and the revenue gained has been deposited
in the bank to prepare them for the future.
"Our first lot of hens was provided by GIZ and the second lot we bought ourselves from the sale we have been doing.
Currently, we have 100 hens and we are looking at expanding as there is a huge demand for eggs from our nearby resorts and the villagers themselves.
"This is the initiative of the 25 women that reside in the village and every day each woman take turns to clean the poultry farm and collect the eggs. "In a week we could be generating about $400 all from the sale of eggs and all of this has been deposited in our account to help prepare us for our relocation."
Village elder Tevita Bola said while it hurts to move it is a decision that must be made.
"I remember in 1983, when alongside ten other village men we were appointed to go and work in cane-fields as we look for the funds to construct our church. We did that, sadly the church we built will soon be taken by the waves," said Mr Bola.
"We do this one week in every month it's just our way of preventing the waves from causing more damage. So we agreed to help maintain our seawall,"
added Josua Rabuna the youth advisor as youths, women and children helped carry rocks and line them piling them on the shore.
"We are prepared to move, in fact, we can't wait to be relocated. We are just waiting for government," said Mr Saukitoga.
In a statement, the Fiji Government said there were certain procedures that needed to be followed before any relocation is made.
"First and foremost the relocation project must follow all Fijian Government rules and regulations. These regulations govern land acquisition, the types of surveys that need to be conducted on the site and procurement processes etc.
"Before houses can be relocated, prerequisite ground assessment needs to be conducted. Secondly, the site layout plans need to be drawn and an Environmental Impact Assessment needs to be approved.
"The Ministry of Health and Medical Services will vet the site layout plan(s) and approve or decline the proposed site layout. When all the forementioned criteria are satisfi ed the procurement of building materials and construction can begin.
"In addition, project funds are received in tranches, meaning a certain portion of funds is disbursed from Germany upon request. Funding is released
after a fi nancial report is submitted to GIZ.
"These activities take time to execute due to the availability of equipment and personnel from respective government agencies. Also, the prevailing weather condition(s) is a signifi cant factor directly influencing the execution of ground assessments.
"Livelihood and Disaster Risk Reduction training is planned for the people of Narikoso. These capacity building activities are geared toward improving the overall resilience of Narikoso to climate change and disasters. The capacity building activities will complement the relocation initiative.
"The project has completed all necessary ground assessments for Narikoso with the aim to begin construction in November 2018."
In 2014, Government decided that the people of Narikoso Village would be moved to a new site since the current site was prone to coastal erosion and
storm surges.
Narikoso is one of the seven villages in the district of Ono. The other six villages are Vabea, Waisomo, Naqara, Nabouwalu, Buliya and Dravuni.
History being the subject it is, a group's version of events may not be the same as that held by another group. When publishing one account, it is not our intention to cause division or to disrespect other oral traditions. Those with a different version can contact us so we can publish your account of history too – Editor.