Sailors on fatal voyage
27 October, 2020, 9:00 pm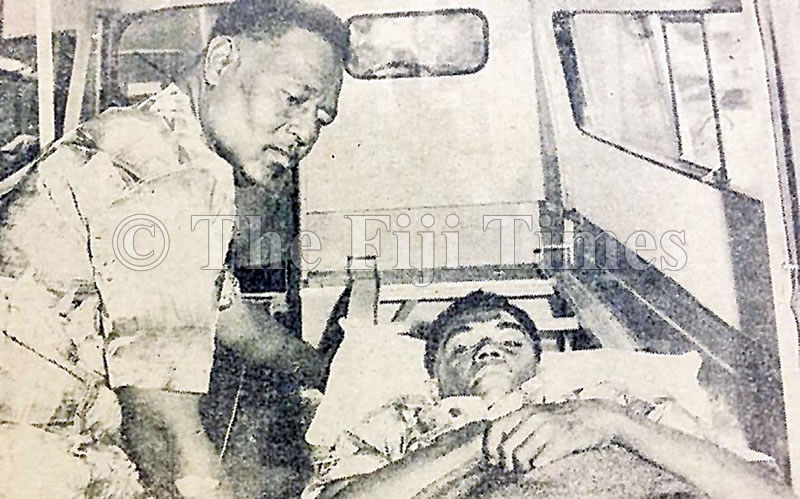 Tevita Fifita, captain of the wrecked Tongan yacht Tuaikaepau said a prayer with his 22-year-old son Sateki in the seas off Kadavu shortly before the young man drowned.
Sateki died at the end of a 350-mile seven-day journey from South Minerva reef to Nacomoto on the south-sea side of Kadavu.
The tragic ordeal was relayed to The Fiji Times by survivors who were admitted at the Colonial War Memorial Hospital on October 17, 1962, with an article published the following day.
According to this newspaper, Tevita, Sateki and Tevita Uaisele had sailed on a raft-type vessel – 18ft long and 4ft 5 inch wide – to seek help for the 11 comrades they had left behind.
When they were about a mile and a half offshore on Sunday (they had left Minerva on October 7), their craft capsized at the entrance of the long reef passage leading to Nacomoto Village.
The three men set out to swim to shore and Mr Uaisele gradually forged ahead. He looked back and saw Tevita Fifita supporting Sateki.
Mr Uaisele turned back to help the other two, but Tevita Fifita called out and told him to keep going. Mr Uaisele said if he did not carry on, none of them would reach the shore.
Tevita Fifita knew his son was so weak that he would not reach the shore alone and he also knew that if he stayed to help, both were doomed. So he and Sateki said a prayer, and Tevita left.
The article described that when Tevita was close enough to touch the seabed, he looked back. His son had disappeared.
The two Tevitas who had been in hospital in Vunisea since Sunday, October 14, arrived at Laucala Bay on the afternoon of October 17 by a Royal New Zealand Air Force Sunderland flying-boat.
Mr Uaisele came ashore on a stretcher, but Tevita Fifita looked well in spite of the ordeal. He walked to a waiting ambulance without assistance.
Both men in contrast to their comrades, who arrived at Laucala Bay, were clean shaved.
On arrival at the CWM Hospital, the men were warmly greeted by their comrades, particularly the mate, Ve'etutu Pahulu, who had been in charge of the party since the three set out for help.
Tevita Fifita strode up and down the ward shaking hands with his shipmates and checking that they were all present. He warmly greeted another of his sons, Talo.
Tears ran down the cheeks of Tevita Fifita and Mr Pahulu while they talked about their experience since they last saw each other.
Describing their journey from Minerva Reef to Kadavu to this newspaper, Tevita Fifita said they had started with a quart bottle of water, a piece of cooked octopus and a piece of cooked shark.
The public ward at the CWM Hospital was crowded when relatives, friends and well-wishers nearly all bearing gifts arrived to greet the 10 survivors of the wrecked Tongan yacht.
Red Cross officials distributed clothes, soap, toilet gear and other comforts.
They also put in train preliminary plans to accommodate the men on their discharge from hospital.