Sabrina Khan-Sharma — 2021 Champion of Change award winner
1 November, 2021, 6:58 pm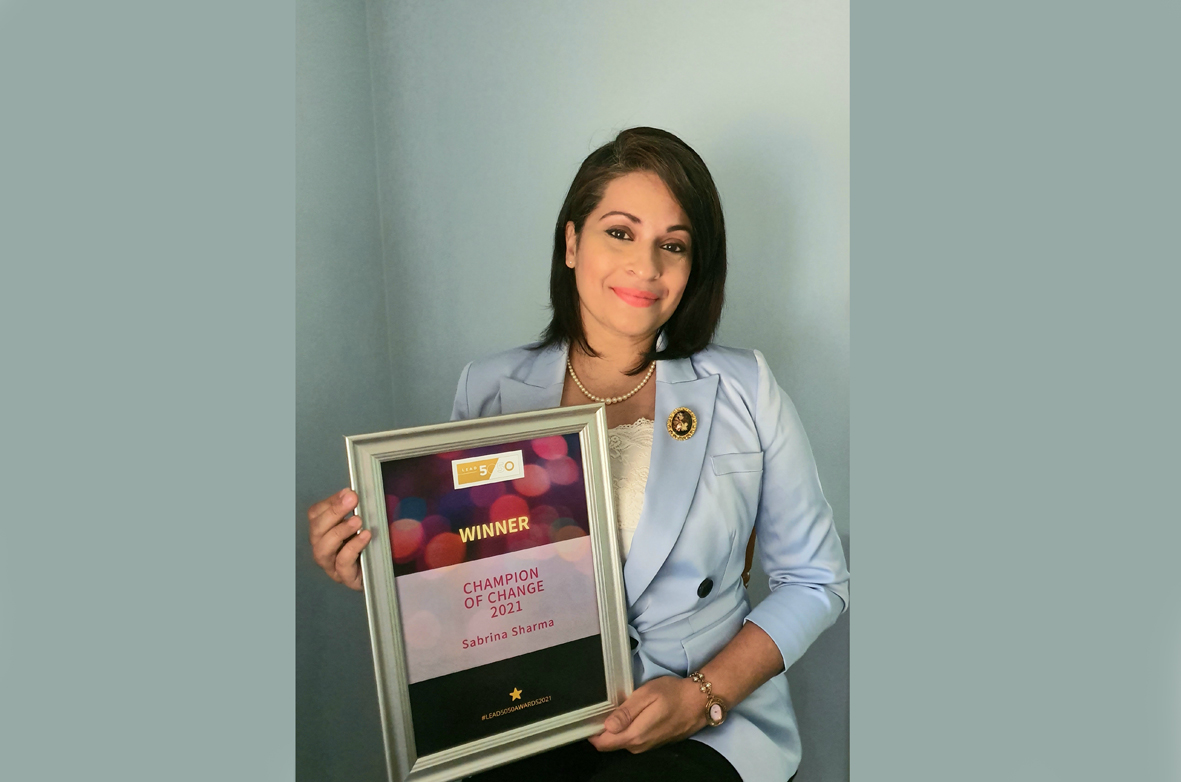 Sabrina Khan-Sharma scooped the United Kingdom Lead5050 International 2021 Champion of Change award over the weekend.
The award was given in honour of the work she has done to bring about positive change in the lives of rural women in Fiji.
It was also given in recognition of her efforts towards women to encourage community participation, initiative and empowerment.
Ms Khan-Sharma was nominated for two awards – Mentor of the Year and Champion of Change.
The British-born human rights lawyer claimed the award over candidates from Australia, England, Canada and Switzerland.
While many women and girls in the Western parts of Viti Levu would be well aware of her advocacy and philanthropic work, not much was known about what inspired her and gave her the passion to care deeply about marginalised women, and especially single mothers.
A lot of it had to do with her upbringing and also her personal experiences as a woman who fell victim to domestic violence and also as a single mother to a child with special needs.
A committed Christian, Ms Khan-Sharma attributed her success to God and also to her father, renowned local lawyer Iqbal Khan. To tell her story, we would have to begin with his.
Today Iqbal Khan is an icon in the legal fraternity.
His tenacity in the courtroom and the passion and vigour he displays while fighting cases is legendary.
Many who come across Mr Khan are often caught off-guard by his seemingly quiet demeanour and charm.
However, those who have come up against the Lautoka lawyer in the courtroom know that he is a different man when it comes to taking care of business.
While his friends and colleagues know Mr Khan as a reserved person, he became a public figure following his seat on the Bench in Fiji and his case victories over decades.
But where he is ruthless in the courtroom, his daughter is graceful.
Where he has shown up for battles, she has won over the hearts of the Fijian people with her poise and compassion.
"Forty-two years ago I began my legal career in London with my precious baby daughter in my arms," Mr Khan shared.
"Over the past four decades, I have achieved many milestones in my life, but being her father is by far my greatest achievement yet.
"She has become a champion of grace, compassion and hard work. I could not be more proud of her."
Ms Khan-Sharma said her father's support from a very young age gave her a firm foundation for her journey through life.
She said he understood her need to be independent despite the challenges she faced.
"I worked as a cleaner to pay my way through law school and to pay for my textbooks," Ms Khan-Sharma said.
"As a single mother, I have lived in a garage with my child and worked my way up – one day at a time.
"As a result of my hardships, I am mindful of the struggles and difficulties faced by many women today, which include single mothers and those suffering domestic violence.
"But none of this would be possible without the love of my Father in heaven who breathed life into me and by whose plans I have prospered.
"I give Him all the glory, honour and praise." Ms Khan-Sharma has attained accomplishments in the fields of law, criminal psychology, Christian scripture and more from Harvard University, The Imperial College of London, James Cook University of Australia and The University of Queensland in Australia.
She also received the Order of Fiji medal last year in recognition of her contribution to the marginalised in the Fijian community.
Ms Khan-Sharma's initiatives have included establishing the Fiji Rural Women Empowerment Network, conducting domestic violence awareness projects and training programs across Fiji, educational initiatives for women in rural areas and providing office-based training workshops to help women prepare for job interviews through learning etiquette, professional skills and embracing modest
dressing.
Together with her husband, British born Fijian, Jonathan Sharma, she has engaged in distributing Mercy Boxes to communities across Fiji.
The Mercy Boxes have assisted families living in poverty and the couple used the distribution as an opportunity to engage in street evangelism.