Record label secures right to promote new album
6 October, 2018, 11:32 am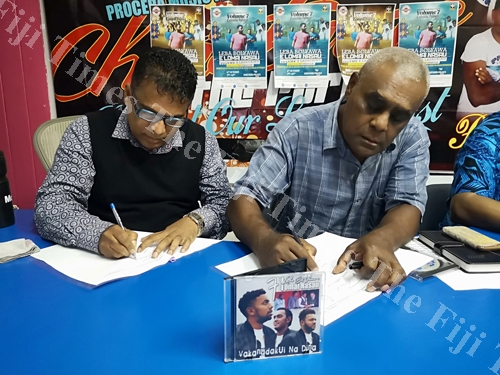 REFRESHING a long-time friendship, Procera Music signed a contract with the Dokidoki Production as official promoters for Leba Boi Yawa E Lomai Nasau's new music album, volume 7.
Speaking at the official signing, Procera Music managing director Mohammed Akif said Procera Music was also a distributor for Voqa Ni Delai Dokidoki's volume 1 and 2 which gave him more reasons to sign up with Dokidoki Production.
"The reason I got this album was because of the loss of master Lote who died, he was a very close friend of mine. Every time he had something he would always come and sit down with me. At the music awards night, I remember he was awarded as Best Composer and he also wanted to work with us, he was selling his own CDs," said Mr Akif on Thursday.
Mr Akif said he was happy and excited to release the new album under the Procera Music label and would definitely promote as much as they could.
According to Mr Akif the album will not be downloaded, but will only be sold in CDs.
He warned that anyone found downloading would be taken to task as they would also be working closely with the Fiji Police Force.
The CDs will be sold at $20 each at Procera Music outlets.