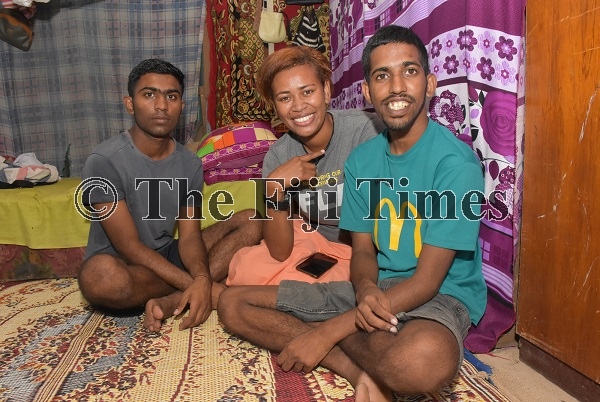 While most teenagers planted vegetables or enjoyed themselves during the three-month school break, Rohal Nitij Ram spent his time trying to provide for himself and his 23-year-old mentally challenged brother.
Orphaned at a very young age, the Year 13 Votualevu College student has lived through turbulent times and struggles — well before the COVID-19 pandemic brought about its own set of challenges.
Rohal and his brother today live in a room of an iTaukei family's home after moving out of an uncle's home because their relationship had strained.
Since the closedown of school in March, and amid staying abreast with schoolwork and preparing for external exams this year, Rohal had to find work to feed and house his brother.
He scored a gig as a bulk boy at Shop N Save Supermarket, Namaka, Nadi, but he is forced to take his brother along.
"There is really no one to look after him during the day, so I've had to take him along," the 18-year-old said.
"He sits in the car park area, or at times where the security, so he hangs around him.
"I come and feed him during lunchtime and go back to work.
"In the afternoon we go back home together by bus."
Rohal said his mother was murdered when he was just seven years old, and his dad passed away after suffering a heart attack when he was nine.
"My parents were separated in 2007 and my brother and I stayed with our dad.
"My mum was murdered by her de facto partner in 2009, and dad had a heart attack in 2011.
"At the time, we were renting in Suva and had no place of our own nor any support from families."
With both parents gone, the youngsters were accommodated in a shelter home.
He said after a few months there, a family in Nadi extended a helping hand.
"We moved into Happy Homes in Suva and a few months later, an aunt and uncle visited us and we moved in with them at their house in Nadi."
Rohal said things did not turn out as he had hoped, so the brothers moved out of the home after some time.
"In 2015 I moved into Veilomani Boy's Home in Ba, and months later my aunt visited me again and told me I could move back in, so I went back again.
"But I moved out again this year because my aunt passed away last year and my relationship with my uncle did not improve.
"I moved out of my uncle's home in June this year, taking along my brother with me, and currently living with an iTaukei family, who have been kind enough to shelter us."
Elia Matakila Rakesa, who works with Rohal, offered to shelter the brothers after learning about the difficulties they were going through.
"He told me of his problems and I told him he can come over to my place and stay with me," Mr Rakesa said.
"I feel sad about his situation, he has no place to stay, and on top of it, we all are facing hard times now.
"Rohal is a nice and very hardworking boy."
Rohal also acknowledged the family that has been providing them with food and washing their clothes.
"I am very thankful for them and also Elia for sheltering us."
Rohal said he still hoped to complete school.
"While I am still studying and trying to stand on my own two feet, I hope one day a family or care facility will accommodate us, most importantly to take care of my brother so I can concentrate on my studies.
"I really do not want to be separated from my brother, he is all I have in this world, he is like my heartbeat."
Rohal, who was expected to resume classes two weeks ago, dreams of becoming a pilot.