Program set to create jobs for more than 40 people
27 January, 2021, 2:15 am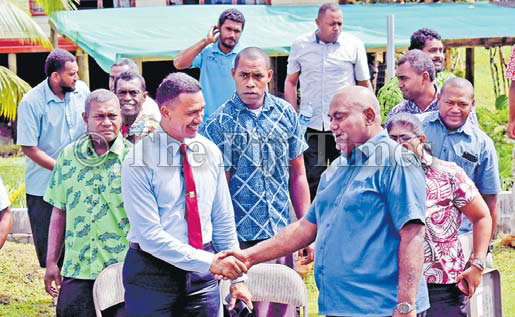 The National Forest Inventory is set to create employment for more than 40 individuals who were undergoing training for two weeks yesterday.
According to the Redd+ Project Fiji team leader Ilaisa Tulele's they had put out an advertisement as they were also looking to those who had already done inventory work as this was a mammoth task which had to be undertaken.
These 40 individuals had conveyed at the Colo-i-Suva Village Hall to undergo the National Forest Inventory training however there were expectations for the number to increase.
"So those that are here, those that are selected, a lot of them have already done the inventory work in areas that forestry has set up sites, basically from Nakavu and Drawa, those are two blocks," he said.
"This training will basically run for two weeks to try and prepare them, its very important that they go through this training basically on the technicalities involving tree measurements and inventory and also this morning.
"They will be going through the general orders because now they are contracted as civil government workers, it is important that the general orders is observed at all times."
Mr Tulele said they were expecting about 18 teams on the ground as these workers would come from all around the country.
He said the selection process had focused on their back ground especially in terms of education.
"There are a lot of unemployed students that have higher tertiary education so that's good also for the team, cause it brings in a lot more good qualities."
Ministry of Forestry permanent secretary Pene Baleinabuli said the field data collection was critical for the future of Fiji's forest sector but would also be demanding and test the workers resolve to begin and complete this important work.
"I note that the group assembled here today is a mixture of experienced forestry hands that have participated in some form of forestry work in the past, along with those of you who have been selected because of your past tertiary training and exceptional skill sets.
"I need to emphasise the importance of 'comradeship and team work', which is the essence and the cornerstone of successfully completing the challenging mission that lies ahead.
"The field data collection work that you are about to embark on will not be easy as you will be sent to the four corners of Fiji's landmass, entering terrain that many of us may never reach in this lifetime, but I have every confidence in the thoroughness of the selection process and the team assembled here this morning is the best suited for the mammoth task ahead," he said.
He added they would have the opportunity to learn and build their knowledge and witness first hand of the diverse nature and beauty of Fiji's forests and ecosystems, and the changes in forest cover through developments that have occurred in the last decade.
"It is therefore important that the field data you collect is accurate, consistent and reliable so that the report that is developed at the end is a true representation of the existing forest cover.
"The training that you will participate in, beginning this morning, is to prepare you for the challenging work that you will embark on, so I urge you all to make the most of this training in learning as much as you can, asking questions for things that are unclear, sharing experiences that will contribute to the growth of the entire team, and all in all, help one another along to ensure the successful completion of this important work."