Police teams to decide 33rd Nawaka 7s final
22 February, 2020, 6:25 pm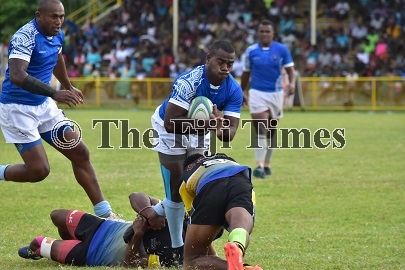 IT will be an all Police affair in the cup final of the 33rd Fiji Bitter Nawaka 7s at Prince Charles Park in Nadi this evening.
This is after Police White defeated Canterbury Fijians 19-5 while Police White breezed past Raiwasa Taveuni 19-0.
Shangri La won the spoon title beating Mosi 12-5 in gthe final, Ratu Filise took out the shield title edging Nawaka Black 7-5 while Uluinakau claimed the bowl title downing Buinivai 14-12.
Results: (Spoon): Quarter-finals: GPS Gallopers 12-5 Nabau, Shangri La
24-7 Koroine, Mosi 19-12 Red Rock, Vuda Green 12-7 Nasivikoso Saints;
Semi-finals: GPS Gallopers 12-17 Shangri La, Mosi 14-5 Vuda Green;
Final: Shangri La 12-5 Mosi.
(Shield): Quarter-finals: TF Army 0-7 Ratu Filise, Lami Cavaliers 7-10 Hydro, Nabouwalu Select 0-22 Nawaka Black, Army Green 19-14 Saunaka;
Semi-finals: Ratu Filise 27-5 Hydro, Nawaka Black 17-12 Army Green;
Final: Ratu Filise 7-5 Nawaka Black.
(Bowl): Quarter-finals: Buinivai 17-14 Veilomani Combo, Seniboro 12-17 Westfield, BNK Brothers 7-0 Fire Suva, Army Red 5-24 Uluinakau;
Semi-finals: Buinivai 14-10 Westfield, BNK Brothers 0-12 Uluinakau;
Final: Buinivai 12-14 Uluinakau.
(Plate): Semi-finals: Wardens 17-12 Blue Diamond, Indulgence Vavalagi
22-7 Tabadamu.
Cup Quarter-finals: Wardens 10-19 Police Blue, Raiwasa Taveuni 10-5 Blue Daimond, Police White 7-5 Indulgence Fiji, Tabadamu 14-15 Canterbury Fiji; Semi-finals: Police Blue 19-0 Raiwasa Taveuni, Police White 19-5 Canterbury Fijians.
(Under-20) Quarter-finals-Naduruniu 15-12 Dominion Brothers, Eco Trek Sigatoka 7-21 Tuva, Uluinakau 0-27 Ravuka Sharks, Korotabu 17-14 Nawaka Black; Semi-finals: Naduruniu 21-12 Ravuka Sharks, Tuva 10-7 Korotabu; Final: Naduruniu Tuva.
(Fellow Fijians): Semi-finals: Suva White 7-10 Nadi B, Suva Black 22-7 Nadi.
(Women): Semi-finals-Marvel Mystic 19-17 Wardens, Nawaka White 26-7 Army; Final: Marvel Mystic 0-30 Nawaka White.