People: A mother making ends meet
26 October, 2021, 1:06 pm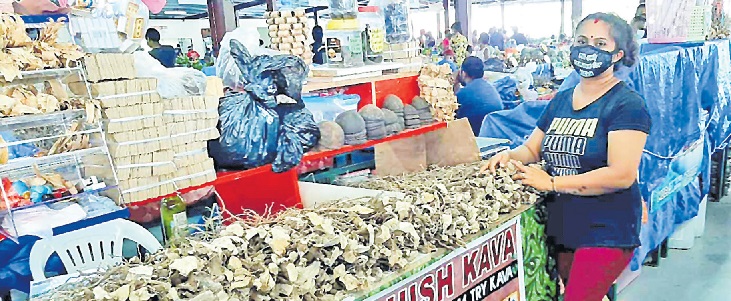 Rising above the stigma is what Shital Shiwani Sharma has done over the years to achieve success.
The 25-year-old currently runs a kava stall at the Laqere market. Originally from Labasa, Mrs Sharma said the biggest challenge she faced after starting her business was the stereotypical view held by some in society of a woman of Indian descent selling kava among men.
"My job is a big part of my life as I started with a very low investment and it is growing as expected," she said.
"As it's said women can multi-task and I believe I am doing the same as I bake when needed, control my grog stall and hand in hand take care of my family "The biggest challenge I faced was the stereotype that being an Indian lady selling among men, I did overcome such stigma with my hard work and the quality of product I provide."
Sleepless nights, travelling long distances are somethings which add to her struggle list as she arranges her grog and travels far to get good grog.
She said her childhood was the best learning stage for her where she got to discover her interest and passion.
"Those skills and tactics I learnt have sharpened me and made me more confident to take up all the hardship and hurdles in my way and today I stand strong."
The former student of Bulileka Sanatan College, Labasa did her practical course for learning cake decorations with Rosy Hearts for three years. Mrs Sharma also makes and sells cakes on order basis. Like many other businesses, COVID-19 also affected her business.
"I faced problems such as shortage of grog since the freight was stopped and then became expensive and most of my grog comes from Labasa so I had to travel and choose grog from farmers by myself which was difficult and very time consuming because of lack of proper communication."
She said despite the decrease in her sales and income, she never lost hope.
"As it's said to gain something you have to lose something so yes I made a lot of sacrifice such as not celebrating festivals in a grand way to save up some money, not buying new clothes or even not going to movies to save every dollar we could for the grog business I am running today.
"And this is all through the support of my husband and family."
The mother of one said her family, particularly her two-year-old son, was her pillar of strength. She also acknowledged her husband for standing by her side and supporting her at all times.
"My motivation is also my parents who give their endless support and prayers and not forgetting our divine God for blessings."
Mrs Wati advised youths to work hard and to never lose hope.
"Life is like a coin, sometimes you get a heads and sometimes a tail, and this basically teaches you that you cannot always win.
"Your loss makes you more strong, so be a person who learns from failure and you will succeed; tell yourself 'I will come out stronger, more confident and more hardworking'."