Opinion: Exciting end-of-year rugby
16 October, 2021, 12:51 pm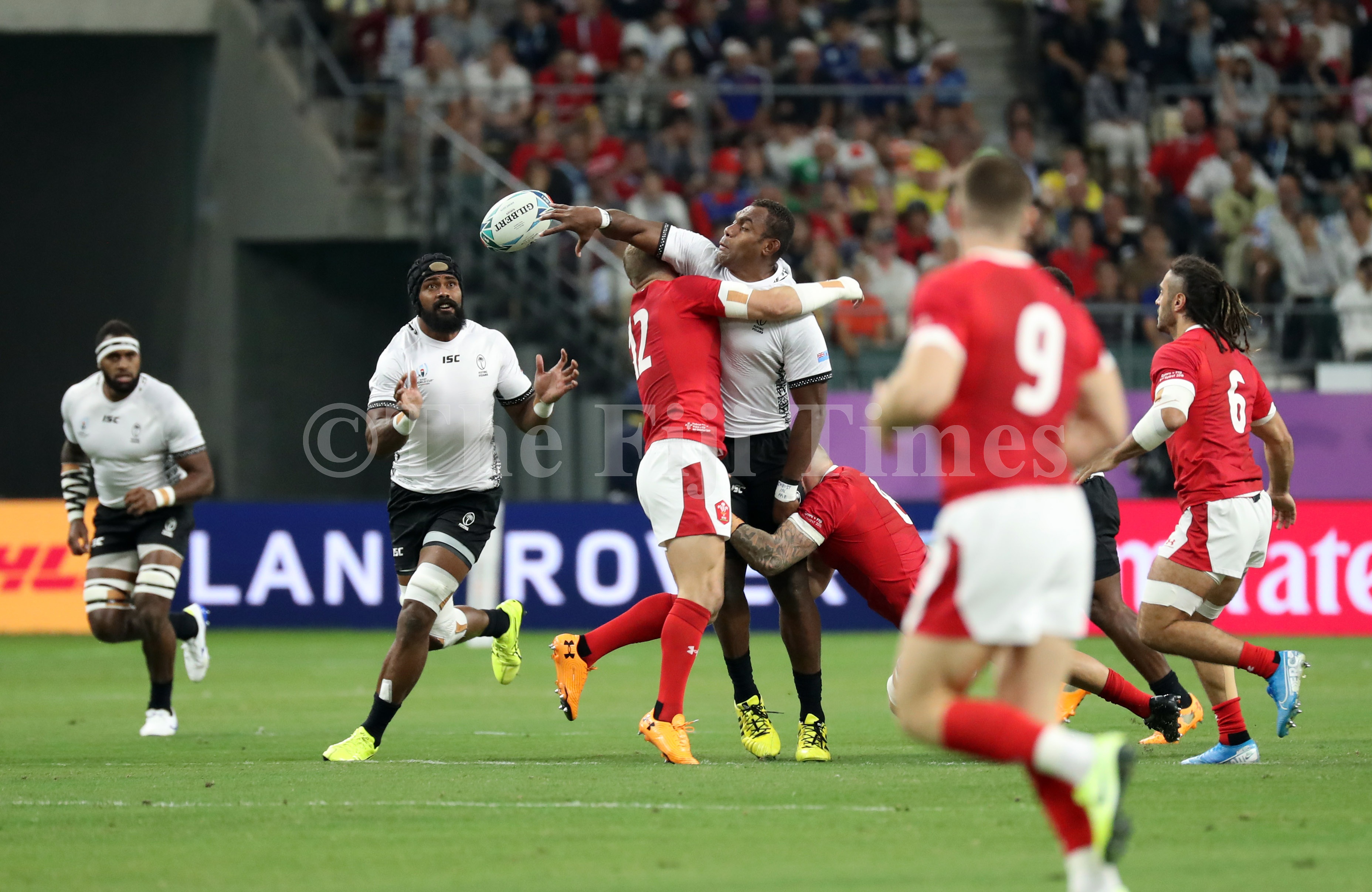 After watching some champagne rugby where South Africa fought out a close series win over the British and Irish Lions, Australia saw off France in dramatic style, New Zealand's triumph over Trans-Tasman rivals Australia to keep the Bledisloe on way to setting records and the highly competitive Rugby Championship, we look forward to more rugby during the Autumn Nations Series starting next Saturday.
The only downside of the games played in the northern hemisphere is that they will be televised in the wee hours of the morning.
Some will say it's a rugby lovers' delight, of course, no argument there, with a boost for kava dealers on the horizon plus men having sleepless nights. Among some blockbuster Test matches lined up in Europe, we have a recap of the last World Cup final when England hosts South Africa on Sunday, November 21, at Twickenham. Also worth every cent for staying up late or waking up early would be the Ireland v New Zealand clash on November 14 and the unmissable Paris delight between France and New Zealand on November 21.
But there are also dramas unfolding off-field as Wales is going to field an under-strength team against New Zealand at the end of this month. The frustrations faced by Pacific sides of not being able to get players released by professional clubs is now the worry for Welsh coach Wayne Pivac.
The Test window starts on November 1 and the Welsh are going to miss nearly all of their UK and Europe club-based players for this marquee Test.
Flying Fijians v Dragons 
There was an overflow of emotions and pride when the Flying Fijians put on a decent show against New Zealand earlier in the year. I am sure you've heard of "back up that performance" and now that really comes to play in the Test against Wales in Cardiff on Monday, November 15. Before Fiji, Wales face New Zealand and South Africa so we hope they will get bruised a bit and, hopefully, soften up a little.
New Zealand are fresh from the Rugby Championship victory and haven't lost to Wales since 1953. South Africa are the world's number one ranked team and a side that sent Wales packing from the World Cups in 2015 and 2019. But the Springboks haven't won in Cardiff since 2013, now that'll fill Wales with confidence.
Then comes the Flying Fijians for the Dragons. For the Vern Cotter-coached Fiji, this will be the Test that'll matter for them this year.
Win this one and we'll know that our side is on a good track running to the 2023 Rugby World Cup.
The Flying Fijians also play Spain (ranked 20) a week before that and Georgia (12) a week after the Welsh clash in the Autumn Tests. The Fijian stock is expected to gather from everywhere except Fiji for the three matches. While COVID-19 has made travel complicated with quarantine restrictions, naming Fiji-based players might be a logistics nightmare.
In my book, only one man, Simione Kuruvoli, from the current Drua squad deserves to be in Europe for these Tests, otherwise, I'll be happy for our players from France, UK, New Zealand and Australia making up the squad.
There isn't a sign of the Fiji squad as I closed off writing this piece while nearly all other sides are named for the Autumn Nations Series. Welsh coach Pivac knows Fiji isn't a team to take lightly.
The New Zealander knows the Fijians well, having coached our side from 2004 to 2006 and well known to have guided our team to the 2005 World Cup 7s win in Hong Kong.
Pivac has it tough 
Wales face Australia in the last Test of the series. Mind you, the Wallabies looked good during the Rugby Championship with four successive wins which included back-to-back victories against world champs South Africa. The Wallabies also gave a Test lifeline to Quade Cooper who proved instrumental at pivot and he will look to further stamp his mark in the side leading towards the World Cup. Wales scored a narrow lone win in 2018 over Australia, their first win since 2008.
Pivac led Wales to the Six Nations title despite losing to France, there were impressive wins against Ireland and England at home, while his side knocked out Scotland in a gritty encounter 25-24 at Murrayfield.
Before the Six Nations, I thought Pivac's head was under the guillotine as there were many doubters and a poor run in that championship, I believe, perhaps would have seen him get the boot. But Pivac survived and now faces another huge test with power-packed matches in October and November. Unfortunately, Pivac won't have Leigh Halfpenny in the squad after he suffered a ligament injury against Canada.
However, Alun Wyn Jones returns to a pack which boasts several Lions Test starters, which will boost the forwards who did very well during their victorious Six Nations run.
Samoa and Tonga 
It was rather disappointing to learn that Samoa have opted out of the Autumn Nations Series, but Tonga have lined up two great matches up north. Tonga meets Scotland, England and the French Barbarians in what's expected to be a tough month away from home for Toutai Kefu and the friendly kingdom warriors.
Kefu's travel with the team is up in the air as the former Wallaby is recovering from surgery after being a victim of a home invasion in August. His family was also attacked in the incident. Another thing that stands in Tonga's way of fielding a solid side against the Scots is that the match is outside the Test window and with the NPC in New Zealand dragging on because of COVID-19 delays, the Ikale Tahi might be in trouble of fielding a formidable side.
Like Fiji, they'll have to depend on players based in Europe.
Refresh memories – they had 23 new players blooded against New Zealand in July and suffered a crushing defeat. Tonga v Scotland at Murrayfield on October 31 is a historic clash because Scotland last hosted Tonga 20 years ago in a 43- 20 win for the home side in 2001. The teams have faced each other twice since then in Aberdeen and in Kilmarnock.
For the dark blues, the Autumn Nations Series provides an additional opportunity to prepare for the 2023 World Cup, where Tonga could well be in the same Pool B. Scotland will use the Tonga game as a good warm-up before taking on Australia and South Africa. It's been a decade since Scotland last beat the Springboks on home soil. Scotland and Japan have met three times since the last time they played at BT Murrayfi eld in 2013. Scotland toured Japan in the Summer of 2016 and won a tough two-Test series.
Then, in the Rugby World Cup in Japan three years later, the hosts beat Ireland, Samoa and Russia before beating Scotland in the winner-take-all final pool game of the tournament. The game in November will be Japan's second visit to BT Murrayfi eld this year, having played the British & Irish Lions on Saturday, June 26 as part of the Lions' preparations for their tour of South Africa.
Cherry Blossoms 
Japan have been the darlings of world rugby and a force in recent years after toppling tier one nations and sending shock waves in the last two World Cups including a quarter-final finish in 2019 at home.
From the days of Paulo Nawalu joining their 7s side as coach to Pat Tuidraki (late) who played on the wing and represented Japan at the 1999 World Cup to Jone Naikabula and Semisi Masirewa who are in the current Cherry Blossoms squad, Japan has been the second home for many Fijians.
We still have a lot of Fijians playing and coaching up in Japan, the most signifi cant is former feared national fl anker, Setareki Tawake. Inspirational 2019 World Cup skipper Michael Leitch also has Fijian connections and he headlines the 37-man Japan squad named for their upcoming Autumn Nations Series fixtures against Ireland and Scotland.
Leitch has been replaced as skipper by Pieter Labuschagne. Before the start of their Europe campaign, Japan faces the Wallabies next Saturday night. It's great to see the rising stars of rugby notch three big Tests to close the year.
Number 1 Ranking 
There will be mouth-watering battles for fi ve weekends back-toback and two teams, South Africa and New Zealand, will look to end the year as the number one ranked crop in the world. The All Blacks start their campaign in a historic match against the USA on Sunday week. They also face Wales, Italy, Ireland and France.
South Africa play Wales, Scotland and England. While there's an expected movement in the world rankings list, Fiji (11) have the opportunity to get back into the top 10 if they can log three wins and Japan (10) stumbles.
Let's brace for some worldclass international rugby, a nearperfect way to finish the year plagued by the pandemic.
 SATISH NARAIN is a sports commentator with FBC. The views expressed in this article are his and not of The Fiji Times.