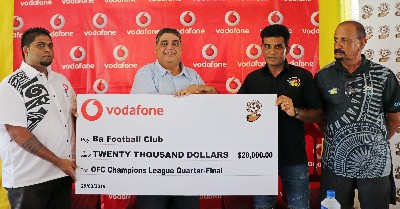 OUTGOING Ba Football Association president Rishi Kumar has no regrets leaving the district which is highly regarded as the 'kings' of the sport in the country after being at the helm for 17 years.
During his reign, Ba won all the major titles in the country including Fiji FACT, Battle of the Giants, Inter District Championship, Champion versus Champion series and also the National Club Championship with the 4R Electrical Men in Black side.
On the international scene, Ba upset the touring India national team 1-0 at Govind Park in 2005.
Ba did not have the services of senior reps Esala Masi, Salesh Kumar, Kiniviliame Naika, Avinesh Suwamy and Luke Vidovi who were in national camp however edged the visitors following Malakai Tiwa's second half strike.
During Kumar's tenure, Ba reached the Oceania Football Championship (OFC) Champions League 11 times.
The best fi nish was runner-up in 2007 when the side defeated Waitakere United 2-1 at Govind Park but went down to the Kiwi's 1-0 in New Zealand thus succumbing to the away goals rule.
Kumar said his departure should not affect the team and the Ba FA administration since they had an experienced board of control.
He said it was an honour to be the president of a champion district.
"My special thanks go to the fans, players, their families, sponsors and the critics as well," Kumar said.
"Whatever we have achieved was through teamwork. Ba is a special place for football and the players always give their 100 percent so it is not an easy job leadinga champion district."
Kumar said despite his resignation he would continue to support the district team in whatever way he could.
He said for the past 17 years most of his weekends were tied up with football commitments.