NBA roundup: LeBron (40) lifts Lakers over Pelicans
27 February, 2020, 11:10 pm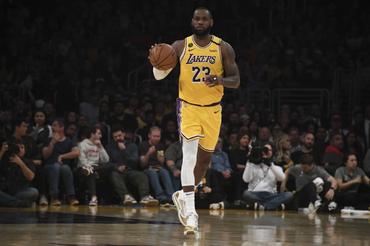 LeBron James scored a season-high 40 points, and the Los Angeles Lakers dropped the visiting New Orleans Pelicans 118-109 on Tuesday night.
Anthony Davis had 21 points, 14 rebounds and six blocks for the Lakers, who won their sixth in a row. Danny Green contributed 17 points while Kentavious Caldwell-Pope added 15 points. James also had eight rebounds and six assists.
Brandon Ingram, who was among the Lakers dealt in the trade for Davis, had 34 points and seven rebounds for the Pelicans, who are 0-3 against the Lakers this season.
Rookie sensation Zion Williamson, in his first contest against the Lakers, finished with 29 points and six boards. Jrue Holiday had 11 points, nine assists and five rebounds for New Orleans.
Milwaukee Bucks 108 – Toronto Raptors 97
Khris Middleton scored 22 points and grabbed eight rebounds, and Milwaukee won at Toronto.
Giannis Antetokounmpo scored 19 points and added 19 rebounds and eight assists for the Bucks, who have won 18 of their past 20 games. The Bucks have won the first two meetings this season with the Raptors, who beat Milwaukee in six games in last year's Eastern Conference finals.
Pascal Siakam had 22 points for the Raptors, who lost for only the second time in 19 games.
Boston Celtics 118 – Portland Trail Blazers 106
Jayson Tatum drained a career-high eight 3-pointers while scoring 36 points to lead Boston past host Portland for its 13th win in the last 16 games.
Jaylen Brown added 24 points and seven rebounds for Boston. Brad Wanamaker added 13 points, Gordon Hayward and Marcus Smart scored 12 points apiece, and Daniel Theis had 10 points and nine rebounds.
CJ McCollum recorded 28 points, 10 assists and three blocked shots, and Hassan Whiteside added 18 points and 19 rebounds for Portland, which lost for the fourth time in five games. Trevor Ariza contributed 17 points and eight rebounds while Carmelo Anthony tallied 14 points.