MP Tikoduadua awaits police reply
23 September, 2019, 10:05 am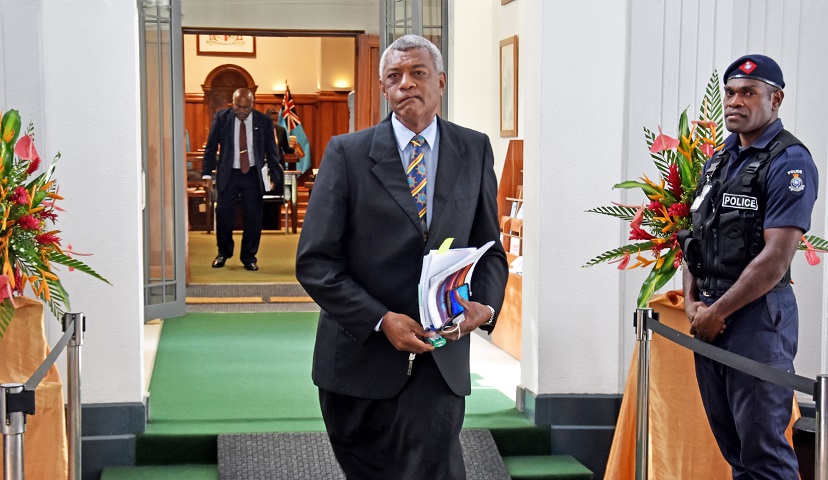 SUSPENDED Opposition MP Pio Tikoduadua has written to the Fiji Police Force asking whether they had viewed the video footage that was provided to them by acting secretary-general to Parliament Viniana Namosimalua before they completed their investigation into his complaint.
Mr Tikoduadua lodged a report at Totogo Police Station on August 9 claiming he was assaulted by Prime Minister Voreqe Bainimarama.
In a letter dated September 17, 2019, addressed to police chief intelligence and Assistant Commissioner of Police (ACP) Vakacegu Toduadua, Mr Tikoduadua confirmed receiving a "Letter of Advice" delivered to his Davuilevu home in Nausori on September 16, 2019, by police.
In the letter, ACP Toduadua advised Mr Tikoduadua that investigation into his complaint had been completed and his file was sent to the Director of Public Prosecutions (DPP) for perusal and decision.
However, in his letter to ACP Toduadua, Mr Tikoduadua claimed he was informed that Mrs Namosimalua had given police the video footage of the incident pertaining to his complaint on the same morning he received his "Letter of Advice".
Mr Tikoduadua then told ACP Toduadua that he would be grateful if he could be provided with a clarification on various issues.
These included if police had viewed the video footage provided by Mrs Namosimalua before completing their investigations; whether police had recorded the statements of all witnesses including Prime Minister Voreqe Bainimarama; and if the "letter" was given to him before the Deputy Police Commissioner Rusiate Tudravu was given the video footage by Mrs Namosimalua.
In response to questions from this newspaper yesterday, police spokesperson Ana Naisoro said their response remained as previously stated by Commissioner Brigadier-General Sitiveni Qiliho.
The COMPOL had earlier said police would only update the complainant and not the newspaper.
When contacted yesterday, Mr Tikoduadua confirmed he had not received any other update from police about his complaint nor a response to his letter.