More than 200 attend event as teqball takes hold in American Samoa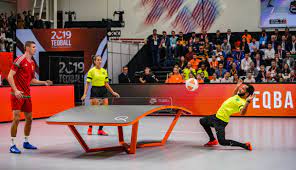 PAGOPAGO, 18 MAY 2021 (INSIDE THE GAMES)—More than 200 people took part in a teqball event organised in American Samoa.
Training sessions and activities were run by the American Samoa Teqball Federation as part of its efforts to boost the sport in the territory.
Most of those in attendance were under the age of 23, with the event possible due to the easing of COVID- 19 restrictions.
The Federation was only formed in March 2020 but has received recognition from the American Samoa National Olympic Committee (NOC).
Ethan Lake, the NOC secretary general, serves as President and has worked with the International Federation of Teqball (FITEQ) to gain access to the National Federation and club development programmes.
Twenty teqball tables have been distributed to different parts of the island, which will provide more regular opportunities for people to play.
A summer youth league is planned and volunteers to coach and officiate are being recruited. These will be able to gain knowledge of the sport and qualifications through FITEQ's online education portal.
Teqball was introduced to American Samoa after local organisers watched exhibition games at the Oceania National Olympic Committees General Assembly in Fiji.
Guam, New Caledonia, Papua New Guinea, Cook Islands, Tuvalu and Vanuatu are also growing the sport elsewhere in Oceania.