Mexico beat Saudi Arabia 2-1 but fall short at World Cup as Poland sneak through
1 December, 2022, 10:08 am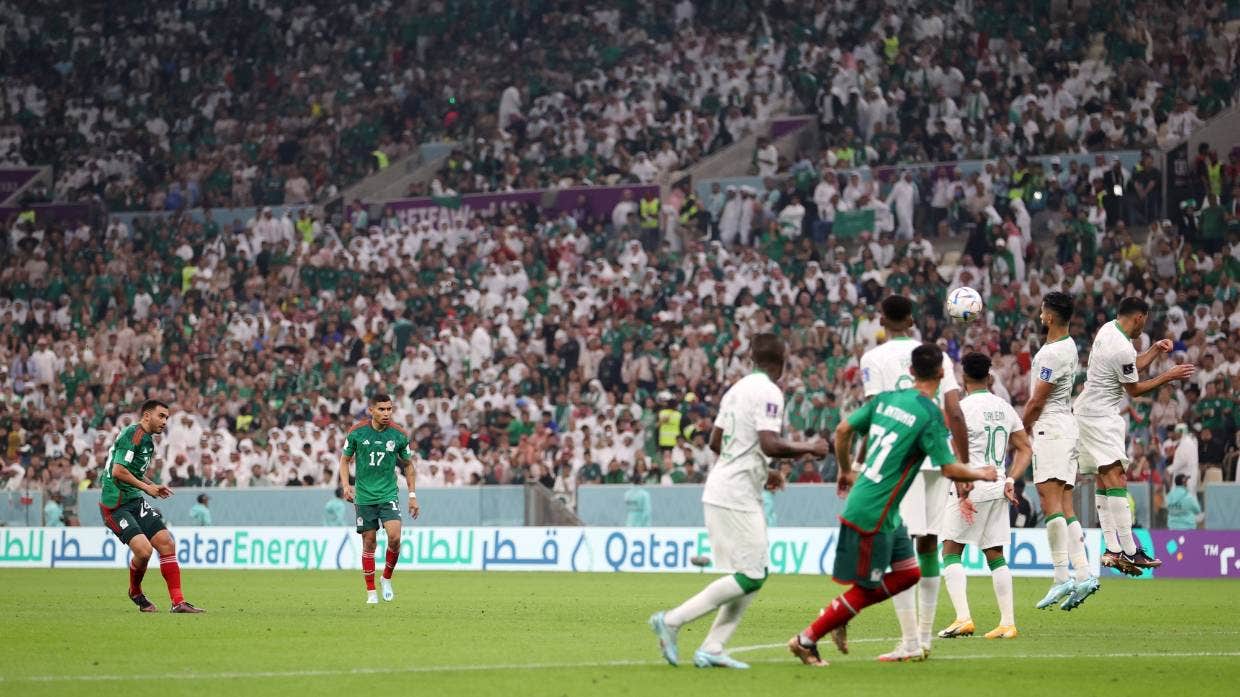 Henry Martin and Luis Chaves each scored in Mexico's furious attempt to stay alive at the World Cup, but the 2-1 victory over Saudi Arabia was not enough.
Because of Argentina's 2-0 victory over Poland in a simultaneous match, Mexico failed to advance out of its group for the first time since 1978.
Lionel Messi had a penalty saved but his team still beat Poland after second-half goals from Alexis Mac Allister and Julian Alvarez.
Argentina finished in first place in Group C to set up a match against Australia, a surprise qualifier for the knockout stage.
It was ultimately a happy night for Poland, too, which went through as the group's second-place team on goal difference ahead of Mexico and will next play defending champion France.
Mexico had reached the round of 16 at the last seven World Cups, which was tied with Brazil for the longest current streak.
El Tri went into the match at Lusail Stadium needing both a victory and help from Poland playing across town against Argentina to advance in Group C. Argentina's victory meant goal difference came into play.
Martin scored in the 48th minute to give El Tri hope, and the team's chances got even better with Chavez's spectacular goal on a free kick four minutes later.
Mexico tried desperately in the final 20 minutes to get another goal – including an effort by Uriel Antuna in the 87th minute that was ruled offside – but came up short.
Topping group C is a strong position for Argentina to be in, especially considering the team opened the World Cup with a shocking 2-1 loss to Saudi Arabia in one of biggest upsets in the tournament's history.
Messi's likely final World Cup rolls onto Sunday and he will be relieved after failing to score a penalty for the second straight World Cup. It was awarded after he was hit in the face by the flailing hand of Poland goalkeeper Wojciech Szczesny, who made amends by diving to his left to block Messi's kick.
A largely pro-Argentina crowd, waving flags and scarves and beating drums behind both goals, had been sweeping Messi and his team along at the 44,000-seat Stadium 974 and they didn't stop after the penalty. Within seconds, a chant of "MESSI! MESSI!" immediately reverberated around the venue in a bid to keep their idol's head high.
And the roars were even louder at the start of the second half, first after Mac Allister's goal – a scruffy finish from Nahuel Molina's cut-back from the right – in the first minute and again after it became clear Mexico had taken the lead against Saudi Arabia.
Mexico dominated the first half. Orbelin Pineda had one of the best of three good chances for El Tri, but it was easily grabbed by Saudi Arabia goalkeeper Mohammed Alowais in the 25th minute.
The game turned quickly in Mexico's favour with Martin's goal, but the celebration was muted. Chavez's free kick in the 52nd that went into the upper corner just out of Alowais' reach brought Mexico's reserves rushing onto the field.
Hirving Lozano nearly had a third goal but he was offside. Chavez had another free kick that missed as Mexico tried in vain to score more goals.