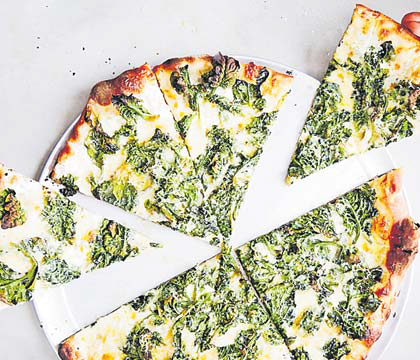 One of the many new foods that households have learned to make at home over the past year is pizza. Everybody loves pizza.
No matter what our age, who can resist the taste of melted cheese over a soft chewy dough basted in delicious sauce and toppings of choice. It is one of those foods that are easy to feed the entire family, and makes for a great late night munchies snack.
The popularity of pizza outlets in Fiji, even during is testament to pizza's broad appeal. However, with family-sized pizza costing in excess of $30 in most eateries, learning to make pizza at home will save you money and you can make it with the toppings that you want. Getting the kids involved too is a great family bonding activity in the kitchen.
There's an art to cooking preparing and cooking pizza, but there's also science.
Secrets of pizza dough 
If you thought that making the perfect pizza dough is as easy as rolling roti, then you're probably eating cardboard pizza.
Roti, flatbread and tortilla are all unleavened breads, meaning they contain no rising agents like baking powder, beers or yeast. Breads, batters and cakes, on the other hand, are leavened because they rise when baked. Pizza dough is a combination of the two, as it contains yeast yet it is later rolled thin like roti.
As any baker will tell you, the fundamentals of a good dough is understanding how time, temperature and the quality of the yeast affects the final outcome.
And pizzas don't have to be round like you see in the stores. Homemade pizza can be any shape you want. Does it really matter what shape it is at home, so long as it tastes great.
Yeast to rise 
Yeast is the most critical ingredient to the pizza base as it is the key agent that helps the dough to rise and make it fluffy.
Active dry yeasts are activated by heat, which is why most recipes call for the yeast to be "bloomed" in warm water first, but care must be taken in not using boiling water as anything over 55 degrees Celsius will kill the yeast. The yeast must be fresh – straight from a sealed packet or jar, otherwise the yeast is likely to be dead and ineffective.
Add the yeast to a small bowl or cup, add warm-hot tap water; allow it to froth and bubble, and then add it to the dry flour. This "blooming" may take around 10-15 minutes. If there is no froth or reaction in the water, the yeast is likely old, so throw it out and try another batch.
Oil to crisp, stretch & protect 
Oil is a truly multi-functional ingredient in pizza dough yet sometimes it is the least understood component. It can affect everything from the crispiness to flavour of the crust, as well as the way the dough handles during shaping.
Extra virgin olive oil is a common oil in pizza dough, but you could also use virgin coconut oil, Asian sesame oil or your favourite nut oil. Oil also acts as a lubricant in the dough, making it easier to stretch with less tearing. And since oil doesn't mix with water, it also helps to protect the dough from getting soggy from the toppings.
Some pizzerias go further and brush their bases with oil before preparing, as it is very effective at keeping moisture from the dough and finished crust.
Lastly, when adding oil to your dough, remember to mix your fl our and other ingredients together with water and yeast for at least two minutes before adding the oil.
This will allow for complete hydration of the fl our before the oil is introduced, resulting in improved dough consistency and uniformity. Once you have a formed dough ball, transfer it to a plastic or nonreactive bowl, and cover it for at least 90-120 minutes, or until it doubles in size.
No-cook pizza sauce Once you've mastered the art of making the perfect pizza dough, the next important ingredient is the sauce.
This is the one ingredient that pulls all the flavours together and is vital to the pizza experience. It should be a little tart, a little sweet and full of tomato flavour.
You could use premade pizza sauce or just plain tomato paste, but making your own sauce is simple and some recipes don't require cooking. Canned tomatoes are perfect for making homemade pizza sauce. You can use whole peeled or diced tomatoes, but make sure no spices or herbs have been added so you can create your own flavour with fresh herbs.
Fresh tomatoes can be used too, but can make a watery sauce if you don't squeeze the tomatoes of excess liquid before blending. A no-cook sauce will actually taste better on your pizza, giving you that fresh, zippy tomato fl avour, and of course saves time compared to cooked recipes. Spoon it right onto the pizza base, cover with additional toppings, and bake.
If It's all about the cheese 
Chemistry and physics play a part in pizza making as much as time and temperature, especially when it comes to the cheese. High-moisture cheeses release more steam in the oven, forming bubbles, whilst oily cheese can weigh down the bubbles and lead to less browning.
Choosing the right cheese also affects "cheese pull", mouth feel, heat insulation and fat emission. Pretty technical huh? If you prefer your pizza cheese to be chewier, crispier or bubblier, there are different cheeses or combination of cheeses you can try. For crispy, brown and bubbly, definitely go with mozzarella.
This traditional cheese topper has the most moisture and least free oil when it bakes. It's a little more expensive but well worth it.
For a smoother feeling in the mouth, try mixing mozzarella with Gruyere, but if you don't like that long stringy cheese feeling (cheese pull), mix with low-elasticity cheese like Colby, Edam or cheddar. Rewa Dairy now packages several types of cheese locally including pizza cheese.
Whatever cheese you can afford, don't overload your pizza with so much that you can't see or enjoy the toppings because their drowning in melted cheese. A little hint: put half of the cheese on the sauce base, and rest on top of the fillings.
This way the cheese doesn't completely cover the toppings.
Fijianize your pizza
Although pizza was invented by the Italians with toppings that suited their tastes, there is no reason why you can make your home pizzas more to your liking and budget.
Pizza toppings don't have to be expensive and many times you can use leftover meats in your fridge. For a real BBQ chicken pizza, buy an affordable roast chicken from the supermarket, shred the meat and skin, and use your favorite BBQ sauce as the base. If you have leftover lovo meats, root crops and palusami, make a Fijian-style lovo pizza using the palusami as the base sauce.
Even leftovers from an Indian vegetarian meal can be used to create a spiced vegetarian pizza of eggplant choka, curried papaya, mango pickles, paneer cheese and fresh yoghurt.
What about a Chinese style pizza of sliced red pork, Chinese cabbage, spring onions, hoisin sauce and pickled ginger slices. And if you're visiting the fish market, why not pick up some crabs, mana, lobster, clams or prawns to make a seafood-packed pizza, finished with a coconut miti sauce, fresh chilli and squeezed lemons.
You can also add fresh, raw garnishes to your cooked pizza once they come out of the oven like coriander, fresh herbs, avocado and drizzles of yoghurt.
Don't have an oven 
While a wood-fired or gas oven are ideal for pizza cooking, it shouldn't stop you from cooking pizza at home if you don't have one.
All you need is a wood fire, some mesh wire, a tray or cast iron skillet and a lid cover to create a campfire pizza oven.
The only difference is you need to cook the base first and both sides over the charcoals so you have a firm base to load your toppings.
You can do this by putting your rolled out dough in a steel tray or cast iron frypan, and then place this over your fire.
Cook one side, and then carefully turn over to cook the other side. You may need a little flour to prevent the dough from sticking.
Remove the pan from the fire, and add your sauce, a little cheese, toppings, and a little more cheese.
Return this over charcoals and place a lid or cover over the top of the pizza.
The cover will help keep the heat inside to cook the ingredients and melt the cheese. If your toppings have a lot of moisture, you'll want to remove the cover half way through so the steam can escape. Basically, you're just trying to melt the cheese, so once that's done, you can remove the cover, so you're not left with a soggy pizza.
Once the bottom is toasted to your liking, remove it from heat and transfer to a plate. It's that simple! You don't need an expensive pizza oven to make great pizza. So what are you waiting for? It's pizza time!
 Chef Lance Seeto is the brand ambassador for Lilydale Eggs and chef owner of KANU Gastropub in Martintar, Nadi.