Letters to the Editor – Saturday, July 13, 2019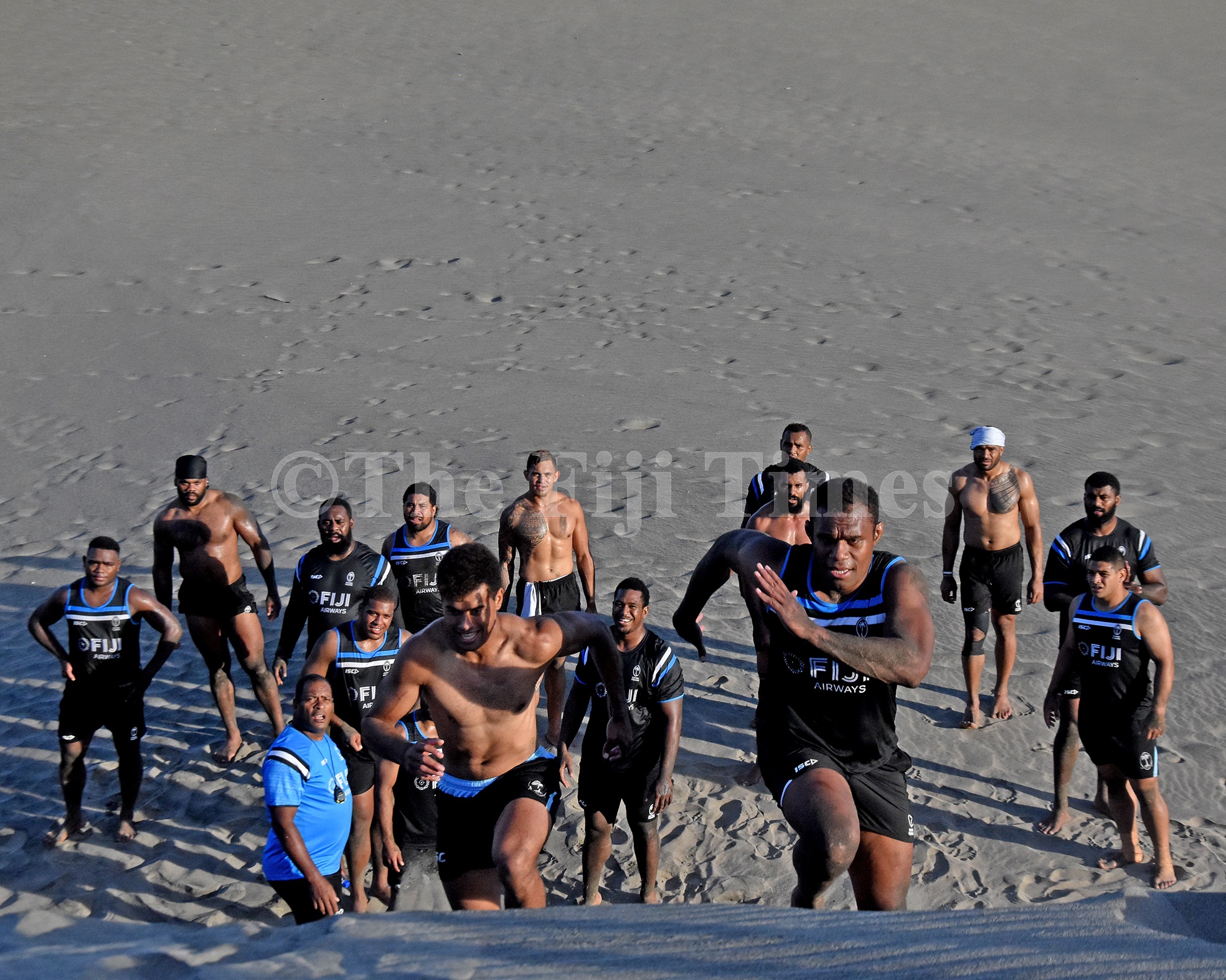 Rugby and history
The Flying Fijians need not look far for inspiration as they take on the mighty Maori All Blacks and attempt to break a deadlock of losses for more than 60 years.
Our national rugby league nines team at the Pacific Games rose beyond expectations, playing on a muddy paddock to record historical wins and claimed gold medals.
Despite going down to PNG in their first encounter, our men's side bounced back to turn the tables and create history.
Our national sevens team defied the odds in the past two tournaments to handsomely defeat the super USA team before claiming the overall series title, much to our fans' delight.
Will they create history this Saturday?
On paper, they have a good side, but time will tell and it will begin with a bruising battle upfront among the forwards.
Floyd Robinson, Toorak, Suva
Australia Clash of giants
The stage is set for the grand showdown between the NZ Maori and the Flying Fijians at the ANZ Stadium today.
It's going to be a nail-biting encounter as both would try to go against all odds to tame each other.
Thousands of local fans would be out there to support the two teams that will also have the Fijian magic in it.
I hope we will have more Flying Fijian fans to cheer and rattle the stadium.
This is also an opportune time to make our nation more marketable for the tourism sector and World Rugby that Fiji Rugby and the Sports Council can host international matches quite successfully.
I am also optimistic that the national team will taste victory after the final whistle.
The battle against the NZ Maori will not be a walk in the park as the side is laced with experienced players who would play hard and smart rugby that New Zealanders are known for.
Our errors and lack of power play to gain territory as well as earn valuable points at crucial moments would be costly.
Best wishes to the Flying Fijians.
Naveen Dutt, Wainibokasi
Big 'Test'
THE wait is over and fans are in for a rugby treat in Suva this weekend as the Flying Fijians and the NZ Maori clash.
The two clashes at home have produced moments of madness and breathtaking moves that have never disappointed fans.
In 2008 at Churchill Park, the Maori escaped our jaws (11-7) while in 2015 our boys battered the stars and came out firing but surrendered defeat by a single point (27-26).
This year is going to be different because it's the World Cup year and I'm banking on our Flying Fijians to ride on the success against France during the international Test last November.
The NZ Maori plays a structured game while we have talents, depth and flair in our side and our boys must play as a unit.
The impact of Roger Randle from the sidelines will be huge and the visitors have come to Suva with only one thing in mind – victory.
Therefore, our defence must be spot on and one-on-one tackles must be made to contain the Clayton McMillan coached Maori, which will be playing in front of NZ Rugby president Bill Osborne.
Furthermore, All Blacks guru Steve Hansen will have his eyes fixed on Akira Ioane, Nathan Harris, Tyrel Lomax, Elliot Dixon and Toiroa Tahuriorangi so expect them to be fired up.
On the other hand, Isaia Walker-Leawere, who is the son of Kele Leawere and who plays for the Hurricanes, will be out to stamp his mark at home.
John McKee has named a powerful line-up in Osborne, Galala, Veitokani, Lomani, Seniloli, Volavola, Ravai, Matavesi, Saulo, Tuisue, Waqaniburotu, Mawi, Dolokoto, Kali, Api, and former sevens stars Nagusa, Mata, Nakarawa, Kunatani, Sau, Botia, Nayacalevu and Tuisova.
The team needs our support and I'm pleading with fans to turn out in huge numbers to cheer for our boys as they gun for an all-important win against the Maoris.
All the best boys – let's stand and face our rivals with one aim – win, win and win!
Rajesh Ishwar Lingam, Nadawa, Nasinu
Teaching environment
We in Fiji are fortunate when it comes to weather as we enjoy comfortable conditions all-year round.
While there is yet talk about students still in tents with some even using churches for study, I've always wondered why teachers don't take advantage of our weather and take the kids outdoors under trees for lessons?
As a matter of interest, I wonder why our classrooms are so closed up where the kids feel enclosed in four walls very much like a prison setting.
I believe the more open the environment the more keen and enthusiastic students will be.
When it rains or if it gets too windy then indoors it should be!
Schools should have several open structures around the compound for teaching.
Rural schools have so much space and trees, most of which is hardly utilised for academic learning apart from sports and physical education.
Too much inconvenience for management and teachers I guess?
Simon Hazelman, Rava Estate, Savusavu
Drug issue
Every day we hear the government lament about drug infiltration and the mushrooming drug market in Fiji.
Government sets aside literally millions of dollars to combat the drug issues, but it seems all is going to waste.
It makes one wonder why there is no headway in tackling drug problems.
It also makes one wonder if the laws are appropriate to curb the spiral of drug-related cases?
One is forced to think that the punishments handed out to the drug-related criminals are very soft in fact.
Giving suspended sentences for drug-related offences will not help at all.
As a suggestion, we need to adopt very harsh penalties to deter would-be offenders.
I believe giving life terms without parole to drug lords and methamphetamine producers will surely make others think twice.
Or better still introduce the death penalty for drug convicts as is done in the USA, China, India, etc.
Lalit Nageshwar, Vatulaulau, Ba
US couple
The tragic incident that led to the passing away of David Paul and his wife Michelle is very sad indeed.
They chose Fiji as their holiday destination, they were our vulagi.
We had to care for them.
To hear of their distressing situation whilst they lay in our mortuary, awaiting test results etc, and the end the condition of Mr Paul's remains is heartbreaking.
I am very sure that the authorities know of the capabilities and the expertise of the people who are responsible to keep human remains in good condition and those who embalm human remains, especially for repatriation overseas, so that they are handed over to family in the best condition.
I am also sure that our medical people know about abstracting various specimen or carry out several tests while doing a post-mortem, especially when they know that the probability of seeking overseas medical aid to assist them determine the cause of death is very high.
With all these requirements, the onus is on medical authorities, to ensure the remains are well preserved for their loved ones.
Anne Wade, Nadi
Wind farm
Could the EFL CEO tell us what happened to the renewable wind farm?
Why couldn't the EFL remove the windmills to a place where they could get more wind.
Sukha Singh, Labasa
Press freedom
Renown human rights lawyer Amal Clooney criticised Australia over press freedom at an inaugural international press freedom conference in London in light of the recent Australian police raid on journalists (The Guardian 11/7).
She said that kind of State behaviour send the wrong signals to oppressive regimes around the world.
People committed to press freedom and democratic values would agree.
Rajend Naidu, Sydney, Australia
Live cricket
Congratulations to New Zealand and England for reaching the final of the Cricket World Cup.
Can we have live coverage of the final on Walesi?
Arvind Kumar, Raviravi, Ba
Greening games
A great initiative for Team Fiji to be part of the "Greening of the Games" program at the Pacific Game 2019.
With our Fiji league teams after their gold medal victories took time off in visiting the Faleata Natural Reserve and helped plant more than 200 trees.
With Samoa targeting to plant two million trees by the end of the year, the Fiji team contributions is highly appreciated for a worthy cause and helping for the betterment of our environment.
Hopefully the rest of Team Fiji will be part of the initiative before the end of the games.
Tomasi Boginiso, Nasinu
As guests
I would like to ask trade unionist Dan Urai how long will we (others) remain as guests?
Sukha Singh, Labasa
LTA tint
Can this law also apply to government vehicles please?
Sharif Shah, Savusavu
Rakiraki bridge
The Rakiraki Town bridge is currently closed because of upgrading or maintenance which is being carried out lately.
This bridge I believe is less than 20metres in length and it is speculated that it will be closed for four months.
I just hope that after that four months I will be able to see a two-way lane bridge without wooden planks as it was previously.
Otherwise, I am just wasting money on fuel to travel around another 5km as there are no other alternative routes to reach town.
Pita Soroaqali, Nadarivatu
Man of the match
My man of the match for today's game will be none other than my OB, Viliame Mata.
Mark my word!
Joeli Naleca, Natabua, Lautoka
Paraquat deaths
To lose a pet to paraquat has got to be one of the saddest things.
A friend of mine lost her pet that way just this week.
Her dog was a sweet, loyal family member.
How do you explain to a seven-year-old child that he's not coming home?
There's no nice way to explain it but there is something that can be done to stop it.
That's to ban it.
It's already banned in the UK, the EU and many countries worldwide.
Paraquat is extremely toxic and spares few, be it human or dog; after ingestion, death ensues.
There is no antidote.
It burns the entire digestive tract as it moves through the body; even the lungs are damaged from inhaling the fumes, making breathing very painful.
Paraquat has been identified as the most chosen method of suicide in Fiji with deaths by suicide being the number one cause.
One can go to a store in the centre of the city and obtain as much as you want with no questions asked.
It would be my wish that there be no more suffering, no more deaths from paraquat.
When can authorities act on these shocking statistics?
For too long we shake our heads when we hear of another suicide by paraquat ingestion or someone's pet has been poisoned.
Almost everyone can say they either know someone who has experienced that or their own pet got poisoned.
Many won't have another dog because the experience was too heartbreaking.
In the meantime, ensure your compounds are fenced and your dog doesn't stray; train your dog to eat only what you give him and let's get Paraquat off the shelves and out of harm's way.
So many lives will be spared.
Julie Sutherland, Tamavua
Homeward bound
Such a relief for mum Marsha Cutlip Paul as she learned that her son's remains would be repatriated to the United States!
I loved the Bible verse that she shared which showed her belief in God and that she had faith that things would work out well despite the tragedy.
I would also like to thank The Fiji Times for pursuing the case which created awareness on what happened.
Vinaka vakalevu, The Fiji Times!
Finally, these lines remind humans of the need to have faith in God, "For the Lord is good and his love endures forever; his faithfulness continues through all generations".
RIP, David and Michelle!
Rajnesh Ishwar Lingam, Nadawa, Nasinu
Botia and Veitokani
When Levani Botia and Alifereti Veitokani were named in the Flying Fijians to take on the Maori on Saturday, it encouraged me to be part of the fans on game day.
These two stars were of homemade quality and have proven themselves locally and internationally.
They no doubt will be the players to watch on Saturday.
With Botia's robust and thundering skills and Veitokani named at fullback will always create anything out of nothing and would inspire the backline at all time.
Wear white on Saturday and cheer our team along.
Go Fiji go.
Tomasi Boginiso, Nasinu
Purpose of education
I was inspired to learn about a head teacher in Australia who is approaching education differently and taking on a village mentality.
This approach to learning is breaking down the hierarchy of the education system to give the students more of a voice so they can develop their own opinions and become active global citizens.
I really believe education should be a way to set kids up for their futures and to help them develop skills for life.
If we can give students greater input and flexibility into the way they are educated, we can really help them reach their full potential.
Stacey Quince is the head teacher of a high school in Greater Western Sydney.
She's a wonderful example of how we can shake up education and to create a system that works for children and prepares them for the world.
They have developed a diverse, inclusive and innovative curriculum designed to prepare students for the world outside of the classroom.
The curriculum is designed on the basis of two separate "villages" made up of 60 pupils and three teachers.
One village combined science, math and applied sciences into an integrated model.
The other village pools together English, history, geography and physical education.
The villages are further broken down into "tribes" of 20 students and further into "crews" of four to make sure personalised support is available and theoretical learning is balanced with real-world, practical projects.
The aim is to get students more involved in the learning and teaching processes and empower them to form their own opinions, think deeply and therefore become more connected to the world around them.
Ms Quince said, "We wanted students to have a choice and a voice and this allows students to decide what to do. Students pitch their projects and receive feedback from relevant adults in industry. It opens up a world outside school."
The results from the pilot program really speaks for itself.
Currently, Year 9 results from the national assessment program are the highest in five years across every area, the gap between Aboriginal and non-indigenous students is closing and an increasing number of students are getting into university every year.
The work has also inspired a program called "Schools of the Future" (what a fitting name!) which supported 30 secondary schools to design ways to better prepare their young people for happiness and success beyond school.
"I've been an educator for 20 years and I think this has been the most positive transition to high school of any cohort I've worked with. The students are really engaged and excited," Ms Quince said.
This is such a perfect example of the kind of human-focused education reform.
What are your thoughts on bringing on a village mentality approach or other ideas to improve the education system in Fiji?
If you are passionate like me, you may have good ideas.
I have offered the Ministry of Education excellent ideas over the past several years in person and in writing but I have been punctured like a ping pong ball.
I believe the only things the ministry seems to excel in are a lack of innovation, an infinite capacity to ignore smart, progressive ideas and letting education continue its rapid decline.
So what should we do?
Should we be docile and let it happen?
Can we change that?
People can decide for themselves personally whether or not to be ignorant, but for those who care, they'll find the truth because people are putting the truth out there constantly.
But do the powers that be really care?
I think not.
Arvind Mani, Nadi
Great lessons in life and friendships
This week many former scholars of Levuka Public School (LPS) will be converging in Levuka to celebrate the 140th anniversary of the school.
As a former scholar who started and finished school at LPS, I am immensely proud to have been associated with the first public school in Fiji; proud to have gone to the school that raised many of our leaders in the years leading up to and following independence, proud that it shaped the person I've become.
LPS, during my days from the late '60s to 1980, were days when we feared our teachers out of respect.
It was all about discipline and if one dared cross the line, corporal punishment was swift and sure and you could bet that even the neighbourhood would know about it.
School was tough back then but it was great fun as well and I can say that LPS moulded and prepared many of us former scholars to tackle and progress through life with certainty.
I wish to thank those of you who made the effort to attend this great commemoration, and for those of us who could not make it, rest assured that our hearts, our thoughts and our prayers are with you all at Levuka during the course of the celebrations.
Social media did not exist when we graduated and many of us lost contact with each other over the years that followed.
Recently, and since the inception of the internet, we're back in touch and it's great to learn that many of us are well and have forged through the fire thriving with life and purpose.
To all my former scholars and teachers, my classmates and to those who have passed on (RIP), thank you for the great lessons in life and friendships!
Lest we forget!
Simon Hazelman, Rava Estate, Savusavu
Climate change
Did you know that the world population was about 1.8 billion at the beginning of the century and now it is about 7.8 billion.
Since the increase in population demand for everything has also increased such as food, water, house, land, transport, fuel, etc, etc.
This is what is causing the change in climate and people talk every day about the effect of carbon dioxide which they say is increasing the temperature.
Obviously this will happen because we are clearing more land and destroying the trees which use carbon dioxide.
So we must plant more trees to offset this increase in carbon dioxide if we really mean to do something to save our planet.
Let's not only talk and expect the mana to fall from the sky.
If you go to the Western Division, you will see that it is dry and hot but if you pass through Nabou Pine area, you will feel the cool breeze in that area and normally they have more rain compared with other parts in the Western Division.
It is a known fact that where there are forests, they have more rain.
One way for us to help maintain the climate is to plant more trees.
If you go towards Ba and Tavua from Lautoka you will see the mountains on the right have no trees.
This is the area which should be planted with pine and I am positive you will see the difference in the temperature and the rainfall.
So let's start now and show the world we mean business.
Nardeo Mishra, Suva
Plastic clean-up
Fiji should organise a plastic clean-up day where all the people of Fiji have a week to clean up the coastal areas and riverbanks where people or villagers or settlements could be recognised globally.
All the people of Fiji to participate and the Government, NGOs or relevant authorities to organise it in such a way that our environment is clean and will probably drive tourists and other stakeholders to Fiji.
Fiji, being a capital of the Pacific, needs to lead by example and to have the cleanup campaign as an annual event will be a great motivation for our Earth.
Tomasi Boginiso, Nasinu
Barking dogs
The recent furore regarding stray dogs attacking children has led to some articles on the keeping of dogs.
This included one by Allen Lockington (FT 11/7).
My observation of this seems to be that most people are keeping dogs not as pets for companionship but rather as a deterrent to burglars.
The dogs are normally kept outside and some are chained.
These dogs bark at everyone that passes by along the street or bark at the neighbours on their own side of the fence.
They create such a nuisance and one can track a person's progress along the street by the raucous chorus that followed him or her.
My letter is therefore directed to the experts at SPCA, Animals Fiji, the Agriculture Department and others.
Is there any way at all to train dogs not to bark at passers-by but only those that trespassed into their yard?
Can you imagine the din that we have to put up day and night and the effects on our state of mind?
My earnest and heartfelt plea is for those experts to please provide the urgent advice needed through media releases on how to control the unnecessary barking of these dogs.
Since there is a law against unnecessary human noise pollution, is there one for dogs as well?
Norman Yee, Mehrotra Place, Martintar, Nadi
Good old days
The other day I switched off my phone and also my internet network just to try and travel down the memory lane of the good old days.
I just want to relive what was it like before internet and mobile phones became part of our daily lives.
I managed to watch TV programs and also listened to my radio after such a long time.
I felt like I was free from bondage and I did whatever I wanted to do rather than obliged to external forces of technology.
I just quipped this is it.
At last I feel free.
Pita Soroaqali, Nadarivatu
Mobile phones
With technological advancement today, many children have become fond of using gadgets, such as tablets and mobile phones.
Parents today would let their kids use electronic devices to keep them preoccupied, particularly if they are cranky or bored.
Instead of personally playing with their children, some parents prefer letting the kids play with gadgets and this is a common scenario among busy and working parents.
One father let his daughter use a smartphone since she was two years old so she will be preoccupied while he worked.
By the time she reached four, she became addicted to the device and has developed eye problems.
Though she was given eyeglasses to prevent further eye issues, she developed a lazy eye that required her to undergo eye surgery.
When his daughter wore glasses, the doctors thought her condition will improve but her eyesight gradually degenerated, needing eye surgery.
The daughter's condition is because of her excessive and uncontrolled use of the smartphone.
She eventually underwent eye surgery and her condition improved soon thereafter.
She can now use both her eyes simultaneously.
Doctors advised the father to ban her from using mobile phones and even watching the television.
This serves as a warning to other parents on limiting their kids' screen time.
Children are allowed a maximum of two hours per day of screen time.
For children between the ages of two and five, experts say the recommended screen time is just one hour per day.
Arvind Mani, Nadi
Levuka buildings
Last month during the Construction Industry Council meeting the Attorney-General highlighted the dirty conditions of the buildings in the CBD that later generated interesting discussion where the Suva Retailers Association tried to defend and justify the claims and probably were not impressive in their explanation.
This was a major news item covered by the media and some radio stations elevated this issue through their talkback programs.
The A-G's statement acted as a catalyst and initiated many to overdrive motion in order to comply with the directive.
It was also interesting to note that there was visit by the Singapore experts to advise on the transformation of Fiji's urban centres into a more modern, efficient and environment-friendly place to do business.
In the last budget there was an investment allowance of 25 per cent given under the income tax for renovation of building incentive and the threshold reduced to $250,000 from one million but available to the commercial building in towns and cities.
I believe while all this assistance is available, our historic town of Levuka still continues to decay.
There are a total of 1073 World Heritage Sites located in the world and is listed by the United Nations Educational, Scientific and Cultural Organization (UNESCO) as of special cultural or physical significance.
To be considered of universal interest a site must meet the selection criteria produced by UNESCO.
Many important places are rejected as they do not meet the selection criteria set and there are many more which had applied and waiting for a decision to join this august body which has special features of importance to be considered and listed and Levuka is such a place.
The historic port of Levuka was designated a world heritage site in 2013.
However, it is noted with disappointment that very little improvement was done to the structure of the buildings which have badly deteriorated and are in a dilapidated state.
This may be because as the building owners say it is very expensive to repair the existing structures in its original form in order to restore its uniqueness.
It is easy to completely build a new building than carry on the maintenance to this piece of history.
Apart from the buildings there are other important spots such as the water fountains and the tram track that needs attention.
Should the rate continue probably in the near future this historical town will be only found in the pages of our history books.
Levuka Town itself is a living museum and must be restored to its former glory days.
This cultural heritage is among the priceless and irreplaceable possession, not only for Fiji, but also of mankind as a whole.
Parts of this heritage, because of their exceptional qualities, can be considered to be of outstanding universal value and as such worthy of special protection against the dangers, which increasingly threaten it through wear and tear syndrome.
The World Heritage Convention aims to promote co-operation among nations to protect heritage from around the world that is of such outstanding universal value that its conservation is important for now and future generations and we in Fiji must work within such framework to prevent the old capital from disappearing forever.
Levuka has put Fiji on the world historical map and the same level of importance that is currently witnessed in the mainland must be extended to the old capital.
Satish Nakched, Suva
Traffic congestion
So much has been said about the traffic jam from Naulu to Nabua … ferry this, ferry that … one-way traffic in the Suva CBD, you still have not tried out the three-lane into Suva in the morning and out of Suva in the afternoon that I mentioned in this daily last year or we wait for a dog to bite the tyres of a vehicle in the jam, then act?
FRA do something, too much airconditioning will make you sick.
Joe Matatolu, Waila 3A
Rugby captain
Almost 10 years ago while studying in Hamilton, I had the privilege of meeting several exceptionally talented Fijians who were playing rugby in New Zealand and in search of professional contracts.
Among them was a gentleman by the name of Dominiko Waqaniburotu.
One easily recognised him as a dedicated player who stood out from most others.
With his attitude, he was going to go a long way in his career.
He was an individual who did not say much but his performance on the field was always a class and it was not going to be long for him to catch the attention of national selectors.
I recall writing back then about him and another player by the name of Sisa in Hamilton who had the potential to make it into our national side.
In summary, our national fifteens team is fortunate to have a leader of his calibre.
All the best to our national fifteens squad as they prepare to take on several teams leading up to the Rugby World Cup.
Floyd Robinson, Toorak, Suva
Trains and ferries
There was so much talk when trains was a topic to service Suva and Nausori, a lot of ideas and thoughts were brought up and people were right into it.
There were even people who came over to look into it.
Suddenly it faded away.
Then now the talks on ferries to service Suva and Nausori and Lami.
Lots of ideas are floating in the air and even a shipping company is looking forward to do the operation.
More ideas seem to be flowing in.
What's next?
An underground tunnel or a bullet train or maybe an overhead bridge from Suva to Nausori?
Maybe one day one of our dreams might turn out to be true.
Tomasi Boginiso, Nasinu
School curriculum
I believe everyone knows that all human beings are of different eminence but school examinations test the same curriculum to all students.
Why not modernise the method and technique of teaching the students instead of maintaining the same superiority over all.
The process should be based on how efficiently a student is able to grasp the knowledge imparted by the teachers instead of getting bored without understanding the core of education, which in this generation, is the most important tool to have a successful life.
Albert Einstein once said: "If you make a monkey climb a tree, it will do it in seconds but if you make a fish climb that same tree, it will try its whole life but will fail and will eventually die out".
We need a better examination setup in the country and that's a fact!
Raynav Chand, Nakasi
Valuing trees
Having recently travelled to the Sugar City of Lautoka, I was surprised to see the development on the hills beside Kashmir area.
However, I was rather saddened as earthworks had removed most trees.
With all due respect, these trees would have provided shade, oxygen and reduced erosion in a steep area which is likely to experience the brunt of heavy rain.
One would reason that planning of this new subdivision could have given priority to protecting and preserving more trees.
It may be a little too late but for now one hopes that new residents will plant more tress and the city council having plans to plant trees in public areas.
All in all, let's continue to value trees.
Floyd Robinson, Toorak, Suva
Indoor venues
The recent tech show, the coming showcase and very importantly indoor games should have a venue in the West.
The people in the West deserve such shows also.
Having a big indoor venue would be a boost for major events and with Nadi becoming a city in October, it will now have two cities and only Suva in the South.
The recent boxing program was played in heavy downpour conditions and would have been very disappointing for the fans and the boxers.
But having an indoor venue would be satisfying for the people, boxers and the organisers.
It's about time a gymnasium for the West, either in between Nadi and Lautoka, or in Nadi or Lautoka, it will not make any difference as long the West enjoys what Suva has at the moment.
Hopefully the Government will have time to look at this plea and hopefully they will bring joy to the West again.
Tomasi Boginiso, Nasinu
Reality check
As the many cases of rape, violence, crimes, homelessness, and so forth happen in our society, please allow me to share my two cents thought.
It is terrible to understand how the effects of globalisation has turned the tide against our beautiful social life that we used to enjoy in Fiji and the Pacific as a whole.
With economic development being at the heart of modernisation, people are getting greedier and individualistic, hence, the beauty of our social life such as family and community are slowly dying.
The beauty of trusting and having one another has silently gone and we begin to build high fences around us.
The late Ron Crocombe, a professor in Pacific Studies, anticipated that the major challenge for us in the Pacific today would be combating greediness, instant gratification, consumerism and the emptiness promoted by advertising and the media — which if they catch hold of, will create extreme economic inequality, ecology depletion, moral paralysis, and the danger of unstable society.
What is Fiji's reality at this point in time?
Is this challenge getting hold of us?
If it is so, what can or should we do?
"Sa dri yani vei kemuni noda i liuliu".
Kositatino Tikomaibolatagane, Vuninokonoko Rd, Navua