Initiative to assist women's group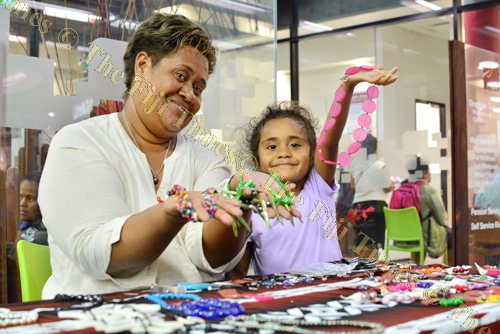 THE Fiji National Provident Fund is assisting a group of women to showcase their skills and talents by using recycled unused items into valuable accessories.
The FNPF partnered with the Ministry of Women, Children and Poverty Alleviation to host the FNPF Fiji Day Handicraft Exhibitions and Sale that began at the FNPF Plaza yesterday. The exhibition focuses on women in business, market for change and empowerment.
"FNPF is committed to promote voluntary members to sole proprietors. Through this initiative we would be able to encourage them to register for voluntary scheme that will also assist them to prepare for retirement," FNPF stated.
Out of the five women who will be exhibiting their crafts at the plaza Anaseini Laweibau is one of the vendors who will be selling jewellery during this exhibition.
"I began making my own jewellery in 2005. I usually sell them online and from home but when there is an exhibition like this I come and sell so it's a good opportunity for us," Mrs Laweibau said.
Her advise to women would be to continue to do things they're passionate about.