'Goodbye to our unsung hero'
14 September, 2020, 8:30 pm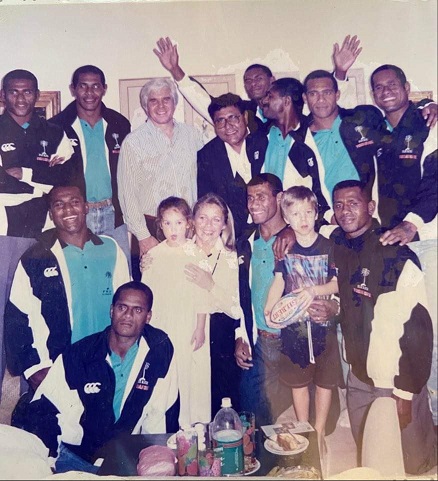 The Fiji rugby family continues to mourn and pour condolences and accolades for one of its best rugby sons who died after a short illness last week.
Lemeki Koroi of Serea Village, Naitasiri and a former Nasinu Secondary School student passed away last Thursday.
He scored two tries in the final against South Africa to see Fiji crowned the world rugby champion in the Rugby World Cup 7s in 1997.
Koroi was part of the (late)Rupeni Ravonu-coached national side which was captained by one of the greatest 7s players of all time, Waisale Serevi.
"Lemeki Koroi is one of the unsung heroes of the Fiji team. He was always the engine of the team, working and working. He never complained and was always talking and encouraging other players," Serevi said from his home in the United States yesterday.
"When we made game plans against other teams and selected players to mark, he would always say 'Dou laivi ira kece mai vei au (leave them all to me). That's the warrior spirit in him."
Koroi joins members of the Melrose Cup 7s winning team who have left us such as coach Ravonu, manager Jone Biaukula, Aminiyasi 'Steelmen' Naituyaga, and former Queen Victoria School sprinter Inoke Maraiwai.
The surviving members are Jope Tuikabe (Suva), Taniela Qauqau (Yasawa/Australia), Marika Vunibaka (Gau/Aust), Manasa Bari (Aust), and Luke Erenavula (USA).
"Lemeki Koroi was stocky, but he had a big heart. He was caring, loved  people around him and was passionate in what he did on and off the field. That's why he was always the favourite of most players he played with including me," Erenavula also said from the US.
"In 1997 before the tournament, one of our relatives died and I was discussing with Naituyaga. Koroi was always with Naituyaga. He heard us and said 'Be strong. We are here for Fiji. If one thing you have to contribute to those grieving at home, make sure you take the Melrose Cup back to them. That will make them happy.
"I have a lot of memories about Lemeki. The best was in 1997 in the World Cup 7s when I was selected to be his and Naituyaga's security, to guard them every time and everywhere they go. Rest in peace my brother."
Koroi played for the prisons team and the Suva team in 15s. He was at the center of the rugby brawl that saw Naitasiri banned for some years.
"He was like a brother and mentor. We started from the prison team, joined Suva and got selected for the Fiji 7s team. My heart is heavy because of his loss, but I know he is now with our Heavenly father," said former teammate Josateki Savou, who is also in the US.
"E dau duatani tu ga na nona i vakarau baleta ni tamata yalo vinaka (He was always different because he was a good person.) It is not always easy for us when a rugby brother passes on, but God has called him and we have to thank Lemeki for doing his best for Fiji," pitched in former Suva and Fiji rugby rep Pita Naruma.
"Goodbye Lewe. That's the name we call each other because of our  traditional ties. He brings in tradition and the vanua in the team to enlighten our relationships. Moce mada Lewe."
Setareki Tawake, former Fijian international now living in Japan came to Fiji earlier this year looking for Koroi.
They did not meet and the news  had been devastating. Tawake from Kadavu, said they were "brothers".
"Our rugby started in Nasinu Secondary School and through rugby we became really close like brothers. I wanted to see him when I came home, but I missed him. I am so sad that I did not see my brother again.
"We played together in school in Nasinu, made our way into the same year into the Suva team, and also made our debut in the Fiji team in 1992. We were selected together by coach Rupeni Ravonu in 1996 in the Fiji 7s team.
"He was really from Naitasiri because of his warrior spirit. He would tell everyone that he was the elder between us and he would never back out from anything. I am really sad but I know my brother has gone to a better place now."
Funeral arrangements are underway.
More in tomorrow's edition of The Fiji Times and Fiji Times E-edition.