From the Editor-in-Chief's desk: Your August 6 briefing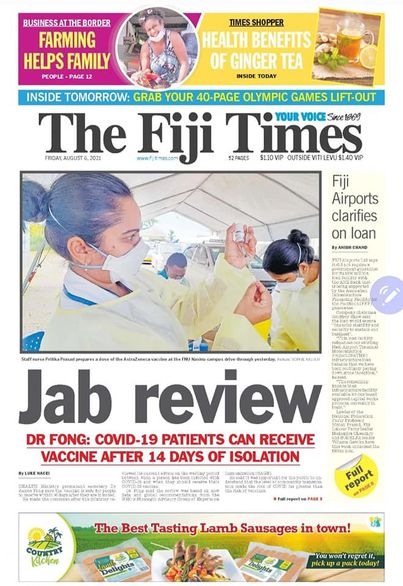 Bula everyone
As the war against COVID-19 continues, the Health Ministry is emphasising the need for people over the age of 50 who have comorbidities, chronic illnesses or non-communicable diseases (NCDs) to visit screening clinics and get tested for the virus.
Head of Health Protection Dr Aalisha Sahukhan said it was important for people to get tested early.
"If you have any of these chronic illnesses, you need to come to our screening clinic so that you can get tested and you can be advised about how your care is going to progress from here," she said.
This should be something we take ownership of now.
Let's not wait until things get out of hand.
So if you have relatives or loved ones at home who are suffering from NCDs, this message is for you.
Let's be proactive.
The ideal scenario is for us to keep our loved ones free of the virus.
But with community transmission at such a frightening level right now, the onus is now on us to be vigilant.
That means identifying symptoms early. It means understanding key signs and knowing what to do.
The fact that emphasis is been placed on this group of people should make us sit up and take note.
It should force us to be extra careful.
So let's do the little things that we can control right now.
Keep your loved ones safe by doing what you can to ensure you are not spreading the virus to them.
That means protecting yourself first.
Wear a mask properly if you are going out anywhere.
Keep good physical distancing when out in public, and remember to advise people around you to keep a safe distance.
Watch what you touch on public transport and when out at the local supermarket, pharmacy or market. Do not touch your face at all until you are able to wash your hands with soap and water, or a hand sanitiser.
Do not shake a hand and do not hug anyone.
Our numbers are too high.
It is frightening. It's scary thinking about it.
Again, we look up to the powers that be to make the tough calls.
We look up to them for reassurance.
The fight must go on though. There can be no turning back now. We must flatten the curve. We must bring down our numbers. We must protect our loved ones! Together Fiji!
LATE UPDATE
The permanent secretary for Health and Medical Services Dr James Fong has just announced 968 new cases of COVID-19 for the 24 hour period that ended at 8am today. He said 292 cases were from the Western Division and 676 cases were from the Central Division.
SPECIAL OLYMPIC GAMES LIFTOUT
For sports enthusiasts, don't forget to get a copy of the special Tokyo Olympic Games liftout in Saturday's edition of The Fiji Times. It's 40 pages loaded with special reports, pictures and a poster of the Fijiana. Check it out!
Meanwhile, here are some headlines that made The Fiji Times' edition for Friday, August 6.
PAGE 1
Fiji Airports loan
FIJI Airports Ltd says it did not require a government guarantee for its $106 million loan facility with the ANZ Bank that is being supported by the Australian Infrastructure Financing Facility for the Pacific (AIFFP) guarantee. Company chairman Geoffrey Shaw said the loan would ensure "financial stability and security to sustain our business".
Vaccine is safe
HEALTH Ministry permanent secretary Dr James Fong says the vaccine is safe for people to receive within 90 days after they are infected. He made the comment after the ministry reviewed its current advice on the waiting period between when a person has been infected with COVID-19 and when they should receive their COVID-19 vaccine.
PAGE 3
Confusion
A FORMER surgeon with the Ministry of Health and Medical Services says the ministry is confusing the public when it continues changing vital information related to the COVID-19 pandemic.
Vaccination
ALL individuals who have tested or suspect they have COVID-19 can now be vaccinated after they have completed their 14 days home isolation and recovered from acute illness.
LETTERS TO THE EDITOR
There are some interesting letters to the editor on Pages 8 and 9. Get a feel of what people are talking about, and what interests them.
PEOPLE
In this ever-popular section of the newspaper, read about: Sereima Tuilomana
SEREIMA Tuilomana is grateful for the farming knowledge and lessons she learnt as a young girl growing up in Naitasiri. She said all the knowledge she acquired about farming and selling produce was helping put food on the table for her family.
THE SHOPPER
It's much more than just about shopping.
SPORTS
The big one on the back page is about rugby league and our preparations for the World Cup.
There's much more to read inside, but you'll have to get a copy to know what we are talking about!
Happy reading!