Financial assistance for 17 institutions
27 November, 2021, 10:10 pm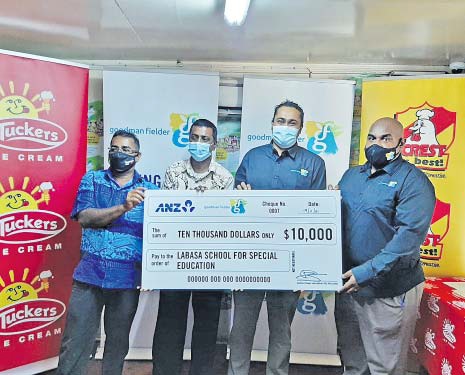 A total of 17 special and inclusive institutions throughout Fiji received an assistance of $10,000 each last week which were part of Goodman Fielder's corporate social responsibility plans.
According to a statement from the company this was intended to improve the schools' facilities to enhance the educational experience for students with special needs and disabilities.
Goodman Fielder Fiji general manager Chris Zaayman officially launched the Veilomani Campaign on Wednesday November 17.
He handed over the cheques after receiving written submissions and plans from each of the schools on how they would utilise the funds for the betterment of the school and student's learning experience.
"I'm pleased to launch the Goodman Fielder Veilomani campaign, where we will assist 17 special and inclusive schools throughout the islands of Fiji," Mr Zaayman said.
"The schools will apply the funds where they believe they will benefit most.
"We look forward to seeing what assistance and benefits it will bring to the students and the teachers alike."
The 17 special and inclusive schools which received these Veilomani assistance included seven institutions from the Central Division, seven schools from the Western Division, two from the North and one in the Old Capital, Levuka.
These are Hilton Early Intervention Centre, Hilton Special School, Fiji Society for the Blind, Suva Special School, Gospel School for the Deaf, Nausori Special Education School, Fiji Vocational Technical & Training Centre for Persons with Disabilities, Sigatoka School for Special Education, Nadi Centre for Special Education, Lautoka School for Special Education, Sunshine Special School, Ba School for Special Education, Ra School for Special Education, Veilomani Rehabilitation and Vocational College, Labasa School for Special Education, Nasavusavu Special School and Norah Frazer School for Special Education.