Fiji 7s Olympics win captures Hollywood actor and legendary rapper's attention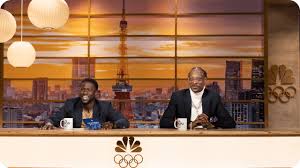 The Fiji men's 7s side's brilliance at the 2020 Tokyo Olympics has caught the attention of Hollywood actor Kevin Hart and legendary rapper Snoop Dogg.
The duo, while hosting Peacock, NBC Universal's streaming service titled 'Olympic Highlights with Kevin Hart and Snoop Dogg', heaped accolades at how the 2016 Rio Olympics champion team secured gold again in Tokyo.
"Get out of his way, boom," Hart remarked as he ran a commentary as they played the footage of Asaeli Tuivuaka's try against New Zealand in the gold medal match.
"Listen up their voices after winning gold at back-to-back Olympics. Let's go Fiji," Snoop Dogg commented as the footage switched to show members of Gareth Baber's team emotionally sing the gospel song titled 'E da sa Qaqa' on the field of the Olympic Stadium.
The hosts both swayed as the boys chorused after the win.
"Rugby is big over there," the 'Drop it like it's hot' singer added.
"These celebrations don't just happen on the field but they happen off the field as well," Hart said.
"When Fiji won the gold in rugby, the entire island nation celebrated along with them," he added as the video was played of a celebration dance from Nawaka in Nadi – the video had gone viral on social media the night Fiji won.
While the footage played, Snoop Dogg got up from his seat and pulled a few moves of his own, while Hart ran his own musical commentary in rhythm with the cheering and dancing captured in the amateur video footage.