Electoral Commission rejects Labour's claims
19 January, 2022, 9:25 am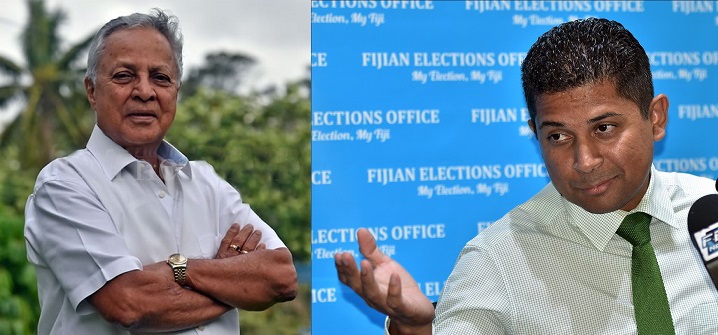 A war of words has broken out between the Fiji Labour Party (FLP) and the Electoral Commission over the current status of the commission.
The commission yesterday rejected FLP claims that since the resignation of Suva lawyer Suresh Chandra as its chairman the commission was not "in place", saying that it was operating without him.
Replying, FLP leader Mahendra Chaudhry claimed that under the Constitution the commission was not legally constituted without a chair.
The commission then countered in a second statement that the Constitution allowed the commission to operate even if one of its members was absent.
A war of words has broken out between the Electoral Commission and the Fiji Labour Party over FLP's weekend claims that Supervisor of Elections Mohammed Saneem had been forced to resign.
On Monday, Mr Saneem issued a legal notice to the FLP under the Electoral Act requiring the FLP to remove a Facebook post alleging Mr Saneem had resigned under pressure, threatening it with prosecution if it did not do so.
The FLP removed the post on Monday but party leader Mahendra Chaudhry told The Fiji Times the FLP was unable to seek a review of Mr Saneem's order from the Electoral Commission because it was "not in place at the moment because there is no chairman".
Mr Chaudhry was referring to the resignation of commission chair Suresh Chandra, a Suva lawyer, in November after publicity over issues with his law firm's trust account.
In a statement issued yesterday, the commission said Mr Chaudhry was wrong and the commission continued "to operate", even without a chair.
The commission also criticised The Fiji Times reporting of Mr Chaudhry's earlier comments. Yesterday afternoon, Mr Chaudhry hit back, claiming that under s.75 of the Constitution, the commission had to have a legally qualified chairman to be properly constituted.
"This section makes it very clear that the "Electoral Commission consists of a chairperson who is or is qualified to be a judge, and 6 other members," he said.
"The law is thus quite explicit. The commission cannot be regarded as legally constituted without a chairperson who is, or is qualified to be a judge."
However an email signed "Electoral Commission Secretariat" and sent from the Fijian Elections Office said Mr Chaudhry's statement was an "incorrect legal analysis".
The email pointed to s.138 of the Constitution which allows the Electoral Commission to act "despite the absence of a member".
"Therefore, based on the law, there is nothing stopping the Electoral Commission from dealing with an appeal (by Mr Chaudhry) if it is lodged," the statement said.
The controversy began over the weekend when the FLP put up a Facebook post alleging that Mr Saneem had been forced to resign and claiming credit for Mr Saneem's departure.
On Monday, Mr Saneem claimed the post was "fake news".
However, he declined to comment when asked if he had resigned "at any time between December and January".