Deo returns to farming
13 October, 2021, 10:03 pm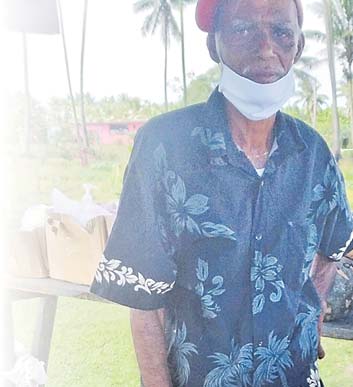 The second wave of COVID-19 has resulted in many people returning to till the land and among them is Vasu Deo.
After the outbreak of COVID-19 in April, farming was the only ption available for Vasu Deo to earn a living and to feed his family of five.
The 63-year-old dedicated more than 20-years of life working at a poultry company, however, after COVID-19 he returned to his ancestral trade of farming.
Originally from Ba, Mr Deo resides with his family in Lakena, Nausori.
"I was working at a poultry farm and after the outbreak of the first COVID-19 case, I went and worked for around two weeks, but because of less jobs available the employer told me to stay at home for some time," he said.
"I was not interested in farming as I was working and hardly had time so my son used to do it, but after this outbreak I had no option but to work in the farm.
"Now I help my son in planting and we sell along the main road to earn something and feed my family."
He said shifting from Ba to Suva presented his family with a lot of challenges and adventures.
"When I was around 15-years-old, I came to Suva with my parents because we had some issues with the land so we had to relocate.
"Shifting from a rural area to an urban area was tough as the lifestyle here was very different and we had nowhere to go, however, it was luck. I had my grandmother here who told us how to adapt and she supported us.
"When in Ba, sometimes my father didn't have work so we couldn't get food and my father used to borrow corns so we ate that and slept and that taught us a lot about hard work and struggles.
"After some time, we got a piece of land so we built our home and it was very hard as we didn't have any money to buy the materials so we just made a house with roof and wall, but no floor."
He said after getting married, he shifted to Lakena, Nausori with his small family.
"I had six siblings so I could only study up to year two due to the challenges faced by my parents.
"After building our house, we got our sisters educated and then my father got a government job so our lifestyle started improving slowly.
"Since we were three brothers, we decided to move out as we knew it would be hard to manage with our own families so one of the brothers took our main house at 8 miles, one went overseas and I shifted to Lakena.
"Moving to Lakena, I had to restart again and go through the same hardship that my family faced after shifting to Suva.
"It was hard to manage with my small children."
The father of three said life in the Western and Central divisions were very different.
"Now, whenever I go to West, I make sure I visit my area as it was the place where we started, created memories and it makes us realise the struggles we went through.
"My only regret in life is not been able to complete my education. If I had completed my studies, I would have had a good job or had knowledge of the latest technologies, but nevertheless farming is where we began and that is what is helping my family survive during this pandemic."
Mr Deo advised youths to study and work hard in life.
"We have gone through a lot in life because before things like education were not easily available, but you can access it freely so it's important that you utilise it and help your parents by getting a good job and earn for them."