Critics commend virtual show
27 November, 2021, 11:01 pm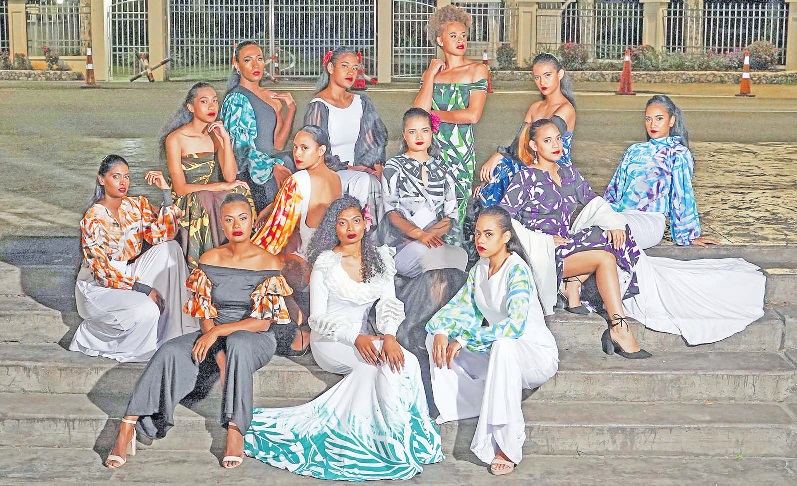 Over six nights the work of 15 Fiji Fashion designers were shown in a brand new genre using broadcast and online technology, in a fi rst ever done for Fiji.
Hugely successful, FJFW Virtual has taught local fashion events experts the value of including a virtual component to fashion shows.
Throughout the week, Fiji fashion industry stakeholders in the Pacifi c region and elsewhere have commented on the value of FJFW Virtual in that it was more than just the COVID friendly option.
While the biggest commentary has been around the widely accessible nature of the Palmolive FJFW Virtual, there was much praise around the concept used by FJFW's production companies, headed by Asvin Singh in the Suva shoots and Allan Stephen for the west shoots.
Fijian pioneer supermodel Sandhya Nand commonly known as Dusk Devi described it best when she said, "Everything about this production is world class and I can't get over the models. You are all phenomenal, this is solid steel. I also feel that you were all able to step up more and I really feel and see the team input.
My chest is welling with so much pride." She said the production had "troppopolitan" flavour which was significant on a global scale.
"We know how sophisticated Fiji is, it may be a dot on the world map but we are a nation of creatives, of visionaries. Now the world needs to see that we are more than just a holiday destination and FJFW21 I feel, really showed that this time.
I am still gushing and starry eyed about the shows I have seen so far and I haven't missed any."
Dusk said that while she loved the different locations that each designer collection was shot at, she appreciated more that each "set" showcased each designer's vision "and it helped put the viewer there".
"People watching could truly imagine themselves for example on a Captain Cook Cruise boat, wearing a flowing, vibrant 8 Mountains dress. This concept, the entire production is a love letter to Fiji and the best tourism promotion I have ever seen! It wasn't 'just' a fashion production, it was a visual magazine!"
The new concept also caught the attention of the Sydney Morning Herald's acting Fashion Editor Damien Woolnough who posted on his social media "Loving the colour and joy coming in from Fiji Fashion Week." But as the reality of life under COVID becomes clearer with vaccination rates improving, physical events are still a possibility.
FJFW managing director Ellen Whippy- Knight has plans to introduce physical events which are compliant with current restrictions. The first event, scheduled for January 15 at Suva's Grand Pacific Hotel aims to bring to customers the collections of designers who have shown during FJFW Virtual.
Ms Whippy-Knight said FJFW Virtual has been hugely successful and while the response was one of the best in the event's 14 year history, it was not unlike previous editions in terms of her team's dedication.
"Everything we do is to project to the highest possible level, the work of Fijian fashion designers and in some instances, the work of the entire Pacific region.
So each time we get to work, its always with absolute dedication to doing our best," she said.
"We do not work in half measures at FJFW because we are part of a global network of Fashion Week events which thrive in providing only the most innovative ways to showcase the work of designers."
"These designers are creative people, yes, but they are not unlike every other person that has a job in that they work to create a living for themselves. So our job is ensuring their work is seen and appreciated – in terms of acknowledgement, but also more importantly, in terms of being paid for that work."
So while FJFW Virtual which will be rerun on Fiji One on Sunday afternoon has been successful, the January 15 event will be to make sure that those customers who like to see the garments up close will get the opportunity to see this new work and make orders.
So far designers of the FJFW Virtual show have already stacked up orders which have been unprecedented, she said. Moira Solvalu of the 8Mountains label which aired on Monday November 22 attracted more than 50 orders within hours of the 8pm screening of her show and Nadi based newcomer Bulou Olita Cawanikuve of the Aushora label whose collection aired on Wednesday November 25 also received many orders from a local sporting union.
"Obviously, FJFW Virtual has reached more people than ever before both in Fiji and abroad so it is a new and exciting result for us but we know that in Fiji there are still people who need to be at physical events.
"FJFW is a trade show, yes, but it rides on the excitement that glamour provides and we need to always try to provide that, in keeping with the COVID reality of course," Ms Whippy-Knight said.
She added her team, many of whom have worked on FJFW over the 14 year period, had stepped up to the challenge that the pandemic provides and explained that capacity building within the entire industry was a priority for the company.
Along with lobbying work FJFW has done with development partners to make educational opportunities available for fashion designers both locally and abroad, the company has prioritised the capacity building of people who work to support the designers.
"FJFW has trained models and model trainers, event production experts and even the writers, photographers and bloggers who have come through our doors and that for me is really the way to go.
"If we grow the ability of our team, we all grow together."
 LICE MOVONO is a freelance journalist and public relations consultant.