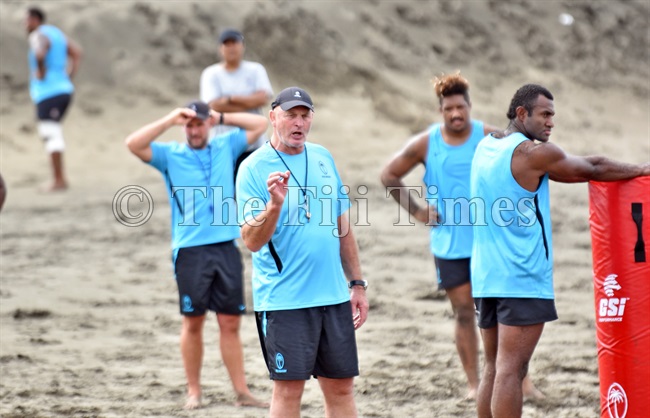 Vodafone Flying Fijians head coach Vern Cotter will have to devise a strategic plan to defuse the threats of the Tongan team this afternoon at the HFC Bank Stadium (formerly ANZ Stadium) in Suva.
The Toutai Kefu-coached Tonga side has players who can attack from any part of the field and Cotter is aware of the dominance former Wallaby Israel Folau will have. Cotter said they would have to play smart when kicking away possessions.
"We are developing a basic game that suits us," said Cotter.
"We think the shortest way to the goal line is the easiest way. But if we are in our half, we need to be able to kick smart. We have 50-22 options from inside our half to get into their 22. I think if we go straight into the air and contest the ball, that will suit him (Folau).
They will develop plays off it. Our kicking plays will hopefully be where we need to play the ball and apply pressure."
Cotter said they would like to take a head-on approach and keep possession when attacking.
"If we need to hold the ball, we know we can create situations where the players can capitalise on. The players like to take the ball in between the defense and find gaps. If we can get behind them and give it to some finishers, that is what we are looking for."
The Flying Fijians will have the upper-hand going into the match with 10 players in the match-day 23 squad part of the Swire Shipping Fijian Drua side from the Super rugby Pacific competition.
The Tongans are form different competitions around the world and had only two weeks together in preparation for the PNC. There will be a real battle in the number 12 jersey for both debutants that will see former All Black Malakai Fekitoa face-off against exciting Drua centre, Kalaveti Ravouvou.
The elusive Charles Piutau will try and weave his way through the Fijian defence at fullback with his Fijian counterpart Setareki Tuicuvu, a player of the same calibre.
It will be an interesting battle as Pacific Island teams are generally perceived as hard-hitting and physical, but coaches Kefu and Cotter may have a few tricks up their sleeves for what is expected to be a tough and grueling match.
The match starts at 3pm after Australia and Samoa opens the PNC at 1pm.