Chicago group jams with Bulicokocoko
6 February, 2020, 10:23 am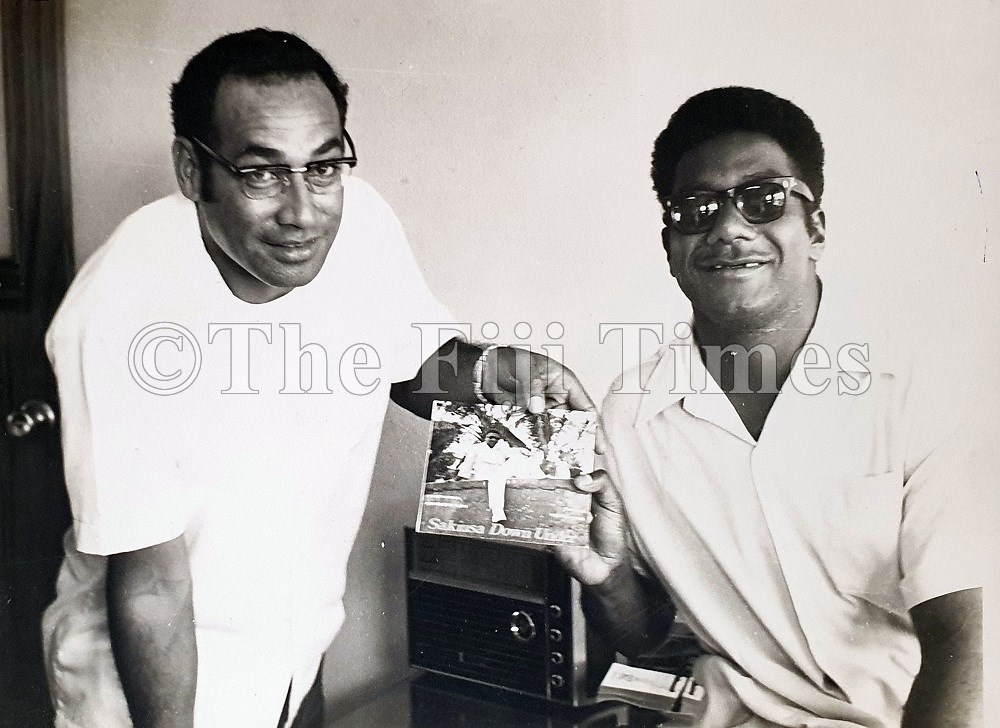 IN December 1968 legendary Chicago blues group, the Junior Wells Band, visited Fiji.
The United States group featured Jack Myers on bass guitar, Buddy Guy on guitar, Junior Wells on harmonica and vocals and Bill Warren on drums.
Warren was keen to jam with local musicians and after making enquiries around Suva, he made his way up to the Golden Dragon nightclub and saw a partially blind boy from Nakorolevu, Namara, Tailevu, working away at the drums.
Warren was so amazed at the strength, speed and dexterity of Sakiusa Bulicokocoko that he introduced himself to the youngster.
Nightclub owner Ken Janson said Bulicokocoko had his first hands-on drum lesson from one of the greatest on the planet that day.
"Sakiusa was just coming up at that time, he had a lot of skills and amazing rhythm but when Bill got behind the drums and began playing, it was a whole new experience for him," Janson shared.
"Sakiusa knew right at that moment that playing the drums wasn't about speed or volume but more about control and the little subtleties that go with it."
Janson said in 1968, nobody knew who Junior Wells was. The reality of the experience did not hit them until about six months later.
"We used to get a lot of music magazines from overseas but they would arrive months after being published.
"And after jamming with Junior Wells and his band at the Golden Dragon, we knew they were really good but we did not know that they were among the best in the world at that time.
"Six months after they left Fiji, Junior Wells was featured on the cover of a music magazine and in the article, Eric Clapton said Buddy Guy, Junior Wells guitarist, was the best blues guitarist in the world.
"And to think that he had jammed on stage at the Golden Dragon with Tom Mawi and Sakiusa was just mind-blowing.
"But it was like that in those days — there were a lot of internationally renowned musicians who stopped by on cruise ships and they somehow always ended up at the Golden Dragon."
Apart from hosting impromptu jam sessions for famous overseas artists, the Golden Dragon was also where local musicians made a name for themselves.
"I remember the first time Sakiusa came there, he was a little boy and his uncle asked if we could teach him something because he was always banging pots and pans and tins at their home.
"We had played to a full house that night and at the end of the last set, I remembered his uncle's request and asked Sakiusa to come up and have a jam.
"When he sat behind the drums, he was a natural, he just blew us all away.
"He asked if he could sing and I can still remember the very first song he sang that night — it was Engelbert Humperdinck's hit song at the time, Ten Guitars.
"I have never heard anyone sing that song the way that Sakiusa sang it that night." Janson believes that Fijian musicians from the '60s and '70s made a huge impact on the local scene because of a number of factors.
"You have to remember that at that time, there were no deejays — so bands had to play non-stop all night.
"And what this did was it made the bands learn a lot of songs from a range of genres — they had to play soft jazz and country songs early in the evening and step up the tempo to blues and rock 'n roll as the night went on.
"And I also believe that visiting international artists like the Junior Wells Band and Taj Mahal and others that came along really made an impact on the local musicians.
"It made them realise they had to work a bit harder and expand their knowledge and what happened as a result of this — Fiji music was lifted to a very high level at that time."