Brace for another thrilling showdown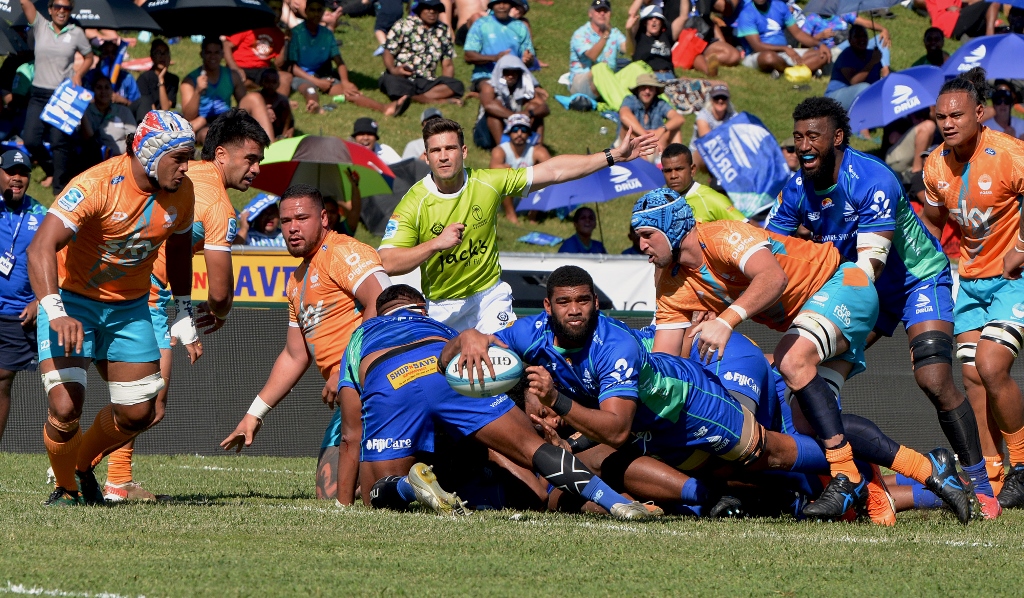 If you thought last weekend was full of drama and excitement in the Shop N Save Super Rugby Pacific, well, strap yourselves in for a wild ride again this weekend.
The Swire Shipping Fijian Drua are still in the race for a quarter-final spot by snatching defeat from the jaws of victory against Pacific brothers Moana Pasifika in Lautoka.
It was an action-packed match at Churchill Park with 14 tries scored, seven from each side. Just when the Drua looked like they'd run away with a bonus point victory when leading 47-27, they switched off, made some basic errors, and almost blew it.
It was a courageous comeback by Moana and the 47-46 scoreline sets the scene for what should become one of the great rivalries in the competition. Just two points separated them in week one and just one point in week 14.
It was up to Moana's Christian Leali'ifano to try to clinch an upset victory to break their long losing streak.
But it wasn't to be as his conversion attempt missed and the Drua fans and players breathed a sigh of relief. The Drua cannot afford to switch off this week against a desperate Reds' outfit.
They don't want to be relying on good fortune two weeks in a row. The Reds might be depleted because of injuries but they also have a lot to play for.
A win will secure a spot in the top eight for the Queenslanders and they'll want to go as deep as possible in the play-offs and send head coach Brad Thorn off on a high note.
He was one of the most successful players ever, and he'd love to see his side stick around for a few more weeks.
The Drua are out to make it three from three in Suva after wins over the Rebels and Hurricanes, and the heat won't be a major factor for the opposition this time.
The match kicks off at the later time of 4.30pm and there's a high chance of showers. But if critics think the Drua can only play on hard and fast surfaces they are misguided.
So many of the squad grew up playing in wet conditions in and around Suva. Once again, this week the message from the coaches is simple.
The Drua need to start fast and match the Reds' physicality from the outset. They gave the Reds a big start in Brisbane and despite a good comeback they fell short.
There were no celebrations after last week's narrow win and rightly so. Despite scoring seven tries the Drua's maul defence and discipline was poor.
They are 'work ons' as well as the contact area and ball retention. But the Drua players won't be stifled by the coaches.
They still want them to play their game based on Fiji athleticism, power, and flair.
Kicking in general play is not a strength yet but they're working hard to make sure they kick smart. I know the coaches say it every week, but the Drua must play out the full 80 against the Reds.
They don't control their own destiny, so they need to win first and foremost, with or without a bonus point, and then hope some other results go their way.
After Friday night matches involving the Highlanders and Rebels, both the Drua and Reds will have a clear picture about what's required.
It promises to be another drama-filled contest and one not to be missed. It's good to see some continuity with selections in the starting pack, but it's a new look backline for the Drua is what is arguably their biggest game in their short history.
The Reds will be sending plenty of heavy traffic at Teti Tela who wears the number 12 jersey this week.
Frank Lomani and Caleb Muntz are 9 and 10, with Iosefo Masi the mainstay at outside centre.
The back three is Kalaveti Ravouvou, Eroni Sau and Selestino Ravutaumada. The Reds have selected a strong team despite a couple of key players being ruled out.
Finals footy has come a week early for the Reds according to coach Thorn.
There is plenty of Fijian flair in the Reds as well with Filipo Daugunu, Suliasi Vunivalu, Seru Uru and Peni Ravai all starting.
And if young Tom Lynagh gets some action off the bench, it'll bring back memories to his famous father, Wallaby legend Michael Lynagh.
He made his Test debut against Fiji in Suva back in 1984. It's crunch time. May the best team win.