BackTracks: The dynamic couple
13 January, 2022, 4:02 pm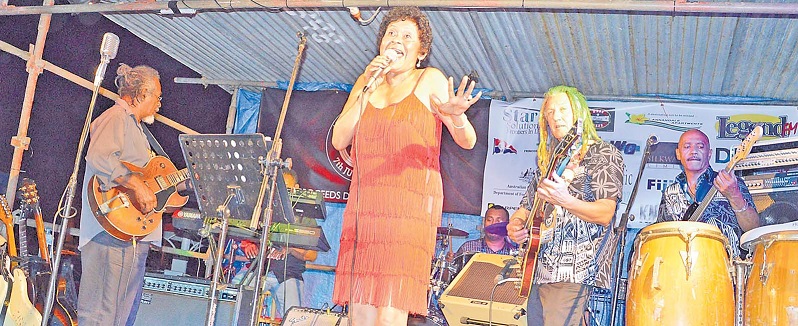 Live music, there's just something about it.
The way the volume and timbre of the raw sounds of the instruments stir feelings within and bring out that urge to jive and swing out across the dance floor.
The people who make their living using their God given talents to share the gift of song with those who would listen, whether it be an original or a cover, will say there is nothing like being on stage and giving their all to the crowd.
Fiji has an epic history and a loving appreciation of music played in the flesh by home-grown musicians.
And two of the country's finest – Aneil and Eni Kumar – are individuals who know what it is to be on stage, play and sing to an audience and bask in their adulation while remembering that it is still a job that is never done after just one song.
They have been together for about 40 years but have pretty much known each other their whole lives.
Aneil remembers seeing his wife-to-be when they were neighbours on Knolly St in Toorak, Suva.
"I remember seeing her as a baby," he said.
Somewhere down the line Cupid decided to send an arrow flying their way – as for who got the arrow, it's one of those things we'll never really know.
Aneil and Eni were musicians with Ulysses, the resident band at Lucky Eddies (now Victoria Wines, Suva) during the late 1970s and '80s – made up of a collection of vibrant, urban youths who were keen to add their contribution to Fiji's music scene, with Aneil on drums and Eni as the lead vocalist. But they started their performing careers at fairly young ages.
Aneil was in his teens and Eni was started singing and of a dance troupe. "I would go to school the day and then we would perform hotels," Eni said a grin on her face, reminiscing on good times past.
Eni said the '70s and '80s were the best time to be a performer in Fiji. "There was so much variety back then and people were able to fi nd their artistic identity and use it to support themselves.
"When we would perform at big events like at the Hibiscus, the performances extravagant, exotic "You don't get that performance and scale locally anymore." Aneil says business booming in those days and refl ected what the musicians of the time were able to afford.
"We lived in a block of flats, what is now Elixir Apartments, practically in town and the rent was $200 per month.
"In that time I owned four cars consecutively and we were still able to raise our family." They built up a real following at Lucky Eddies which Eni says was down to the collective efforts of the band.
"The people would line up from the stairs that led to Lucky Eddies all the way down past the library on the other side of the road to get in.
"It was the place to be in those days – it classy but it was really did our best the crowd. get $100 per top of my wages Liam Hindle for wardrobe."
After Ulysses they formed a number of bands with other musicians and played all over Fiji. Most notably was the formation of Déjà Vu Fiji, which Aneil called "a business band."
"With Ulysses we were what you would call a session band, very adaptable to different types of music to suit the crowd even to record in a at short notice. Déjà Vu we tailored performances to the customer. If there type of music songs in different languages them and play them specifically for that gig.
"We did not compromise on quality and our charges reflected that, we did have a certain genre of music that we generally played but otherwise it was whatever the customer wanted."
Aneil is a qualified sound engineer and is very particular on the technical aspects of music and especially in live performances.
"I'm a drummer so I'd be keeping the beat and at the same time I'd be looking after the soundboard to make sure everything sounds just right."
In the early 2000s, he was approached to write syllabus for the Fiji Institute of Technology's (now Fiji National University) music program.
While it was never their intention to raise musicians in their home, music has rubbed off on their children, or as Aneil put it: "Apples don't fall far from the tree."
The couple has shared the stage with their daughter Enid during the Déjà Vu days. "It is one of my proudest moments, being on stage with her," Eni said.
"She pokes fun at me because I just let loose on stage, I dance about and have fun with it and that's important when you are the focus of the crowd."
Being the singer not only means being centre stage, it means reading the crowd.
"You have to be able to tell if the crowd is into the performance. "The singer controls the band, he or she can tell the band to stop and start over if something doesn't feel right.
"The priority is the centre stage, the band plays for the singer."
Everything has a time and a season and eventually they decided it was time to relax, but what do you do when your whole life has revolved around music and performing?
"I would like to go and live on our piece of land near Tabia in Vanua Levu," declared Eni.
"I've been doing this for so long now, I want to live off the land for a change."
They were such a cute sight to behold as they sat in their sitting room, sharing a basin of grog with some jazz playing in the background, just enjoying each other's company.
Aneil and Eni are comfortable, on and off the stage, with each other.
Maybe it's because of the music.