Akosita climbs up the ranks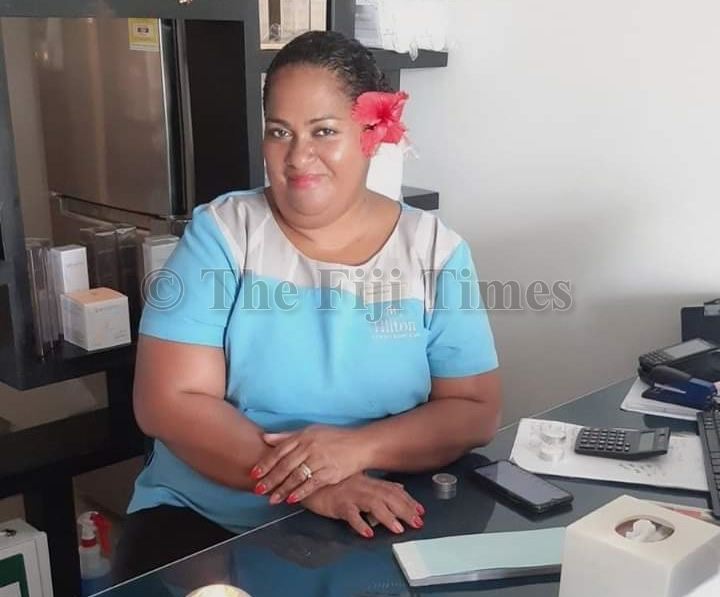 Akosita Tukana owes the success she enjoys to her mother. "She is my biggest motivator," Ms Tukana said.
"My mum used to work extra hours at the hotel she used to be employed as a babysitter just to earn a bit more so that my school fees could be paid while I was in high school.
"She is a woman of faith and always prays for me; the best mum ever! "My late dad also contributed immensely to our welfare.
He used to plant tobacco during his spare time to add to the income he used to earn while working.
My parents have taught me not to sit idle and wait for handouts, but rather obtain a quality education in order to prosper in life. Education eradicates poverty."
The happily married 40-year-old is the Cluster Spa Manager at Hilton Fiji Beach Resort and Spa on Denarau Island in Nadi, including Doubletree Resort and Spa at Nawaicoba in Nadi.
"I have two brothers and an elder sister. I am the third eldest in my family.
I got educated at Sabeto District School and completed my secondary school education from Nadi Muslim College.
"I saw how the wellness industry was starting to grow in Fiji and decided to move into that sphere while in Year 13.
After successfully completing my secondary school education, I enrolled at the South Pacific Academy of Beauty Therapy in 2000 and ultimately graduated with a Diploma in Beauty Therapy.
My first employment was with Senikai Spas where after four years working as a beauty therapist.
I got promoted to the position of a Spa Supervisor in 2005 and got married two years earlier.
"It was by chance that an year later, a client I served happened to be an employee at Hilton Fiji who recommended me to join the iconic five-star resort. I vividly recall the day I was asked to attend an interview.
I had butterflies in my stomach. It was such an exciting and rewarding day and I cannot forget that day."
The native of Sabeto with maternal links to Ono-i-Lau worked as a beauty therapist for the initial three years at Hilton Fiji Spa.
"I gave my level best and always strived to deliver the most memorable experiences to my customers every day. "I also had a great passion in training and moulding fellow colleagues.
I assisted my spa manager at that time which resulted in my promotion to the position of a spa supervisor in 2009.
Further climbing the ranks to become a cluster spa supervisor in 2015 where I had to manage both the properties at Hilton Fiji Spa and Doubletree Fiji Spa. "I became the cluster spa manager in 2016."
Ms Tukana's 21-years experience in the spa and wellness industry with a particular focus in the luxury spa segment has been a fascinating experience.
"It has provided me with an opportunity to connect with different people from around the globe by offering them the unique Fijian hospitality experience.
We assist people change and improve their lives, offering advice and motivating them to open their minds to different ideas."
Under her leadership Hilton Fiji Spa has been winning the prestigious Pevonia Awards since 2011.
Pevonia by Universal Aesthetics is one of the leading skincare brands in the world and the winning spa is picked within the Australasia Region.
The awards were not held last year because of the novel coronavirus outbreak.
The mother of five children offered a word of advice to the masses.
"No matter how hard life might be at home or at the workplace once a person starts to prosper in his or her professional career, which can get quite lonely because your colleagues are no longer by your side, always stay humble and focused on your goals!"
Ms Tukana enticed spa lovers with her favorite line: "The locals should take advantage of the massive discounts which are available at Hilton Fiji Spa and Doubletree Fiji Spa once all the restrictions are uplifted."
Women are skilled jugglers because they possess the ability to tackle a zillion chores in one breath.
At home and their respective workplaces, Ms Tukana is another glaring example for so many men to learn from!