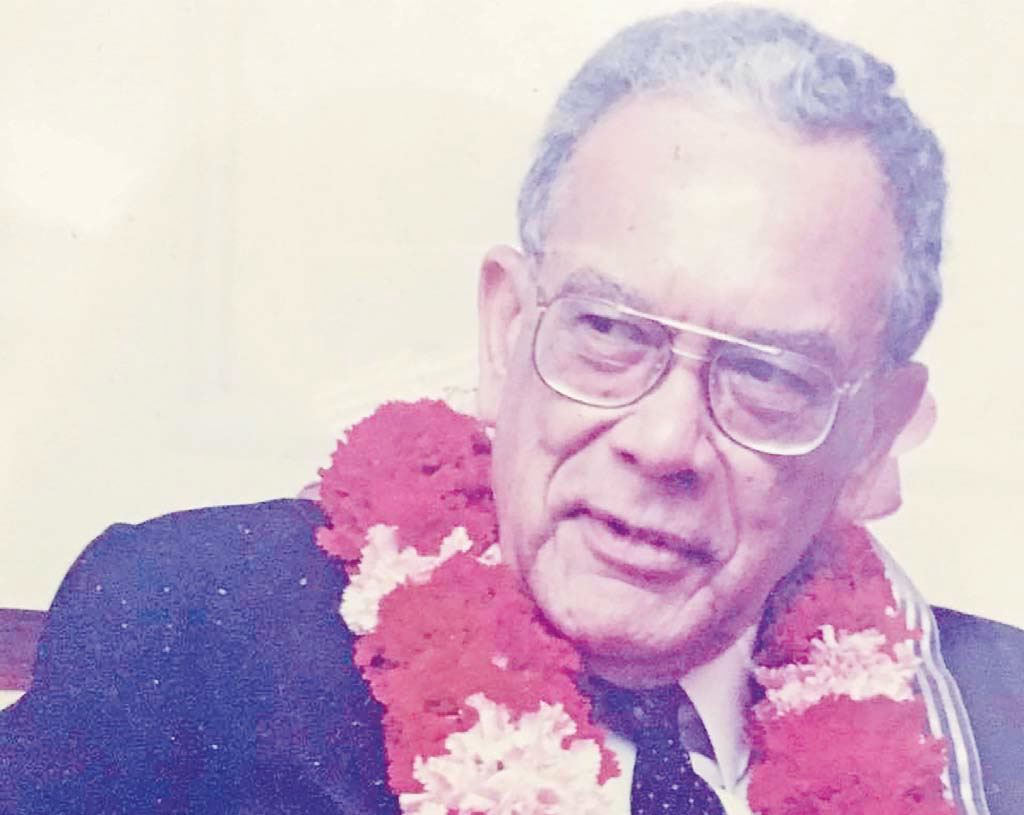 The death has occurred in Suva of retired veteran politician, diplomat and public servant, Charles (Charlie) Walker on March 11 at the age of 92. He passed away peacefully at the CWM hospital last Thursday after a long illness.
He was born on June 12, 1928 in Sawana, Vanuabalavu, Lau, His father Ernest Fearon Walker was a Scottish settler who worked for the Hedstrom and Hennings families, managing a local trade store.
His namesake and grandfather Charles, who settled in Fiji arrived in the young colony via Tonga and Canada.
His uncle Leslie was Fiji's first Post Master General. Mr Walker's ancestry can be traced to Scottish aristocracy to the Duke of Fife.
Through his paternal great grandmother Martha Helen Walker, he could also trace descent from the Earl of Leven.
His mother, Vilimaina Saulo Fotofili, hailed from the yavusa Toga, and through that link he claimed descent from Wainiqolo, the ambitious Tongan chief and loyal lieutenant of Ma'afu, who had conquered parts of Lau, Bua and Cakaudrove before being reined in by Fiji's cession to the British crown.
He was registered in the Vola ni Kawa Bula under Luseane Wainiqolo, his maternal grandmother. He was the youngest of three children.
He played hockey as a young boy. When he was 10 years old, an opposing player accidentally hit his leg with the hockey stick.
His leg was badly hurt as a result, and was to have been amputated, but his grandfather insisted that he be operated on.
He excelled later in school and public life despite his disability, showing his grit and determination.
Like many of his generation, Mr Walker started his early education in Fiji's old capital at the Levuka Public School, then Fiji premier educational centre.
He was blessed to have the choice and ability to be able to move between two very different worlds — the traditional Fijian/Tongan way of life in the village and as the son of a European settler in the western world of rapidly modernising Suva City.
He completed his secondary education at the Marist Brothers High School in Suva before carrying on to tertiary studies at the University of Otago in New Zealand where he graduated with a BSc in Agricultural Science in 1948.
He later completed a MSc in agriculture at the University of Trinidad & Tobago.
His contemporaries around that time in the Caribbean were Berenado Vunibobo and Winston Thompson.
From his Scottish ancestors, Mr Walker inherited a tendency towards frugality and thrift.
These were attributes that would hold him in good stead later in his political career especially when he was appointed Minister of Finance — the government of Ratu Sir Kamisese Mara.
Mr Walker could be stubborn if he believed he was right, but always open to reason and argument.
He was not one to suffer fools gladly. He could be grumpy and impatient, and this was intimidating at times to those around him.
Fresh out of university, Mr Walker began his career in the colonial civil service in the Department of Agriculture in the late 1940s as a senior agricultural officer.
His high intelligence and work ethic was quickly noticed in the colonial administration and he was eventually promoted to the post of director of Agriculture, remaining in that position until 1966.
When responsible internal self-government was introduced just before Independence he became Deputy Secretary of the newly formed Ministry of Agriculture.
He became permanent secretary for Agriculture in 1969.
In 1977, at the insistence of his chief Ratu Sir Kamisese Mara, the founder and leader of the Alliance Party, he resigned from the civil service and stood for the Eastern General National constituency, winning a seat in Parliament.
He was to assume various ministerial portfolios in his political career including as Minister of Agriculture and later as Minister of Finance, including brief stints when he acted as Prime Minister.
He resigned as Minister of Finance due to differences of principle and policy with then Prime Minister Ratu Mara over how to handle an industrial dispute, and served out the rest of his parliamentary term as a backbencher.
As a Lauan, his personal allegiance to his chief the Tui Nayau was total. On being recommended for a knighthood by Ratu Mara, he politely declined because he felt that there was room for only one knighthood, and that was his chief.
Such was his humility and respect for his traditional leader and to the Vuanirewa clan.
Mr Walker's integrity was unquestioned. While still a minister in the Alliance government he was stopped by the police at Taunovo for driving over the speed limit.
When the policeman walked over to his car and recognised him, he told him to continue on his journey. Mr Walker insisted that the police book him as he had broken the law.
He has often said "let your yes be yes and your no be no. Don't commit to something unless you can make good on it, and be upfront with people if you disagree about something".
After the 1987 coup, he served for a short stint as interim Minister for Information before being appointed Fiji's ambassador to Japan in late 1988.
The highly stratified environment of Japan, their respect for the elderly and their etiquette bore close resemblance to what he would have remembered as a young boy growing up in Sawana.
He was widely respected in diplomatic circles in Tokyo when he served there, finding that he had great affinity with the Japanese and their culture and how they valued time.
He was reported to have remarked, "In Japan, 'on time' means arriving at least five minutes early. It is a mark of respect." The respect he gave his hosts was generously reciprocated.
His grandson Joeli Ditoka remembers that whenever they went anywhere with him, he would be ready and dressed an hour or more before they needed to leave the house – "Pa would chase after us to ensure we left home in a timely manner."
After returning to Fiji in 1993, he was appointed Chairman of the Public Service and Police Services Commission.
He was also chairman of the Civil Aviation Authority of Fiji and a member of the Higher Salaries.
After the return to parliamentary democracy in 2001, he was appointed chairman of the Sugar Diversification Committee by then Prime Minister Laisenia Qarase.
Under Mr Walker's astute leadership and guidance, the Committee produced the National Sugar Adaptation Strategy.
Paula Uluinaceva, then permanent secretary of Finance was tasked to make the presentation on the "Fiji strategy" to the European Union at its headquarters in Brussels.
As a result, the EU committed 120 million euros to Fiji. Mr Uluinaceva said, "Mr Walker was sharp technically and kept us under the pump".
In 1958, Mr Walker married Adi Davila Walker (nee Uluiviti) from the clan of the Tui Narai of Natauloa on the island of Nairai in Lomaiviti Province.
She was the younger sister of Adi Losalini Dovi mother of the late Vice President Ratu Joni Madraiwiwi. Mr Walker was quintessentially a private and devoted family man.
In retirement, he enjoyed the occasional game of golf and kept abreast of current affairs.
He enjoyed eating fish, and true to his Tongan heritage, he loved his puaka tunu (roast pork), especially the "crackling".
He continued to take a keen interest in Fiji politics and was troubled by what he perceived to be a growing lack of civility in public life and discourse.
He would have remembered with some nostalgia the post-independence days of Fiji when politicians mainly differed, without rancour, and respect was a given.
Mr Walker is survived by his wife Davila, daughter Lillian, son Ernest and three grandchildren. His beloved daughter Martha Jean predeceased him. He will be laid to rest today.
He was a loyal and faithful servant of Fiji. He has served the nation with unparalleled distinction and integrity.
The village boy from Sawana who climbed to high office and dined with emperors and princes has gone to meet his maker.
"Well done, good and faithful servant; you have been faithful over a few things, I will make you ruler over many things. Enter into the joy of your Lord."
The late Charles Walker also the former minister of finance at an event.