Lautoka downs Suva to retain IDC title
11 October, 2018, 10:33 am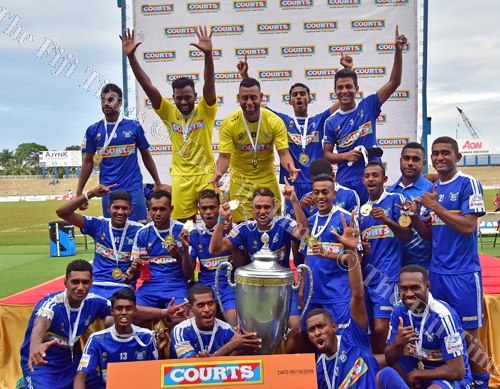 THE 2018 Courts Inter-District Championship will be a memorable one for the Lautoka football team after it beat Suva in the final 1-0 last evening.
Lautoka successfully defended the title at the ANZ Stadium in Suva under overcast conditions at Laucala Bay.
It was a hard fought battle between the two cities resulting in a nil-all first half.
At the break, Blues coach Kamal Swamy tuned his players with a pep talk and the boys danced into the rhythm of constructive football coupled
with on-field communication to camp in the hosts territory in most parts of the last spell.
They pressured Suva into mistakes.
In the 51st minute, Solomon Islands' import Benjamin Totori, after dribbling past two Suva defenders, found Samuela Nabenia lurking close
to Suva's goalmouth and lobbed a cross-kick which the latter headed into goal.
It was the match winner.
Lautoka did the same against Nadi in their semi-final by coming back in the second half to score three goals to reach the final.
"We had some opportunities in the first half, but we failed to deliver so I told the boys to take keep the pressure on Suva in the attacks and defence and the chances of scoring will open up," a jubilant Swamy said.
It was his second IDC win.
"We've had critics, but I told the boys to take those critics positively.
"I dedicate the win to all the team officials in getting the team to where it is now, my families and all our supporters."
Lautoka team captain Samuela Drudru said defending the title wasn't easy.
"We are happy to retain the IDC title and winning it on Fiji Day makes it more special and unique. This would be a double celebration, not only for us, but our families, friends and supporters of Lautoka," Drudru said.
Lautoka has increased their IDC winning record to 18 in 27 finals since the championship began in 1938.
Lautoka won the $22,000 prizemoney and Suva received $6000.