Editorial comment – Safety at sea
5 December, 2018, 8:23 am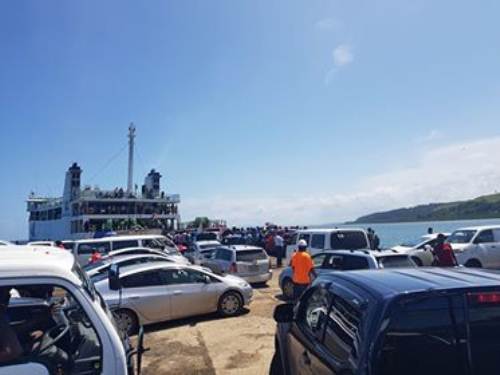 Members of the public have been asked to adhere to safety rules when out at sea.
In a statement on Monday, the Maritime Safety Authority of Fiji (MSAF) urged people to adhere to safety messages and strictly follow maritime safety rules as we head into the festive season. Many Fijians, it said, plan to visit families in the maritime islands during this period.
It has urged the travelling public to be attentive and watchful during this time of the year.
MSAF acting chief executive officer Captain Philip Hill said MSAF's priority was not only the safety of passengers and crew members, but the protection of the marine environment as well.
Sea worthiness of all vessels, he said, are maintained by the ship operators through stringent MSAF survey requirements. He said, prior to departure MSAF enforcement officers' carry out a final check.
In August, 2015, while commissioning the new Government Shipping Services vessel MV Cagivou in Suva. Prime Minister Voreqe Bainimarama said commissioning the new ship to join the first two Sigavou and Vunilagi would transform the lives of people living in our maritime areas.
As the PM said, it would provide maritime people with a safer, comfortable and reliable means of transport.
The reality though is that inter-island travel is risky business for many people. They brave the elements to go island hopping.
People are still arriving in the Capital City for instance, via fibreglass boats.
They brave the elements to get to Viti Levu. For most of them, waiting for the scheduled vessel to arrive at their island jetty can be frustrating.
Trips on fast fibreglass boats can take just up to two hours or so before they hit landfall, enough time for them get to the urban centres, do their shopping, attend to urgent matters and prepare to head back home a day or two later.
They sometimes risk everything, including their lives, and accidents have been known to happen.
One of the key factors that drives this business is time, or, as some of them suggest, lack of consistency in services offered by some shipping companies.
The location of our islands and distances that have to be travelled will always ensure there is a need for a shipping service, but it has to be one that meets the needs of travellers.
As we get into the festive season, the onus is on us all to be mindful of safety, whether it is on our roads, or out at sea.
It obviously pays to be prepared. Then there is the issue of common sense to consider.