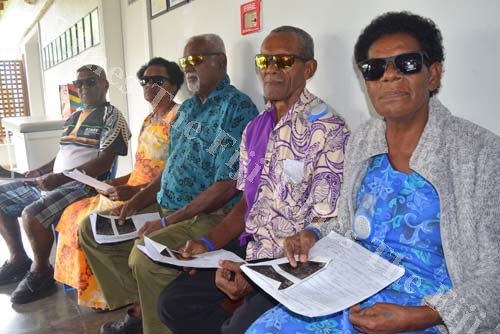 KERESONI Naboto believes he is the happiest man on Taveuni.
He can now clearly see after a successful cataract surgery at the Taveuni Hospital in Waiyevo organised by the Rotary Club.
The 63-year-old farmer from Bucalevu Village in Ra said the restoration of his eyesight meant he was now able to do his village and household chores better.
"For many years my blurred vision had made life difficult for me. I couldn't see the faces of my grandchildren properly and work on my farm," Mr Naboto said.
"I'd like to thank the Rotary Club for bringing me to Taveuni to get my eyes fixed free of charge."
In its 13th year, Rotary Club of Taveuni's eye program has assisted more than 3500 people.
"The future of Fiji is tied up with health and education services and these need to improve," Rotary's Geoff Amos said.
"We are doing this for Fiji's rural people who otherwise would not be able to see again because they cannot afford to undergo an eye surgery."
Emi Tinai, 66, from Wainibuka said her blurred vision was now a thing of the past.
"As a widow, I wanted my vision fully restored so that I can look after myself properly," she said.
"I operate a small village canteen and doing business tends to be a challenge because of my blurred vision. Now I can clearly see and I'm happy to get my life back."
This year Rotary Club of Taveuni will provide free eye surgeries and screening to 340 adults and 10 children who have come from all over Fiji to receive life-changing eye surgery in Waiyevo.
Dr Greg Booth, a general practitioner from Tasmania, Australia who has been part of the visiting eye team for the past seven years, said the number of surgeries conducted had increased over the years.
This year's medical team includes four surgeons from the US, New Zealand and Argentina. The 11-day program ends on Friday, October 12.