UN reaffirms commitment to governments and the region
25 October, 2020, 4:15 pm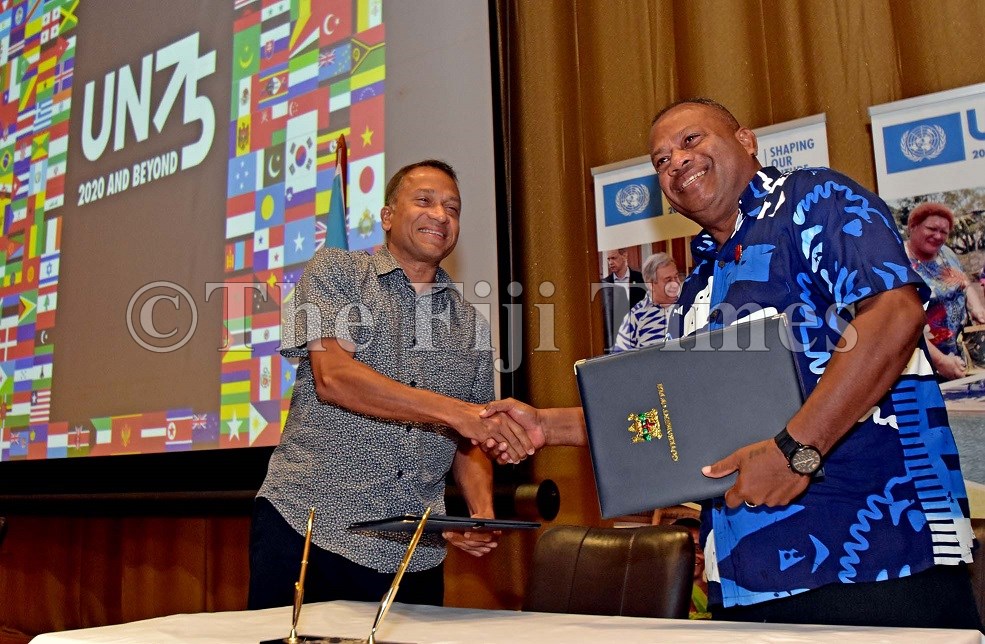 United Nations (UN) Resident Coordinator Sanaka Samarasinha reaffirmed the UN's commitment to governments and people in the region while speaking at the UN 75th anniversary commemoration in Suva yesterday.
He said the UN would continue to spare no effort to work in partnership with the region in all areas as they strived together to fulfil the promise of nations united.
"Three quarters of a century ago just such a dream – the United Nations – was borne out of the ashes of the worst catastrophe the world had ever experienced," Mr Samarasinha said.
"The countries of the world united to "save succeeding generations from the scourge of war" and agreed on a Charter that has served as the guiding principles for the United Nations and the global community for the past 75 years.
"Yet, despite many challenges "we the peoples" of the United Nations still zealously cling to the belief that what binds us together as one civilization must be preserved at any cost."
He said the UN continued to feed the hungry, shelter those driven away from their homes, vaccinated children and fought diseases.
Mr Samarasinha also said the UN defended the rights of all, mediated peace and brought peacekeepers to all corners of the world and tried to build consensus to save the planet for future generations.
He said as COVID-19 wreaked havoc across the world, solutions developed would to a great extent hinge on reinvigorated multilaterism and global action.
"Only by working together can we overcome this pandemic because we are only as strong as our weakest link. As long as there is COVID-19 somewhere, there is always the possibility of COVID-19 everywhere. "
While speaking at the same event, President of Fiji Jioji Konrote said the UN had stood with Fiji and the region through every major disaster and the UN was looked upon to give people global solidarity.
"Our best solutions depend on solidarity," he said.