'The Bossman' ready to lead pack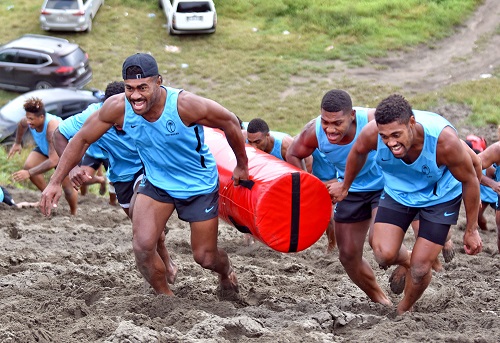 Vodafone Flying Fijians winger Vinaya Habosi will make a run-on debut today for the national side today lining up against one of the best finishers in world rugby, former Wallaby and dual-international Israel Folau as the Flying Fijians take on Tonga at the HFC Bank Stadium this afternoon.
The Sanasana, Nadroga lad with maternal links to Nayawa Village said he was ready for the game and believed coach Vern Cotter had prepared his side well.
"Preparations were good for the past two weeks," said Habosi.
"Personally, my preparations have not changed.
"I know international rugby is a different level from Super Rugby as the best players are chosen around the world to represent the nation and I am blessed to be a part of the Flying Fijians this year."
The 22 year-old was a standout for the Swire Shipping Fijian Drua side this year with his destructive runs and incredible tries and said he was proud to be given the opportunity to represent his country in the Pacific Nations Cup this year.
"I am happy to be chosen to play in this game and my family wished me well when the team was announced on Thursday. It is the first time for me to represent Fiji and I am looking forward."
Habosi believes nothing in life is difficult and is ready to take on the challenge of shutting down Israel Folau who will run out at wing for the Ikale Tahi side.
"I believe nothing is difficult if you have self-belief. I know Folau had achieved remarkable things in the sport for Australia and I am ready to test myself going up against him."
Habosi was part of the Flying Fijians squad that toured New Zealand last year but never got his chance to wear the national colors due to a sudden illness which sidelined him for a few months.
The Bossman will surely be a thorn in the Tongan defence and assures fans it will be a good game this afternoon and the best team will prevail when the final whistle blows.